TulsaKids' 2022 Family Favorites
Congratulations to our Winners and Finalists!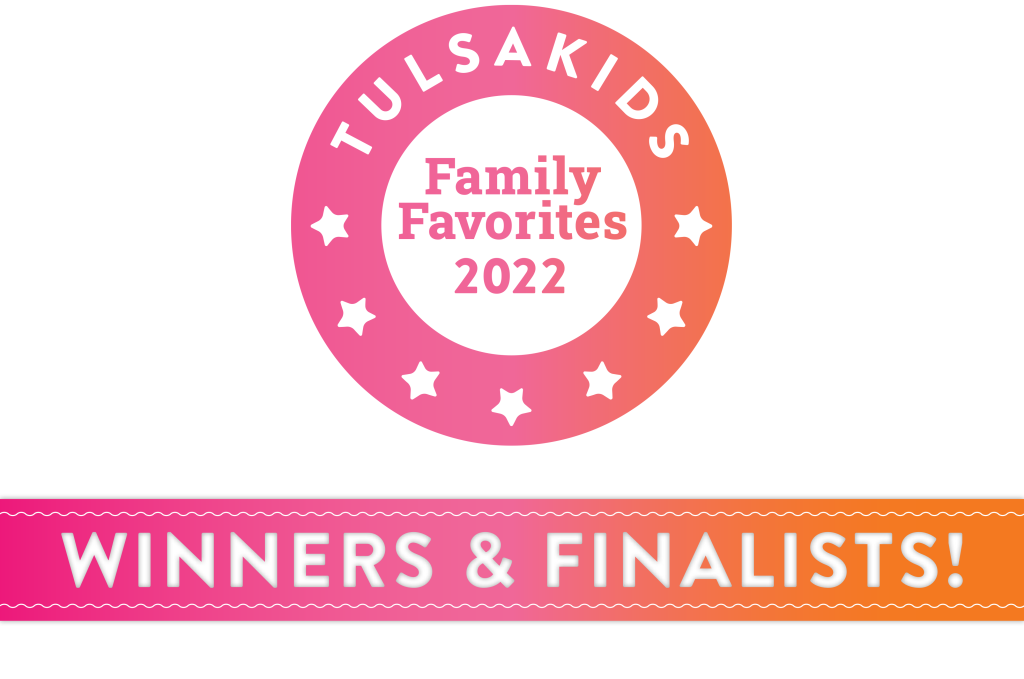 We asked our readers what they love – and they told us! Approximately 5,600 of you filled out TulsaKids Family Favorites ballots this year. You told us your family's favorite places to travel, get party gifts, toys and ice cream, favorite places to dine out or have a birthday party, favorite schools and camps, and even your favorite place to have a baby. We know you'll see some old favorites on this list, but also some new places to try. Congratulations to all of our Family Favorites winners and finalists.
To read about the TulsaKids Family Favorites winners and finalists in each category, click the images below.
TulsaKids Family Favorites: Family Fun & Travel

1. Favorite Museum: Discovery Lab (Winner); Philbrook Museum of Art (Finalist); Tulsa Air and Space Museum & Planetarium (Finalist)
2. Favorite Local Attraction: Gathering Place (W); Oklahoma Aquarium (F); Tulsa Zoo (F)
3. Favorite Local Professional/Semi-Professional Sports Team: Tulsa Drillers (W); FC Tulsa (F); Oklahoma City Thunder (F)
4. Favorite Local Park/Place to Get Outside: Gathering Place (W); Ray Harral Nature Park (F); Tulsa Zoo (F)
5. Favorite State Park: Beavers Bend State Park (W); Keystone State Park (F); Robbers Cave State Park (F)
6. Favorite Place to Camp in Oklahoma: Broken Bow (Beavers Bend State Park) (W); Keystone State Park (F); Robbers Cave State Park (F)
7. Favorite Weekend Getaway: Branson, MO (W); Bentonville, AR (F); Dallas, TX (F)
8. Favorite Hotel in Tulsa: The Mayo Hotel (W); Ambassador Hotel Tulsa (F); River Spirit Casino Resort (F)
9. Favorite Place to Buy an RV: Wade's RV (W); Bob Hurley RV (F); Dave's Claremore RV (F)
10. Favorite Place to Play Indoors: Discovery Lab (W); Main Event Tulsa (F); Urban Air Trampoline and Adventure Park (F)
TulsaKids Family Favorites: Family Dining

11. Favorite Place to Grab a Burger: Ron's Hamburgers & Chili (W); Fat Guy's Burger Bar (F); Smitty's Garage Burgers & Beer (F)
12. Favorite Place to Get a Pizza: Hideaway Pizza (W; Andolini's Pizzeria (F); Savastano's (F)
13. Favorite Place to Get Ice Cream: Braum's (W); Andy's Frozen Custard (F); Rose Rock Microcreamery (F)
14. Favorite Ethnic Restaurant: Mondo's Ristornante Italian (W); India Palace (F); Lanna Thai (F)
15. Favorite Kid's Meal: Chick-fil-A (W); The Brook Restaurant and Bar (F); McAlister's Deli (F)
16. Favorite Meal/Grocery Delivery Service: DoorDash (W); Instacart (F); Uber Eats (F)
17. Favorite Family Meal Deal: McAlister's Deli (W); Charleston's (F); Taziki's Mediterranean Cafe (F)
18. Favorite Coffee Shop: Rocket Brothers (W); Coffee House on Cherry Street (F); Laurannae Baking Co. (F)
19. Favorite Place to Eat Breakfast: Neighborhood JA.M. (W); Bramble Breakfast & Bar (F); The Big Biscuit (F)
20. Favorite Place to Purchase Doughnuts: Sugar Llamas (W); Hurts Donut Tulsa (F); Livi Lee's Daylight Donuts Super Shop (F)
21. Favorite Food Truck: Andolini's Pizzeria (W); Get Toasted (F); Mr. Nice Guys (F)
TulsaKids Family Favorites: Birthday Parties

22. Favorite Kid's Party Entertainer: Dustin the Balloon Guy of Tulsa Balloons (W); Balloon Man Neil (F); Hot Toast Music Co. (F)
23. Favorite Birthday Party Vendor: BA Bounce Houses (W); Balloon Therapy Tulsa (F); Next Level Balloons (F)
24. Favorite Birthday Party Venue: Tulsa's Incredible Pizza Company (W); Adventure Avenue (F); Aim High Academy (F)
25. Favorite Locally Owned Place to Buy Party Treats: Merritt's Bakery (W): OKCookieMomster (F); Cookiedoodle (F)
26. Favorite Locally Owned Place to Buy Children's Gifts: Kiddlestix Toy Store (W); Learning Express Toys (F); Tulsa Toy Depot (F)
27. Favorite Lawn Decor: Sign Gypsies (W); Curb Confetti (F); Tulsa Balloons (F)
TulsaKids Family Favorites: Shop Local

28. Favorite Locally Owned Place to Buy Children's Clothes: Once Upon a Child (W); Children's Orchard (F); Kathleen's Kids (F)
29. Favorite Locally Owned Mom's Boutique: J. Spencer (W); Rags & Riches Lifestyle Boutique (F); YellowHouse Market & Boutique (F)
30. Favorite Consignment Shop or Sale: Rhea Lana's (W); Just Between Friends (F); Once Upon a Child (F)
31. Favorite Locally Owned Bookstore: Gardner's Used Books (W); Eleanor's Bookshop (F); Magic City Books (F)
32. Favorite Locally Owned Gift Shop: Ida Red (W); Amber Marie & Co. (F); Kiddlestix Toys (F)
33. Favorite Florist: Toni's Flowers & Gifts (W); Gas Petal Flower Truck (F); Mary Murray's Flowers (F)
34. Favorite Shopping Mall or District: Utica Square (W); Rose District (F); Tulsa Hills Shopping Center (F)
TulsaKids Family Favorites: All about Baby

35. Favorite Pre-Natal/Post-Partum Classes: Birth & Beyond Pediatrics (W); Breathe Birth and Wellness (F); Saint Francis Hospital (F)
36. Favorite Place to Have a Baby: Saint Francis Hospital (W); Ascension St. John (F); Breathe Birth and Wellness (F)
37. Favorite Midwife: Kim Kmita, Breathe Birth and Wellness (W); Ruth Cobb, Special Delivery Birth Center (F); Shaun Baranowski, OSU-Tulsa (F)
38. Favorite Doula: Giselle Chebny, Breathe Birth and Wellness (W); Megan Gaspar, Tulsa Family Doulas (F); Taryn Starkey, Photo Doula (F)
39. Favorite Place to Buy Baby Gifts: Peek A Boo Baby (W); Eleanor's Bookshop (F); Lolly Garden (F)
40. Favorite Newborn Photographer: Taryn Starkey, The Photo Doula (W); Makenzie Howard Photography (F); Meagan Ready Photography (F)
TulsaKids Family Favorites: Education

41. Favorite Childcare: Kirk of the Hills Preschool (W); Asbury Church Preschool (F); Happy Campers Academy (F)
42. Favorite Preschool: Kirk of the Hills Preschool (W); Metro Christian Academy (F); Miss Helen's Private School (F)
43. Favorite Private Elementary: Metro Christian Academy (W); Miss Helen's Private School (F); Monte Cassino (F)
44. Favorite Private Middle School: Metro Christian Academy (W); Holland Hall (F); Monte Cassino School (F)
45. Favorite Private High School: Metro Christian Academy (W); Bishop Kelley High School (F); Holland Hall (F)
TulsaKids Family Favorites: Enrichment
46. Favorite In-State Summer Camp: New Life Ranch (W); Camp Loughridge (F); YMCA of Greater Tulsa (F)
47. Favorite Out-of-State Summer Camp: Camp War Eagle (W); Camp Barnabas (F); Camp Mystic Guadalupe River (F)
48. Favorite Youth Theatre Program: Clark Youth Theatre (W); Spotlight Children's Theatre (F); Theatre Tulsa (F)
49. Favorite Gymnastics or Cheer: Aim High Academy (W); Above & Beyond Gymnastics Center (F); The Little Gym of SE Tulsa (F)
50. Favorite Dance Studio: Tippi Toes (W); Destiny Dance (F); South Tulsa Dance Co. (F)
51. Favorite Martial Arts Studio: Martial Arts Advantage (W); Christian Karate Academy (F); Golden Dragon Taekwondo (F)
52. Favorite Place to Learn Soccer: SoccerCity (W); Soccer Shots (F); YMCA of Greater Tulsa (F)
53. Favorite Soccer Club: Metro Tulsa Soccer Club United (W); Broken Arrow Soccer Club (F); Tulsa Soccer Club (F)
54. Favorite Music Program or Lessons: Saied Music Co. (W); Anthem Road Academy (F); Tulsa Youth Symphony (F)
55. Favorite Art Program or Lessons: Philbrook Museum of Art (W); ahha Tulsa (F); Tulsa Art Center (F)
56. Favorite Swim Lessons: Miller Swim School (W); SafeSplash + SwimLabs Swim School (F); YMCA of Greater Tulsa (F)
57. Favorite Tutoring: Lavender's Bleu Literacy Market (W); Brain Balance Center of Tulsa (F); Mathnasium (F)
58. Favorite Place for Story Time: Tulsa City-County Library (W); Gathering Place (F); Tulsa Toy Depot (F)
TulsaKids Family Favorites: Family Life

59. Favorite Grocery Store: Reasor's (W); ALDI (F); Trader Joe's (F)
60. Favorite Family Friendly Gym: YMCA of Greater Tulsa (W); Health Zone at Saint Francis (F); Life Time Fitness (F)
61. Favorite Salon: Kuts 4 Kids (W); Berkshire Salon and Day Spa (F); Ihloff Salon & Day Spa (W)
62. Favorite Car Dealership: Jim Norton Toyota (W); Bill Knight Ford (F); Jackie Cooper Imports (F)
63. Favorite Childcare Service: The Hangout – Tulsa's Premier Childcare Center (F); E-Nanny (F); SeekingSitters (F)
64. Favorite Date Night Restaurant: Nola's…Creole & Cocktails (W); Mondo's Ristorante Italian (F); Redrock Canyon Grill (F)
65. Favorite Place for a Girls' Night Out: The Succulent Shop (W); In the Raw (F); Pinot's Palette (F)
66. Favorite Brewery: Broken Arrow Brewing Company (W); American Solera (F); Welltown Brewing (F)
67. Favorite Bank/Credit Union: TTCU Federal Credit Union (W); Arvest (F); Bank of Oklahoma (F)
68. Favorite Auto Insurance: State Farm Insurance (W); Farmers Insurance (F); USAA (F)
69. Favorite Home Insurance: State Farm Insurance (W); Allstate Insurance (F); Farmers Insurance (F)
70. Favorite Law Firm: Tallgrass Estate Planning, LLP (W); Barber & Bartz (F); Brian A. Crain, South Tulsa Law (F)
71. Favorite Dry Cleaning Service: Yale Cleaners (W); Brookside Cleaners (F); Fox Cleaners (F)
TulsaKids Family Favorites: Pets
72. Favorite Veterinarian: Woodland West Animal Hospital (W); Forest Trails Animal Hospital (F); Good Shepherd Veterinary Hospital (F)
73. Favorite Dog Grooming: Dog 4 Dog Grooming (W); Muddy Paws (F); Sloppy Dog Wash (F)
74. Favorite Place to Board Your Pet: Woodland West Pet Resort (W); Noah's Bed & Biscuit (F); Top Dog Ranch (F)
75. Favorite Place to Buy Pet Supplies: Southern Agriculture (W); Petsmart (F); The Dog Dish (F)
76. Favorite Pet Rescue: Puppy Haven Rescue (W); Skiatook Paws and Claws Animal Rescue, Inc. (F); Tulsa SPCA (F)
TulsaKids Family Favorites: Home Improvement

77. Favorite Locally Owned Appliance Store: Hahn Appliance Center (W); Lowe's Home Improvement (F); Metro Appliances & More (F)
78. Favorite Interior Designer: Britany Luth, Brit Interior Design Co. (W); Birdy Design (F); Emily Davis, Emily Davis Interiors (F)
79. Favorite Furniture Store: Mathis Brothers Furniture (W); TA Lorton (F); West Elm (F)
80. Favorite Home Renovator: Born Again Restored (W); ReHome Remodeling & Construction (F); Rossi Brothers Company (F)
81. Favorite Home Cleaning Service: Magic Maids of Tulsa (W); ICleanIt (F); Nook & Cranny Homekeeping (F)
82. Favorite Heating & Air: Airco Service (W); Brad's Heating & Air, Inc. (F); Quality Heating, Cooling & Plumbing (F)
83. Favorite Pest Control: Mother Nature's Pest & Lawn (W); Creepy Crawlers Pest Control (F); Sure Shot Exterminating, Inc. (F)
84. Favorite Lawn & Garden Care: Southwood Landscape and Garden Center (W); A Cut Above Lawn & Landscaping (F); Mother Nature's Pest & Lawn (F)
85. Favorite Plant Nursery: Southwood Landscape and Garden Center (W); Riddle Plant Farm (F); Sanders Nursery and Distribution (F)
86. Favorite Home Security: ADT Security Services (W); Advance Alarms, Inc. (F); Alert 360 Home Security (F)
87. Favorite Electrical Service: Murray Electric Services LLC (W); Doug's Electric (F); Elliott Electric Supply (F)
88. Favorite Plumbing Service: Williams Plumbing & Drain Service (W); Wooten Plumbing (F); Duvall Plumbing Co. (F)
TulsaKids Family Favorites: Staying Healthy

89. Favorite Pediatrician: Dr. Umang Sood, Birth & Beyond Pediatrics (W); Dr. Elizabeth Dunlap, Florence Park Pediatrics (F); Dr. Stacy O'Sullivan, Pediatric Specialists of Tulsa (F)
90. Favorite Family Doctor: Dr. James Ross, Ross Medical Care (W); Dr. Bradley Hardy, Warren Clinic Family Medicine (F); Dr. Elizabeth Severns, Warren Clinic Family Medicine (F)
91. Favorite OB/GYN: Dr. Nathan Rapp, Tulsa Women's Health Care (W); Dr. Sarah Shepherd, OB/GYN Specialists of Tulsa (F); Dr. Tracey Lakin, The Women's Health Group (F)
92. Favorite Optometrist: Dr. Stephen Groves, His Vision Eye Care and Eye Wear (W); Dr. Colby Beats, Broken Arrow Vision Clinic (F); Dr. Gary T. Denslow, Pediatric and Family Eye Care (F)
93. Favorite Kid-Friendly Dentist: On the Cusp Pediatric Dentistry (W); Fox Broermann Pediatric Dentistry of Tulsa (F); Morrow, Lai and Kitterman Tulsa Children's Dentistry (F)
94. Favorite Orthodontist: Dr. Clint Emerson, Emerson Orthodontics (W); Dr. Blake Henry, Henry Orthodontics (F); Dr. Kelly Klontz, On the Cusp Pediatric Dentistry and Orthodontics (F)
95. Favorite Allergist: Dr. James Love, Allergy Clinic of Tulsa (W); Dr. Lodie Naimeh, Allergy Clinic of Tulsa (F); Dr. Lynn Wiens, Warren Clinic Allergy & Immunology (F)
96. Favorite ENT: Dr. Atul Vaidya, Eastern Oklahoma ENT (W); Dr. Evan Moore, Eastern Oklahoma ENT (F); Dr. Spencer Voth, Warren Clinic Otarlaryngology (F)
97. Favorite Place for Pediatric Therapy: TherapyWorks (W); Speech and Beyond, LLC (F); TherapyTown (F)
98. Favorite Chiropractor: Thrive Chiropractic Clinic (W); Free Spirit Chiropractic (F); Hays Chiropractic (F); Optimal Health & Wellness (F)
99. Favorite Orthopedist: Dr. Mark Schwartz, Warren Clinic Pediatric Orthopedic Surgery (W); Dr. Brian Chalkin, The Orthopaedic Center (F); Dr. Caleb Nunley, Tulsa Bone & Joint (F)
100. Favorite Hospital: Saint Francis Hospital (W); Ascension St. John (F); Hillcrest Medical Center (F)