Family Life: TulsaKids' Family Favorites Winners and Finalists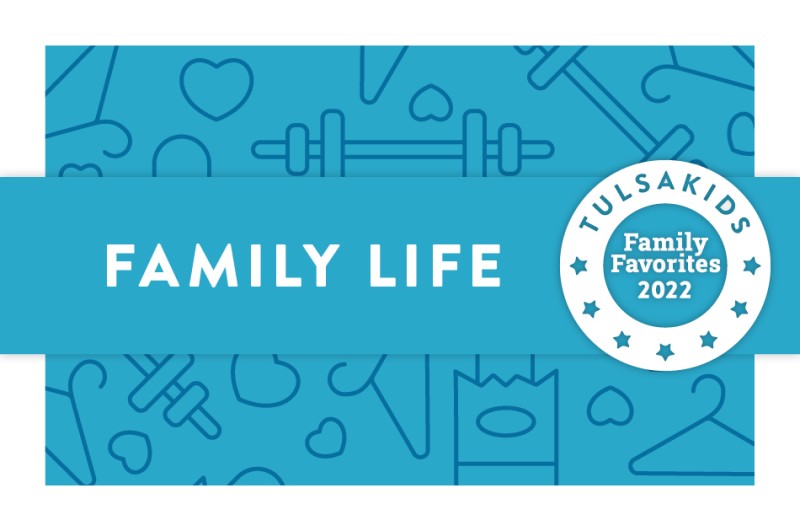 "Adulting" can have a bad rap, but these local favorites help make life as a parent easier – and even fun! Below, you'll find everything from our readers' favorite family friendly gym to insurance recommendations, date night ideas and more.
Find the rest of our 2022 Family Favorites Winners and Finalists at tulsakids.com/tulsakids-family-favorites.
FAVORITE GROCERY STORE
Whether you need a birthday cake, flowers, dinner from the deli or groceries for the week, Reasor's is Tulsa families' top pick. Parents can find recipes, shop online and save money with store coupons and the rewards program.
Finalists: ALDI; Trader Joe's
FAVORITE FAMILY FRIENDLY GYM
Families join the YMCA because there's something for everyone when it comes to staying fit and healthy. Parents can take fitness classes with childcare provided – a definite plus. Kids can participate in youth sports, swimming and more.
Finalists: Health Zone at Saint Francis; Life Time Fitness
FAVORITE SALON
Kids sometimes don't want to get a haircut, but at Kuts 4 Kids, they'll beg you to take them. They'll get to sit on a pink VW, a motorcycle, or maybe a firetruck! The super kid-friendly environment makes it easy to get them in and get that trim.
Finalists: Berkshire Salon and Day Spa; Ihloff Salon & Day Spa
FAVORITE CAR DEALERSHIP
Choosing the family car is an important decision. Parents choose Jim Norton Toyota for their new and used vehicles. Toyota's safety features appeal to parents, and Jim Norton provides outstanding service to back it up.
Finalists: Bill Knight Ford; Jackie Cooper Imports
FAVORITE CHILDCARE SERVICE
When parents need full-time, part-time or drop-in childcare, they turn to The Hangout. They provide care for kids ages 4 months to 12 years in addition to fun holiday activities like a New Year's Eve lock-in, Halloween parties and more. Families like that they pick up children from some local schools.
Finalists: E-Nanny; SeekingSitters
FAVORITE DATE NIGHT RESTAURANT
Nola's on Cherry Street was the winner when parents want to go out for dinner – sans kids! This speak-easy-like establishment brings New Orleans to Tulsa with its delicious Creole-style menu. Put the spice back into your relationship! Oysters, anyone?
Finalists: Mondo's Ristorante Italian; Redrock Canyon Grill – Tulsa
FAVORITE PLACE FOR A GIRLS' NIGHT OUT
Moms need a night out now and then. TulsaKids' moms chose The Succulent Shop as their go-to for fun with the girls. A Broken Arrow boutique, this shop is a "sip-n-shop plant boutique." Order a drink from their full bar while you create your own succulent masterpiece to keep or give as a gift.
Finalists: In the Raw; Pinot's Palette
FAVORITE BREW PUB/BREWERY
This Native American brewery was voted a favorite by TulsaKids moms and dads. A microbrewery in the Rose District, this establishment occupies the original BA Ice Plant and Light & Power Company building. Great beer and cool merch, too!
Finalists: American Solera; Welltown Brewing
FAVORITE BANK/CREDIT UNION
Cars, homes, RVs – whatever your family needs to finance, TTCU can help. TTCU also supports parents as they teach kids about money — teens can receive $50 when they open a new checking account. And, TTCU has a Kids' Savings Club. They'll get a T-shirt, kids' savings book and a $10 Incredible Pizza game card when a parent signs them up. They'll also earn rewards for deposits!
Finalists: Arvest Bank; Bank of Oklahoma
FAVORITE AUTO INSURANCE
In this all-important category, TulsaKids readers chose State Farm as their favorite auto insurer. Get a quick quote online, use the convenient mobile app, and earn discounts for safe driving.
Finalists: Farmers Insurance; USAA
FAVORITE HOME INSURANCE
State Farm wins again in the Home Insurance category. Families want a trusted company to insure their home ad property. State Farm has been around for 100 years. Get a quote or find an agent online.
Finalists: Allstate Insurance; Farmers Insurance
FAVORITE LAW FIRM
Families often don't want to think about it, but they need the security of a will or trust. Parents will have peace of mind when they talk through their needs with a professional who can help them formulate the plan that will suit their needs.
Finalists: Barber & Bartz; Brian A. Crain, South Tulsa Law
FAVORITE DRY CLEANING SERVICE
Parents like the in by 12, out by 5 convenience of Yale Cleaners. And when you've got those kids in the car, there's no need to get out and drag them in. Yale has drive-up service. Get the app and you'll automatically get the best discount available – no coupon clipping!
Finalists: Brookside Cleaners; Fox Cleaners