Birthday Parties: TulsaKids' Family Favorites Winners & Finalists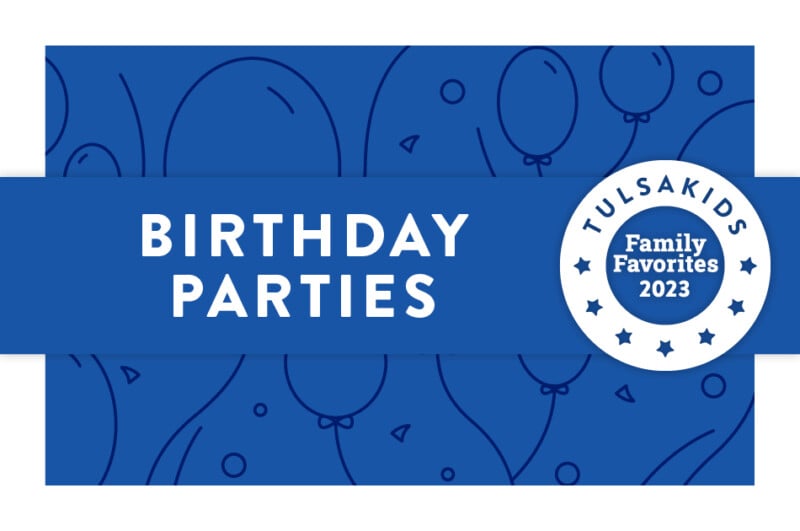 TulsaKids' readers know how to pull off an unforgettable birthday bash! Check out local parents' top picks for party venues, entertainment, treats and more below.
And find the rest of our Family Favorites Winners & Finalists at tulsakids.com/tulsakids-family-favorites.
FAVORITE PLACE TO BUY PARTY TREATS
What's a birthday party without a cake? Family-owned Merritt's Bakery has been creating unique cakes, cupcakes and cookies for children's parties for generations. From mermaids to dinosaurs and everything in between, Merritt's will make sure that your child's special day will be celebrated with a special cake.
Finalists: Nothing Bundt Cakes; Not Your Grandma's Cupcakes
FAVORITE KID'S PARTY ENTERTAINER
Parents can give their children a fantasy world beyond their imaginations. Their favorite characters come to life! Imagine having Snow White at your birthday party? The characters your kids will encounter do more than just play dress up – they act like the princess or the pirate or the mermaid they are portraying to enchant and entertain children.
Finalists: Balloon Man Neil; Hot Toast Music Co.
FAVORITE BIRTHDAY PARTY VENDOR
TulsaKids readers voted My Little Dollhouse/Once Upon a Crown as their top pick in a second category. A child's birthday is always a special event. This vendor amps it up for kids with a variety of play options from a bouncy castle to a tea room and plenty of dress-up opportunities for all.
Finalists: Balloon Therapy Tulsa; Sugar Llamas Tulsa Hills
FAVORITE BIRTHDAY PARTY VENUE
Popping up in a third category this year, Discovery Lab has private party rooms, a party coordinator to assist you, clean up afterwards, invitations and a T-shirt for the birthday child – and the best part is that guests get to play at Discovery Lab!
Finalists: Adventure Avenue; Aim High Academy
FAVORITE PLACE TO BUY BIRTHDAY GIFTS
TulsaKids readers once again voted Kiddlestix as their favorite place to buy birthday gifts. Whether it's for their own child or for a friend or relative, parents know that they'll find carefully curated toys and helpful advice at Kiddlestix. And the free gift-wrapping is a bonus!
Finalists: Learning Express Toys; Tulsa Toy Depot
FAVORITE LAWN DÉCOR BUSINESS
The yard sign craze exploded during the pandemic and shows no signs (excuse the pun) of slowing down. It's so exciting to surprise a child or loved one with a fun, colorfully decorated sign in the front yard. The Sign Gypsies will make your birthday child feel extra-special.
Finalists: Curb Confetti; Balloon Therapy