Birthday Parties: TulsaKids' Family Favorites Winners & Finalists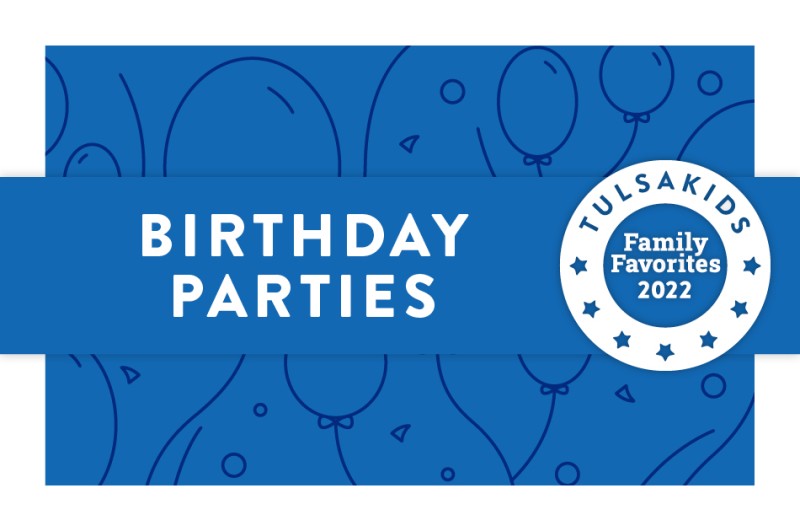 TulsaKids' readers know how to pull off an unforgettable birthday bash! Check out local parents' top picks for party venues, entertainment, treats and more below.
And find the rest of our Family Favorites Winners & Finalists at tulsakids.com/tulsakids-family-favorites.
FAVORITE PLACE TO BUY PARTY TREATS
Merritt's takes the cake when it comes to party treats. Whether you want a blow-out cake that is the centerpiece of the party, cookies or cupcakes, Merritt's bakers can create your vision. Tulsa families have trusted Merritt's to create their celebratory treats for generations.
Finalists: Cookiedoodle; OKCookieMomster
FAVORITE KID'S PARTY ENTERTAINER
Once again, TulsaKids readers voted Dustin the Balloon Guy as their favorite party entertainer. While he does create some awesome balloon sculptures, that's not Dustin's only talent. He entertains audiences with juggling, magic, face-painting and amazing anime-style balloons and outfits.
Finalists: Balloon Man Neil; Hot Toast Music Co.
FAVORITE BIRTHDAY PARTY VENDOR
These bounce houses are unique. Choose from pastel colors such as lemon drop, pearl, cotton candy or even rainbow! It's like bouncing in a cloud.
Finalists: Balloon Therapy Tulsa; Next Level Balloons
FAVORITE BIRTHDAY PARTY VENUE
Parents love the ease of birthday parties at Incredible Pizza. They provide food and entertainment (even invitations), while you sit back and enjoy being the best parent ever. Attractions include go-karts, laser tag, bumper cars, glow golf and much more. You choose the package that best fits your child.
Finalists: Adventure Avenue; Aim High Academy
FAVORITE PLACE TO BUY CHILDREN'S GIFTS
Kiddlestix is known for its high quality, durable and educational toys – that are also fun! Locally owned, the staff can help you find just the right toy based on your child's interest, age and development. Parents know they can find just the right toy at Kiddlestix. And, there's always free gift-wrapping!
Finalists: Learning Express Toys; Tulsa Toy Depot
FAVORITE LAWN DÉCOR BUSINESS
The pandemic taught us that we can do celebrations in new ways – like using amazing lawn décor to surprise our kids. Parents love the personalized message and decorations that Sign Gypsies offer. Tell them what you're celebrating and what you want to say – whether it's a birthday, graduation, new baby or other event – and they'll do the rest!
Finalists: Curb Confetti; Tulsa Balloons