Family Friendly Halloween Events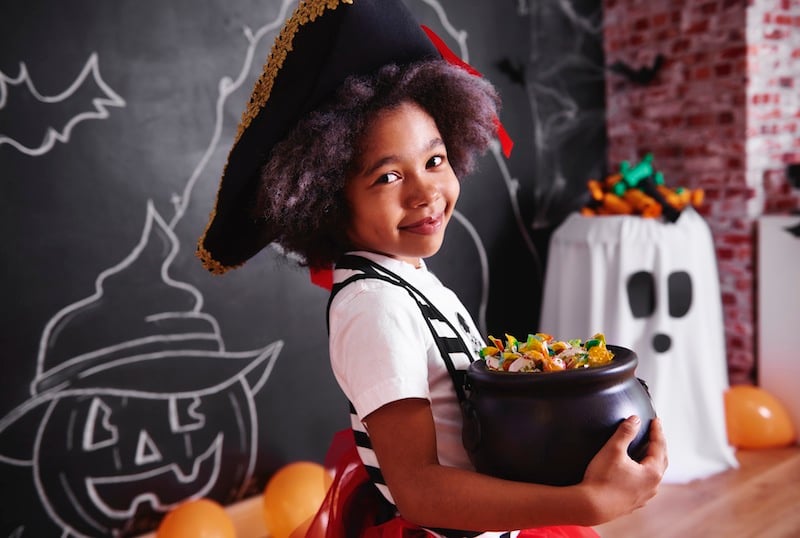 Halloween brings out the kid in all of us, from debates along the lines of "What is the best/worst Halloween candy," to curling up with a spooky book or movie, hoping for a genuine scare.
To help you make the most of this sensational season, we've provided the following roundup of family friendly Halloween events!
Looking for more? Check out our list of Pumpkin Patches and Corn Mazes here, and our list of Family Friendly Festivals here. 
---
When: September 27-October 26; Fridays and Saturdays; gates open at 5:30, ticket sales end at 10 p.m.
Where: Castle of Muskogee, 3400 W. Fern Mountain Rd., Muskogee
Castle of Muskogee's annual Halloween Festival has attractions for people of every age and desired scare level. Kids can enjoy Halloweenland, the Enchanted Boardwalk, a Halloween Train and more, while those who can't get enough make-believe horror can sign up for Domus Horrificus, Casa Morte and the Trail of Blood. Plus, you can purchase Halloween decor and costumes on-site as well as food and beverages. Learn more at www.okcastle.com.
---
When: October 25-31, 6-9 p.m.
Where: Oklahoma Aquarium, 300 Aquarium Dr., Jenks
For the first time, the Oklahoma Aquarium will host seven nights of indoor trick-or-treating for kids of all ages from Friday, October 25 to Thursday, October 31! Guests can follow the Trick-or-Treat trail for loads of candy, and see our fascinating marine life in the surrounding exhibits. Dress up in your best Halloween costume for a chance to win prizes, get your face painted with your favorite animal, and join us for the opportunity to interact with some of the ocean's most curious creatures from the deep! Little ones can explore the Coral Cove, a sweet and spooky play area with age-appropriate games, candy, and prizes. www.okaquarium.org
---
When: October 26-27, 5-9 p.m.; October 28-31, 6-9 p.m.
Where: Tulsa Zoo, 6421 E. 36th St. N.
Visit the zoo for a spooky, but not too scary, Halloween trick-or-treat event the whole family will enjoy! Your little ones can fill their bags with treats while exploring a world of royal courts, carnival games and swashbuckling pirate adventure. Burger King Royal Castle summons all princesses (and prince charming types) for royal court activities. Then, chart yer course for QuikTrip Pirate Island with a one-of-a-kind pirate ship. The Pumpkin Patch Playroom delights kids of all ages with its hay maze and pumpkin decorating. Be warned, brave souls, that a tour through the Haunted House can be a hair raising experience. Cost for admission is $9 for ages 1 and older; $8 for Tulsa Zoo members. The Haunted Train is back with spooky (but not-too-scary) surprises around every turn for only $5. Children can take a spin on the Scary-Go-Round for only $1. Dates: Oct.28-31 from 6-9 p.m.; 5-9 p.m. on Oct. 26-27. Tulsa Zoo, 6421 E 36th St. North.
---
When: October 30, 3:30-5:30 p.m.
Where: Nathan Hale Library, 6038 E. 23rd St.
Come and create the scariest pumpkin of all! Pumpkins are provided by the Tulsa Library Trust. For ages 10-16.
---
When: October 30, 5-7 p.m.
Where: Martin Regional Library, 2601 S. Garnett Rd.
Join us for a spooky night of Halloween crafts and a scary movie. We'll watch Alfred Hitchcock's "The Birds." For ages 10-18.
---
When: October 30-31
Where: Gathering Place, 2650 S. John Williams Way
No tricks, just treats! Gathering Place is casting a spell for all not-so-scary ghosts and ghouls to make their way to the park for sweets and treats. Head to Spooky Street for a kid-friendly, family event where free candy stations will be a real scream. With fun games, costume contests, live entertainment and so much more, this all hallows celebration will be a monster mash of memories!
---
When: October 30-31, 11 a.m.-6 p.m.
Where: The STEMCell Science Shop, 2415 E. Admiral Blvd.
The Echolocation Grotto from Alabaster Caverns State Park will be on site with live bats! STEMCell will have pop-up shops with local vendors, prints for sale, vintage finds, tarot readings, and baked goods for sale from Queenies Plus.
---
When: October 31, 10 a.m.-9 p.m.
Where: Mother Road Market, 1124 S. Lewis Ave.
Trick-or-treat, smell my feet, grab something to eat! Each merchant in the market has a bucket of candy. Come & trick-or-treat while supplies last. Fun treats for friends with food allergies can be found at the Kitchen 66 General Store. Just look for the teal pumpkin.
---
When: October 31, 4-4:45 p.m.
Where: Broken Arrow Library, 300 W. Broadway Ave.
Bring the whole family for this special Halloween-themed storytime. Come dressed in your costume and receive a sweet treat. // Trae a toda la familia para este cuento especial de Halloween. Ven vestido con tu disfraz de Halloween y recibe un dulce regalo.
---
When: October 31, 4-6 p.m.
Where: Main Street Jenks, 115 S. First St.
Downtown Jenks becomes the home to ghouls, goblins and more for this one-of-a-kind Halloween celebration. Come in your costumes and join us for a wicked good time! Visit each location for a special Halloween surprise.
---
When: Thursday, October 31, 5-7 p.m.
Where: Tulsa Botanic Garden, 3900 Tulsa Botanic Dr.
Trick-or-treat in the Children's Discovery Garden as it becomes even more magical as the sun sets. No scares here, just fanciful fun for young and young at heart. Limited tickets. Purchase on website. tulsabotanic.org
---
When: Thursday, October 31, 5-9 p.m.
Where: ahha Tulsa, 101 E. Archer St.
Everyone is invited for special activities including:
Ghostly refreshments
A building-wide scavenger hunt with prizes
Hands-on Halloween activities in THE STUDIO
Costumes are encouraged! All activities are included with admission. All ages welcome. ahhatulsa.org/halloween.
---
When: October 31, 6-6:30 p.m.
Where: Hardesty Library, 8316 E. 93rd St.
Bring the whole family for this 0-to-5 storytime. Join us for not-too-spooky Halloween stories. Come dressed in a costume or not. Fun will still be had by all!
---
When: October 31, 6-8 p.m.
Where: Will Rogers Memorial Museum, 1720 W. Will Rogers Blvd., Claremore
Want a fun and safe place to Trick or Treat?  The Will Rogers Memorial Museum in Claremore will be open from 6-8 p.m. for trick-or-treaters of all ages.  www.willrogers.com
---
When: October 31, 6-8 p.m.
Where: Eastwood Baptist Church, 948 S. 91st E. Ave.
Children of all ages are invited out to wear costumes and collect candy. Enjoy free hot dogs, candy, games, Jupiter Jumps, and participate in a costume contest.
---
When: October 31, 6-8 p.m.
Where: Kelly Lane Park, 1151 S. Park St., Sapulpa
Bring your little ghosts and goblins to Spooktacular Trails & Treats, a safe and free alternative to trick-or-treating. Local businesses and community groups will join us by setting up "trick or treat" booths along the trail at Kelly Lane. Join us for free games, activities, and lots of candy!
---
When: October 31, 6:30-8 p.m.
Where: Rhema Bible Church, 1025 W. Kenosha St., Broken Arrow
Rhema's Trunk or Treat is a Halloween alternative and night of family-friendly, Christ-centered fun. Join us at the Rhema campus on Thursday evening, October 31, between 6:30-8 p.m. All kids in 5th grade and under are invited to bring their families to the Rhema campus for a street full of trunks with treats! Inflatables will be set up, and candy will be plenteous. Food trucks will also be on-site for those needing a little more nourishment beyond sugar. The event is free, but bring money for food trucks if you plan to eat!