Family Friendly Halloween Events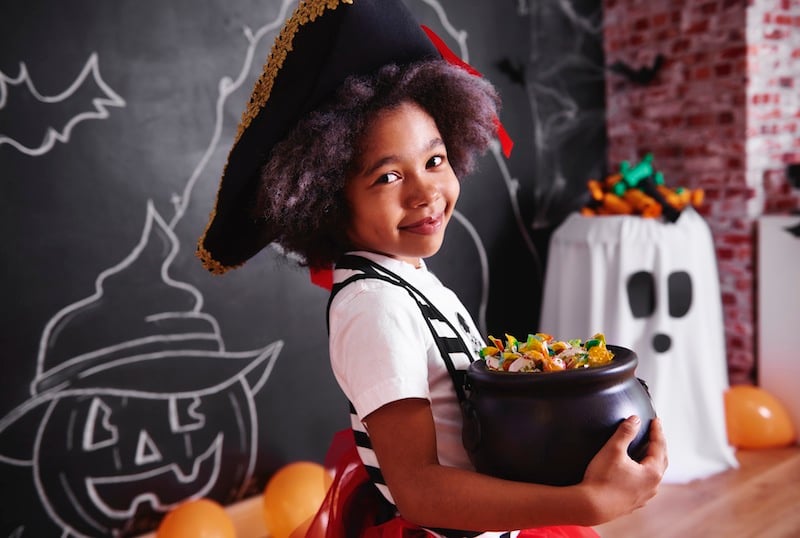 Halloween brings out the kid in all of us, from debates along the lines of "What is the best/worst Halloween candy," to curling up with a spooky book or movie, hoping for a genuine scare.
To help you make the most of this sensational season, we've provided the following roundup of family friendly Halloween events!
Looking for more? Check out our list of Pumpkin Patches and Corn Mazes here, and our list of Family Friendly Festivals here.
---
When: Fridays and Saturdays in October; gates open at 5:30, ticket sales end at 10 p.m.
Where: Castle of Muskogee, 3400 W. Fern Mountain Rd., Muskogee
Castle of Muskogee's annual Halloween Festival has attractions for people of every age and desired scare level. Kids can enjoy Halloweenland, the Enchanted Boardwalk, a Halloween Train and more, while those who can't get enough make-believe horror can sign up for Domus Horrificus, Casa Morte and the Trail of Blood. Plus, you can purchase Halloween decor and costumes on-site as well as food and beverages. Learn more at www.okcastle.com.
---
When: October 25-31, 6:30-9 p.m. (Last admission sold at 8 p.m.)
Where: Oklahoma Aquarium, 300 Aquarium Dr., Jenks
The Oklahoma Aquarium will host seven nights of indoor trick-or-treating for kids of all ages! Guests can follow the Trick-or-Treat trail for candy and see our fascinating marine life in the surrounding exhibits. Dress up in your best Halloween costume for a chance to win prizes, and join us for the opportunity to interact with some of the ocean's most curious creatures from the deep!
This year's event will include protocols to ensure the health and safety of our guests, vendors, staff, and volunteers. Safety measures include nightly admission caps, mask requirements, and glove requirements for vendors, in addition to our ongoing safety efforts.
---
Photo courtesy of Tulsa Zoo
When: Friday, Oct. 22 and 29, 6-9 p.m. (SOLD OUT); Saturday, Oct. 22 and 30, 1-4 p.m. and 6-9 p.m. (SOLD OUT); Sunday, Oct. 24 and 31, 1-4 p.m. (SOLD OUT)
Where: Tulsa Zoo, 6421 E. 36th St. N.
Tulsa Zoo's premier spooky (but not-too-scary) Halloween trick-or-treat event for the whole family is expanding! For 2021, enjoy two weekends of trick-or-treating, with both daytime and nighttime options available. HallowZOOeen events include candy stops, four themed zones including the all-new Andy B's Arachnid Arcade, ambassador animals meet-and-greets, and a haunted house!
---
When: October 1-30
Where: Submit your work to any Tulsa City-County Library branch
Thrills, chills and spine-tingling tales is what we're looking for! The top 10 winners in each age category will have their story published online and in a book to be added to our library collection. All entries must be the original work of the student. There are three age categories: 8-11, 12-14, 15-18. Deliver submissions to any Tulsa City-County Library by Saturday, October 30. No more than 3,500 words per entry. All entries must include a title page with the author's first and last name, age and contact information (phone number or email). Only one entry will be accepted per contestant.
---

---
When: Thursdays in October, 6-8 p.m.
Where: Tulsa Botanic Garden, 3900 Tulsa Botanic Dr.
Thursday nights in October are BOO-tanical Bands & Blooms with costume contests and trick-or-treating stations in addition to music and food truck. There will be a costume contest and non-scary trick-or-treating stations with botanical and animal-themed candy, toy or other surprises, pumpkin decorating, games and tattoo station. Costumes are encouraged. Trick-or-treating trail is $10 for each trick-or-treater, paid at the door, in addition to general admission. Tickets may sell out, so purchase admission tickets in advance at tulsabotanic.org. https://tulsabotanic.org/?q=content/boo-tanical-bands-blooms
---
When: Daily in October
Where: ahha Tulsa, 101 E. Archer St.
Use ahha's featured materials (Cheese cloth, faux webbing, red crepe paper, black faux flowers, googly eyes, fur scraps, leather scraps, hay/straw, candy corn, ping pong balls) all month long in The STUDIO to help build a Halloween Village! Plus, while you're there, participate in Inktober or Drawloween! On October 31, make a mask or candle jar lantern and explore with glowing paint while watching classic Halloween movies. Learn more at ahhatulsa.org.
---
HALLOWEEN MAKEUP TUTORIAL: WOUNDS
When: October 28, 4:30-5:30 p.m.
Where: Virtual. Pick up kits at Brookside Library, 1207 E. 45th Pl.
Need help creating perfect scars, bruises and wounds for your costume? Pick up your kit at Brookside Library, and then join us on Zoom and learn how to perfect your Halloween makeup. Register at www.tulsalibrary.org/events to receive Zoom link. For ages 10-18.
---
When: October 28, 4:30-5:30 p.m. Pre-register by October 22
Where: Reed Park Community Center, 4233 S. Yukon Ave.
You can carve, paint or just embellish your Halloween Jacko-Lanterns with our supplies. Please note, you must bring your own pumpkin. Ages: 6 and up Cost: $2
---
When: October 28, 7-10 p.m.
Where: Guthrie Green, 111 E. Reconciliation Way
Movie nights are back at Guthrie Green from 7-10 p.m.! Bring a lawn chair or picnic blanket for an outdoor screening of some of the most popular films in Hollywood along with popcorn and dinner options from some of Tulsa's best food trucks!
---
When: October 29, 5-7 p.m.
Where: Claude Cox Omniplex, 555 Tank Farm Rd., Okmulgee
Join Okmulgee Main Street & Muscogee Nation Tourism & Recreation Department for a fun Halloween event! This years event will be a drive-thru version at the Claude Cox Omniplex. Several businesses & organizations will be setting up & passing out candy to trick-or-treaters along the drive-thru area. This is to ensure a safe & fun event for our community.
---
When: October 29, 6-8 p.m.
Where: Whiteside Park, 4009 S. Pittsburg Ave.
Meet at the Whiteside tennis courts for a spooky walk-through, carnival games, costume contest and inflatables! Free admission.
---
When: October 29, 4-6 p.m.
Where: Main Street Jenks
The Jenks Chamber of Commerce will host an evening of treats, games and more at the third annual Trick-or-Treat on Main Street. Downtown Jenks will become a home to ghouls, goblins and more for a one-of-a-kind Halloween celebration. The Andy B's sponsored event will feature decorated tables with many treats on First Street, including fun activities. Main Street merchants will also participate in passing out candy and other items from their storefronts.
The community is invited to attend the family-friendly event in costume.
---
When: October 29, doors open at 6:30; Movie starts at 7 p.m.
Where: Will Rogers Memorial Museum, 1720 W. Will Rogers Blvd., Claremore
Join the Will Rogers Memorial Museum for Movie Night in the newly renovated Will Rogers Theatre for a fun night of classic movies. This month's feature is "Nosferatu." Admission is FREE and there is FREE Popcorn and water thank to the Bank of Commerce. The Shindig – Live Music and family games on the Porch from 6-9 p.m.
---
When: October 30, 10-11 a.m.
Where: Whiteside Park & Community Center, 4009 S. Pittsburg Ave.
It's a Halloween event for dogs! Bring your furry family member to enjoy a scavenger hunt for treats, costume contest and raffle prizes. Donations will be accepted.
---
When: October 30, 10-11:30 a.m.
Where: Philbrook Museum, 2727 S. Rockford Rd.
Trick or Treat! Wear your costume and boogie down for this special Singalong Saturday! We'll celebrate the season with plenty of treats, and maybe a trick or two.
Join us in the Philbrook gardens for fun concerts with Hot Toast Music Co. to get you movin' and groovin' as a family. Rock out the whole time or just drop by for a few songs!
---
When: October 30, 10 a.m.-1 p.m.
Where: First United Methodist Church Tulsa, 1115 S Boulder Ave
Get your costumes ready and join us for a Trunk or Treat at FUMC Tulsa!
We'll have tons of candy, carnival games, food trucks, and a petting zoo! We'll be using the First Kids building at 12th and Boulder and the trunk lot will be in the Boulder Avenue lot.
Parking is available in the Boulder Avenue parking lot (Between Boulder & Cheyenne). We will have crossing guards to help families cross Boulder Avenue as needed.
---
When: October 30, 10 a.m.-12 p.m.
Where: Iron Gate Tulsa, 501 W. Archer St.
Help scare away hunger this Halloween!
Collect any non-perishable food items and bring them by Iron Gate in your costume. Staff will be there to greet you and have some treats of our own. Every donation goes to providing families in need with groceries.
---
When: October 30, 10 a.m.-4 p.m.
Where: Tulsa Air and Space Museum & Planetarium, 3624 N. 74th E. Ave.
2021 Trunk or Treat at TASM is officially here- this year with the much anticipated return of the Casi Chili Cookoff! Sponsored by Riverside Ford of Tulsa.
This year will be just as exciting as last! TASM's exhibit hall will be decorated for Halloween celebrations, with creepy crafts and spooky science tables, the official Casi Chili Cookoff, and trick or treating under the MD-80. Bring the little ones in costume to take full part of the festivities and get as much candy as you can!
Details on the costume contest to come.
Our Bertelsmeyer Planetarium will be decked out in Halloween gear, and will even be playing a surprise showing of a Halloween episode before every Planetarium show!
---
When: October 30-31 (CLICK HERE for schedule)
Where: Oklahoma Railway Museum, 3400 NE Grand Blvd., Oklahoma City
Looking for some Halloween fun? Join us on Oct. 30th and 31st for the Halloween Train. Ride the train decked out with Halloween decorations and get a candy giftbag. Enter our 2nd Annual Halloween Costume Contest. Play mini golf and other fun games, and explore the museum with a Halloween scavenger hunt!
---
When: October 30, 11 a.m.-2 p.m.
Where: Asbury United Methodist Church, 6767 S. Mingo Rd.
Celebrate the arrival of fall with Asbury United Methodist Church on October 30, 11 a.m.-2 p.m.! With games, trunk or treating, a petting zoo, and more, Asbury is bringing in the autumn season! This event is free for everyone unless you'd like to purchase food or drinks from the food trucks. Invite your co-workers, neighbors, and friends! For more information, please contact Jennifer Barnes at 918.392.4582 or jbarnes@asburytulsa.org.
---
When: October 30, 11 a.m.-2 p.m.
Where: The Shops at Mother Road Market, 1102 S. Lewis Ave.
Calling all ghouls and goblins to Shops at Mother Road Market for a spook-tacular Howl-o-ween eve Trunk-or-Treat! Dust the cobwebs off your best disguise and join Mythic City at Shops at Mother Road for an afternoon of candy, costumes, cars, and community.
– Free candy for all kiddos
– Free Mythic City tote bags for the first 50 Trunk-or-Treaters
– Fun Costume Photo-op
– a Superhero appearance
– other exciting giveaways
– Give-a-Treat/Get-a-Treat! Iron Gate Food Pantry will have a collection site set up there, so be sure to bring a non-perishable food item to keep the giving going!
---
When: October 30, 11 a.m.-8 p.m.
Where: Meadow Gold Market District (Decopolis, Buck Atom's and other businesses)
Go trick or treating at the shops in the Meadow Gold Market District! Josey Records will have a DJ (12-2 p.m. and 3-5 p.m.), and live music from 6-8 p.m. They will also host a costume contest – sign up at 5 p.m., and the winner will be chosen at 7 p.m. Buck Atom's will have face painting, games and more from 11-2 p.m., and Decopolis will offer 10 percent off to anyone wearing a costume!
---
When: October 30, 2-6 p.m.
Where: Kendall-Whittier District, Admiral and Lewis
Trick-or-Treat at Kendall-Whittier businesses from 2-6 p.m. End the night at Heirloom at dusk for an outdoor movie screening.
Plus, enter the social media photo contest: "Post a photo of yourself in your costume at your favorite KW spot with the hashtag
#hallowhittier2021
for a chance to win a special KW prize package!"
---
When: October 30, 3-5 p.m.
Where: SafeSplash + SwimLabs Tulsa, 7820 101st St., Suite A
Join us for our annual Pumpkins in the Pool event Saturday, October 30 from 3-5 p.m.
Wear your suit and hop in the pool to pick your perfect pumpkin, or have one of our instructors hand your pumpkin that you spy with your little eye from on deck.
Decorate your pumpkins in our lobby and get your face painted! Pumpkins are $5.00 apiece and supplies to decorate your pumpkin as well as face painting are included in the cost.
Wear your favorite costume for a chance to win a $25.00 Visa gift card and a month of free lessons!
Sign up at the front desk to reserve your time slot. You don't have to attend lessons to be apart of this event, so bring your friends and family!
Call us if you have questions at 918.727.2777.
---
When: October 30, 4-7 p.m.
Where: Tulsa Fire Training Center, 2819 N. New Haven
Tulsa Fire Department will supply candy, food and drinks, goodie bags and fire safety information. Plus, Tulsa Police Department, Tulsa County Sheriff's Office and EMSA Oklahoma will be there to provide additional safety information. Children must be accompanied by adults.
---
When: October 30, 2021 6-8 p.m.
Where: Will Rogers Memorial Museum, 1720 W. Will Rogers Blvd., Claremore
Want a fun and safe place to Trick or Treat? The Will Rogers Memorial Museum in Claremore will be open from 6-8 p.m. for trick-or-treaters of all ages. www.willrogers.com
---
When: October 30, 6-8 p.m.
Where: Broken Arrow Rose District
The Broken Arrow 2021 Safety Spooktacular is a fresh look at a longtime family-friendly event off Main Street. The event, formerly known as "Night Out Against Crime with Fun and Games on Main," aims to bring the Broken Arrow community together in a fun, giant-sized block party. The goal of the 2021 Safety Spooktacular is to allow our police and fire departments to engage with families, answer questions about public safety, heighten crime prevention and drug prevention awareness and strengthen neighborhood spirit.
The 2021 Safety Spooktacular will have free candy, area law enforcement, a live band, live DJ, free food, and countless giveaways. Vendors and non-profits will be lined up and down the Rose District.
Plus there will be a costume contest!
---
When: October 30, 6-9 p.m.
Where: Bixby Community Center, 211 N. Cabaniss Ave., Bixby
Mummies of all ages! Bring your goblins, witches, and super heroes to a spook-filled Halloween dance.
Costume contest
Refreshments
$5/person (check or cash)
Music by D. J. Connection
---
When: October 30-31, 2021
Where: Gathering Place, 2600 S. Riverside Dr.
No tricks, just treats! Gathering Place is casting a spell for all not-so-scary ghosts and ghouls to make their way to the Park for Sweets and Treats on Spooky Street presented by U.S. Cellular! Don't miss a kid-friendly, family trick-or-treating experience that's a real scream. With fun games, costume contests, live entertainment and so much more, this all hallows celebration will be a monster mash of memories!
---
When: October 31, 4-6 p.m.
Where: Miller Swim School Tulsa, 6415 S. Mingo Rd.
The whole family is invited to spend Halloween at Miller Swim School Tulsa's Spooky Open Swim from 4-6 p.m. on October 31! Open Swim is open to ALL swimmers, for just $5 per person ages 3+.
---
When: Ongoing
Where: 6808 S. Memorial Drive, Suite 220
SpotLite Magic & Costumes has been serving the Tulsa area since 1976, offering fun costumes for children and adults. SpotLite has it all: From spooky to funny, they will have you covered. Children's costumes starting at $9.99. They also provide the following items: Wigs, masks, professional make-up for special effects, hats, hundreds of costume accessories for the DYI costume creators, costume rentals, magic tricks, jokes, and much more. During the Halloween season SpotLite also offers many halloween decorations and animated props. SpotLite is your One Stop Halloween Costume Shop, locally owned and family operated.
Also, check out the newly added Magic Attic Theater, an intimate 50 seat theater bringing live Magical entertainment for all ages! Located inside Spotlite Magic and Costumes.
Text the word "start" to 918.791.0175 and receive a discount on your purchase.
---