Family Friendly Halloween Events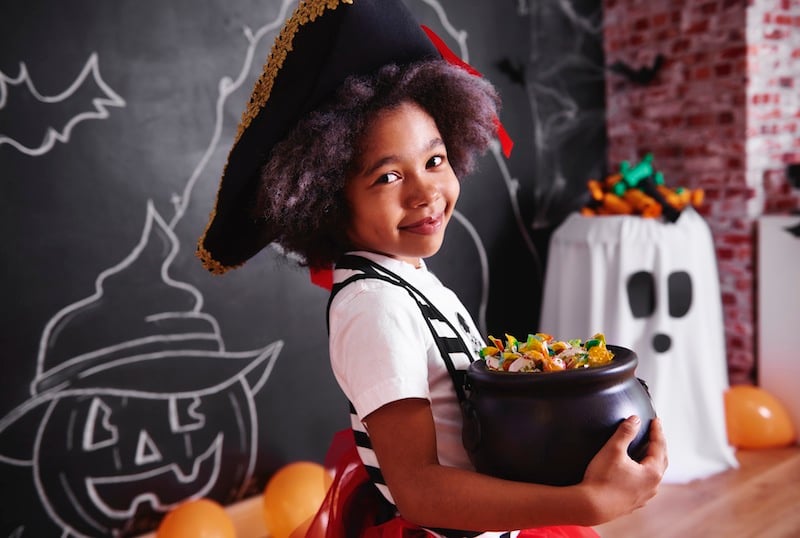 Halloween brings out the kid in all of us, from debates along the lines of "What is the best/worst Halloween candy," to curling up with a spooky book or movie, hoping for a genuine scare. To help you make the most of this sensational season, we've provided the following roundup of family friendly Halloween events in Tulsa!
Looking for more? Check out our list of Pumpkin Patches and Corn Mazes here, and our list of Family Friendly Festivals here.
---
Trick or Treat Events
When: October 6, 13, 20, 27, 5:30-8 p.m.
Where: Tulsa Botanic Garden, 3900 Tulsa Botanic Dr.
Trick-or-treat to unique, nature-themed stations in the Garden. Live music, food and drinks will be available for sale. Regular admission plus $10-12/trick-or-treater. See website for details and tickets.
---
When: Friday, October 21 and 28, 6-9 p.m.; Saturday, October 22 and 29, 1-4 p.m. and 6-9 p.m.; Sunday, October 23 and 30, 1-4 p.m.
Where: Tulsa Zoo, 6421 E. 36th St. N.
Tulsa Zoo's premier spooky (but not-too-scary) Halloween trick-or-treat event for the whole family returns with two weekends of both morning and evening trick or treating! tulsazoo.org/boo
---
When: October 22, 11 a.m.-2 p.m.
Where: Asbury Church, 6767 S. Mingo Rd.
Come celebrate the arrival of fall with our annual trunk-or-treat. This event is free for everyone unless you'd like to purchase food or drinks from the food trucks. For more information, please contact Jennifer Barnes at 918.392.4582 or jbarnes@asburytulsa.org.
---
October 25, 7:15 p.m.
Reed Park, 4233 S. Yukon Ave.
The great pumpkin dropped a bag candy in the park and we have to pick it all up. Bring your flashlight, bag, and come and help us clean up the mess and you get to keep what you find.
---
When: October 25-31, 2022, 6:30-9 p.m.
Where: Oklahoma Aquarium, 300 Aquarium Dr., Jenks
The Oklahoma Aquarium will host seven nights of indoor trick-or-treating for kids of all ages! Guests can follow the Trick-or-Treat trail for candy and see our fascinating marine life in the surrounding exhibits. Dress up in your best Halloween costume for a chance to win prizes, and join us for the opportunity to interact with some of the ocean's most curious creatures from the deep!
---
When: October 27, 6-8 p.m.
Where: Hicks Park, 3443 S. Mingo Rd.
Tulsa Parks presents Sparky's Spooktacular Trunkor-Treat. Dress up in your Halloween costumes and gather candy and toys in a fun and safe environment. There will be games, Bounce Houses, food trucks, and more.
---
When: October 28, 6-8:30 p.m.
Where: O'Brien Park, 6149 N. Lewis Ave.
Bring your flashlight for the hunt in the dark. Wear costumes (or not)! Snacks and beverages provided; no candy pails or bags needed! Ages 0-12, FREE (Event will be held inside the center in the event of rain.)
---
When: October 29, 11 a.m.-2 p.m.
Where: Tulsa Air and Space Museum & Planetarium, 3624 N. 74th E. Ave.
Kids can trick or treat from new FORD Trucks, vintage cars and WWII Military Vehicles. Members get in free.
---
When: October 29, 12-4 p.m.
Where: Meadow Gold District (11th St. between Peoria and Utica)
Wear your best Halloween Costume and head to the MGD for a fun and safe afternoon of Trick-or-Treating! Participating businesses will be passing out candy (Allergy Friendly at Sky Gallery!), get a silly selfies with Count BUCKULA at Buck Atom's Cosmic Curios, and games and Dino-fun at Decopolis!
---
When: October 29, 6-8 p.m.
Where: Broken Arrow Rose District
Safety Spooktacular will have free candy, area law enforcement, a live band, live DJ, free food, and countless giveaways. Vendors and non-profits will be lined up and down the Rose District. Plus there will be a costume contest! The goal of this event is to allow BA's police and fire departments to engage with the local community.
---
When: October 30, 3-5 p.m.
Where: Case Park, 2500 S River City Park Rd, Sand Springs
Boo on Broadway is a family friendly, community fall celebration in downtown Sand Springs, Oklahoma. Sponsored by the Sand Springs Ministerial Alliance and supporting businesses, this event features a fun environment for families to trick or treat, play games, enjoy music, food and participate in coffin races!
---
When: October 30, 4-7 p.m.
Where: Downtown Bixby, 107 N. Stanley
Free community event that features attractions such as carnival games, carnival rides, inflatables, hay rides, axe throwing, caricature drawings, face painting, food trucks, and trunk or treating spanning an entire city block. There will be a competitive costume contest with community respected judges and prizes provided by local businesses, including a category for pets. Additionally, swag bags will be given out to the first 250 kids in attendance.
---
October 31, 4-6 p.m.
Downtown Jenks
Downtown Jenks will become a home to ghosts, superheroes and more for a family-friendly Halloween celebration. The event, presented by Andy B's Entertainment, will feature decorated tables with many treats on First Street.
Main Street merchants will also participate in passing out candy and other items from their storefronts.
The community is invited to attend in costume.
---
Monday, Oct. 31 ● 9 a.m.-9 p.m.
Rudisill Regional Library, 1520 N. Hartford Ave.
Stop in all day for trick-or-treating and a Halloween scavenger hunt for not-so-spooky prizes. For all ages.
---
When: October 31, 2022 6-8 p.m.
Where: Will Rogers Memorial Museum, 1720 W. Will Rogers Blvd., Claremore
Want a fun and safe place to Trick or Treat? The Will Rogers Memorial Museum in Claremore will be open from 6-8 p.m. for trick-or-treaters of all ages. willrogers.com
---
Other Hauntingly Fun Events
When: Fridays and Saturdays, September 29-October 29, 6-10 p.m. (Tickets must be purchased by 10 p.m., attractions are open later.)
Where: Castle of Muskogee, 3400 W. Fern Mountain Rd., Muskogee
Castle of Muskogee's annual Halloween Festival has attractions for people of every age and desired scare level. Kids can enjoy Halloweenland, the Enchanted Boardwalk, a Halloween Train and more. Those who can't get enough make-believe horror can sign up for Domus Horrificus, Casa Morte and the Trail of Blood. Plus, you can purchase Halloween decor and costumes on-site as well as food and beverages. Learn more at okcastle.com.
---
Tuesday, Oct. 25 ● 11:30 a.m.-12:30 p.m.
Broken Arrow Library, 300 W. Broadway Ave., BA
Enjoy some Halloween-themed treats and music while doing a creepy carrots craft based on the book Creepy Carrots! by Aaron Reynolds. Supplies are limited. For preschoolers and elementary students.
---
Tuesday, Oct. 25 ● 4:30-5:30 p.m.
South Broken Arrow Library, 3600 S. Chestnut Ave., BA
Come for an afternoon of scary stories in a haunted library and leave with glow-in-the-dark slime! Registration is required. Register at www.tulsalibrary.org/events or call 918-549-7662. For ages 10-18.
---
Tuesday, Oct. 25 ● 5-6 p.m.
Herman and Kate Kaiser Library, 5202 S. Hudson Ave.
Protect your brain from the cold and zombies with a zombeanie! Make a winter hat with stitches, eyes and, of course, brains. Registration is required. Register at www.tulsalibrary.org/events or call 918-549-7323. For ages 13 and up.
---
Tuesday, Oct. 25 ● 6-7 p.m.
Zarrow Regional Library, 2224 W. 51st St.
Mix magical potions and create unique Halloween crafts. Costumes are welcome but you might get messy. Ideal for ages 3 and older.
---
When: October 27, 6-7:30 p.m.
Where: Pratt Library, 3219 S. 113th W. Ave., Sand Springs
The Pratt Library Anime & Manga club is hosting a Halloween costume party. Wear your favorite cosplay or costume, enjoy snacks and vote on your favorite costume of the night! For sixth through 12th graders.
---
Thursday, Oct. 27 ● 6:30-7:30 p.m.
Zarrow Regional Library, 2224 W. 51st St.
Join us for this creepy event where we will cram five nights at Freddy's into one night at Zarrow! For teens.
---
Thursday, Oct. 27 ● 7-8:30 p.m.
Martin Regional Library, 2601 S. Garnett Rd.
Join us for some Halloween and Día de los Muertos pumpkin carving and decorating. Pumpkins, decorating supplies and carving tools will be provided. For teens and adults.
---
When: October 28-29, 6-9 p.m.
Where: Gathering Place, 2600 S. Riverside Dr.
Gathering Place invites all goblins, ghosts, and ghouls to The Great Halloween Hunt presented by ONE Gas! Scavenge your way through 66.5 acres to find more than 20 spooky fun, kid-friendly activities in themed realms throughout the park on October 28 and October 29 from 6 p.m. to 9 p.m. Learn more at gatheringplace.org/events/
---
October 28, 6-8 p.m.
Whiteside Park, 4009 S. Pittsburg Ave.
Play unlimited carnival games, participate in a costume contest and grab something to eat from food trucks. Free admission.
---
Friday, Oct. 28 ● 6:30-8 p.m.
Martin Regional Library, 2601 S. Garnett Rd.
Someone stole a recipe for a supersecret witch's brew. The Witch and Pumpkin P.I. need your help to interrogate the suspects. Can you figure out who stole the witch's brew recipe and why? This is an after-hours program. Registration is required. Register at www.tulsalibrary.org/events or call 918-549-7323. For ages 9-12.
October 28-29, 9:30 p.m. and 11:30 p.m.
Magic Attic Theater at SpotLite Magic & Costumes, 6808 S. Memorial Dr., Suite 220
Pre-Possessed is a haunted themed magic show built around the unsettling experiences, events, and experiments of the popular spirit seances of the mid to late 1800s. It is the most unique theatrical séance experience ever! Recommended ages 13+.
---
When: October 29, 9:30 a.m.-2 p.m.
Philbrook Museum
Trick ART Treat at PhilBOO!
Bring your little ghoulies and goblins to a frightfully fun day just for families. Explore our "haunted" mansion and join us for festive games, circus performers, live music with Hot Toast Music Co., artmaking, scavenger hunts, costume contests, and more! It will be a howling good time.
---
When: October 29, 1-2:30 p.m.
Where: Central Library, 400 Civic Center
Join TCCL for a spooky movie based on a popular children's series. Enjoy snacks, crafts, games and more! For elementary through middle schoolers.
---
When: October 29, 3 and 5:30 p.m.
Where: Tulsa Air and Space Museum, 3624 N. 74th E. Ave.
A "SPOOKTACULAR" movie with two showings in our beautiful planetarium theatre at 3:00pm & 5:30pm. A Halloween favorite!
---
When: October 29, 2022 6-9 p.m.
Where: Bixby Community Center, 211 N. Cabaniss Ave., Bixby
Mummies of all ages! Bring your goblins, witches, and super heroes to a spook-filled Halloween dance.
---
When: October 29-30, 2022 (CLICK HERE for schedule)
Where: Oklahoma Railway Museum, 3400 NE Grand Blvd., Oklahoma City
Looking for some Halloween fun? Join Oklahoma Railway Museum on Oct. 29 and 30 for the Halloween Train. Ride the train decked out with Halloween decorations and get a candy gift bag. Enter the 3rd Annual Halloween Costume Contest. Play mini golf and other fun games, and explore the museum with a Halloween scavenger hunt!
---
October 30, 12:30-6:30 p.m.
Wheels and Thrills, 10637 N. Garnett Rd., Owasso
Experience spooky fun for all ages! Your $18.75 ticket includes unlimited fun, including a costume contest, haunted laser tag and spooky tunes.
---
Monday, Oct. 31 ● 4-5 p.m.
Pratt Library, 3219 S. 113th Ave. W., Sand Springs
The Pratt and Charles Page libraries are in competition again! Test your knowledge about all things Halloween, from history to pop culture. Feel free to wear your favorite costume or Halloween attire! Participants are encouraged (but not required) to bring their smart devices as trivia will be played on Kahoot! For ages 10-18.
---
Shop Local: Where to Find Costumes
When: Ongoing
Where: 6808 S. Memorial Drive, Suite 220
SpotLite Magic & Costumes has been serving the Tulsa area since 1976, offering fun costumes for children and adults. SpotLite has it all: From spooky to funny, they will have you covered. Children's costumes starting at $9.99. They also provide the following items: Wigs, masks, professional make-up for special effects, hats, hundreds of costume accessories for the DIY costume creators, costume rentals, magic tricks, jokes, and much more. During the Halloween season SpotLite also offers many halloween decorations and animated props. SpotLite is your One Stop Halloween Costume Shop, locally owned and family operated.
Also, check out the newly added Magic Attic Theater, an intimate 50 seat theater bringing live Magical entertainment for all ages! Located inside Spotlite Magic and Costumes.
Text the word "start" to 918.791.0175 and receive a discount on your purchase.
---