Family Friendly Halloween Events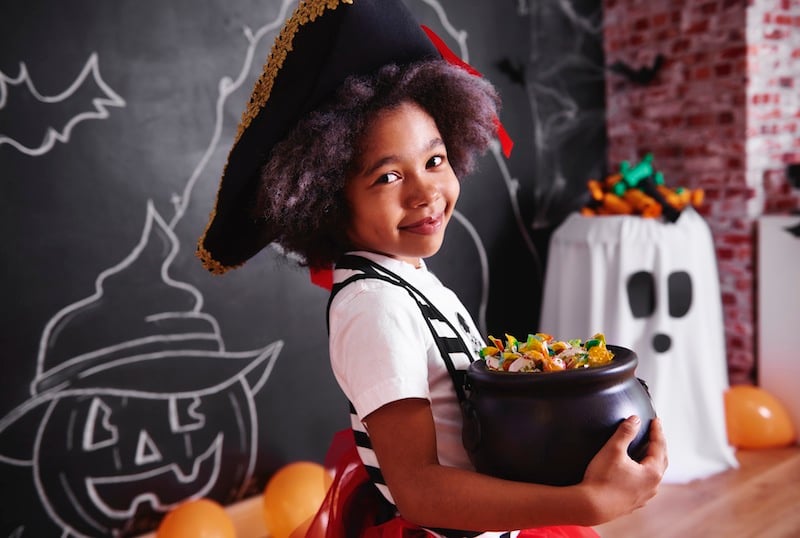 Halloween brings out the kid in all of us, from debates along the lines of "What is the best/worst Halloween candy," to curling up with a spooky book or movie, hoping for a genuine scare.
To help you make the most of this sensational season, we've provided the following roundup of family friendly Halloween events!
Looking for more? Check out our list of Pumpkin Patches and Corn Mazes here, and our list of Family Friendly Festivals here.
---
When: October 16-18, 23-25 and 29-31, 6-8:30 p.m.
Where: Oklahoma Aquarium, 300 Aquarium Dr., Jenks
For the first time, the Oklahoma Aquarium will host nine nights of indoor trick-or-treating for kids of all ages! Guests can follow the Trick-or-Treat trail for loads of candy and see our fascinating marine life in the surrounding exhibits. Dress up in your best Halloween costume for a chance to win prizes, and join us for the opportunity to interact with some of the ocean's most curious creatures from the deep!
This year's event will include new protocols to ensure the health and safety of our guests, vendors, staff, and volunteers. Safety measures include nightly admission caps, mask requirements, and glove requirements for vendors, in addition to our ongoing safety efforts. okaquarium.org
---
Photo courtesy of Tulsa Zoo
When: Friday, October 16 – Sunday, October 18; Friday, October 23 – Sunday, October 25; Thursday, October 29 – Saturday, October 31. 2-6 p.m. each evening. HallowZOOeen lasts from 2-5 p.m., but the zoo will remain open until 6.
Where: Tulsa Zoo, 6421 E. 36th St. N.
Don't be scared, HallowZOOeen is changing. The Tulsa Zoo's annual spooky (but not too scary) Halloween trick-or-treat event moves to daytime hours with nine dates available. The zoo from 2-6 p.m. each event afternoon will transform to provide guests with their favorite HallowZOOeen activities, animal viewing, plenty of space for social distancing and, of course, candy! Tickets are $17 (includes zoo admission); $7 for Tulsa Zoo members. Check tulsazoo.org/boo for full details and ticket reservations.
---
When: October 29, 5-7 p.m.
Where: Tulsa Botanic Garden, 3900 Tulsa Botanic Dr.
BOO-tanical is a non-scary family event with limited tickets for trick-or-treating in the Children's Discovery Garden with live music from Pete Tomshany. Tickets at www.tulsabotanic.org
---
When: Ongoing through October
Where: ahha Tulsa, 101 E. Archer St.
Add your own structure or monster to ahha Tulsa's Halloween village! Film your own creepy stories that will run in THE STUDIO all month long; make felt masks or watercolor eyeballs; create your own character by rolling a Dungeons & Dragons dice; celebrate Inktober; and use other spooky materials available. Learn more at ahhatulsa.org.
---
When: Ongoing
Where: 6808 S. Memorial Dr., Suite 220
SpotLite Magic & Costumes has been serving the Tulsa area since 1976, offering fun costumes for children and adults. Spot Lite has it all; from spooky to funny, they will have you covered. Children's costumes starting at $9.99. They also provide the following items: Wigs, masks, professional make-up for special effects, hats, hundreds of costume accessories for the DYI costume creators, costume rentals, magic tricks, jokes, and much more. During the Halloween season SpotLite also offers many Halloween decorations and animated props. SpotLite is your One Stop Halloween Costume Shop, locally owned and family operated. Location is 68th and Memorial directly behind Red Lobster, between ShoGuns and Tandy Leather. 6808 S. Memorial Drive, Suite 220. Text the word "start" to 918-791-0175 and receive a discount on your purchase. www.spotlitemagic.com.
---
When: October 2-31, 2020; Fridays and Saturdays; gates open at 5:30, ticket sales end at 10 p.m.
Where: Castle of Muskogee, 3400 W. Fern Mountain Rd., Muskogee
Castle of Muskogee's annual Halloween Festival has attractions for people of every age and desired scare level. Kids can enjoy Halloweenland, the Enchanted Boardwalk, a Halloween Train and more, while those who can't get enough make-believe horror can sign up for Domus Horrificus, Casa Morte and the Trail of Blood. Plus, you can purchase Halloween decor and costumes on-site as well as food and beverages. Learn more at www.okcastle.com.
---
When: October 23, 7-8 p.m.
Where: South County Recreation Center, 13800 S. Peoria Ave., Glenpool
FREE! Calling all families of Super Heroes, Princesses, Zombies, Mummies, Daddies and more! Don't miss out on your chance to search for candy and toys at the SoCo Soccer Fields. DON'T forget your flashlights. Age groups 0-3, 4-6, 7-9 & 10-12.
---
When: October 23, 7:15-8 p.m.
Where: O'Brien Park, 6149 N. Lewis Ave.
Bring your flashlight for a Halloween candy hunt in the dark! Costume Contest at 7:15 pm. Hunt begins promptly at 7:30 pm.
---
When: October 24, 6-9 p.m.
Where: Bixby Community Center, 211 N. Cabaniss Ave., Bixby
Mummy's of all ages! Bring your sons and daughters in costume to an exciting Halloween Dance. There will be costume contests, dance competitions, games and refreshments. No pre-ticket sales, $5/person. Tickets available at the door.
---
TO-GO ACTIVITY KIT: CRAFTY SKELETONS
When: October 26
Where: Judy Z. Kishner Library, 10150 N. Cincinnati Ave., Sperry
It's almost Halloween and skeletons are all among us! And inside us! This week, stop by the Judy Z. Kishner Library to pick up a skeleton kit and make the "bones" in your arm. Kits are limited and available on a first-come-first-serve basis. Check our Facebook page at www.facebook.com/judyzkishnerlibrary for updates. For toddlers to elementary students.
---
TO-GO ACTIVITY KIT: CREEPY SENSORY BOTTLE
When: October 26
Where: Judy Z. Kishner Library, 10150 N. Cincinnati Ave., Sperry
Drop by the Judy Z. Kishner Library this week to grab a craft kit with all the supplies needed to make a spooky and glittery sensory bottle. Kits are limited and available on a first-come-first-serve basis. For ages 10 and up.
---
When: October 28-31 (anytime)
Where: Downtown Tulsa
Cost: $45 for 6 players
Looking for your 2020 Halloween plans? We have your entire family covered with our Tulsa Zombie Scavenger Hunt!
Answer trivia, solve clues, find objects, and complete video challenges with a fun zombie themed scavenger hunt. Solve the right clues to try to stop the zombies and you may win the Grand Prize!
This social distancing friendly hunt is only as scary as your imagination and is perfect for kids of ALL ages! www.letsgoandhunt.com/zombies
---
When: October 29, 5-7 p.m.
Where: Gilcrease Museum, 1400 N. Gilcrease Museum Rd.
Join Gilcrease on Thursday, Oct. 29 from 5 to 7 p.m. for fall festivities on the front lawn!
Enjoy a pumpkin patch photo station, lawn games, free fall goodie bags (while supplies last) and food for purchase from Andolini's. To celebrate our new Thursday evening hours, museum admission after 5 p.m. on Oct. 29 is FREE! Advance reservation is required, reserve your tickets now. Admission is not required to attend the outdoor festivities.
Mask-wearing is encouraged outdoors and required when social distancing cannot be maintained. Museum visitors ages six and up are required to wear masks indoors. Halloween costumes are encouraged.
---
When: October 30, 5:30 p.m.
Where: Philbrook Museum, 2727 S. Rockford Rd.
FREE for Members and Youth 17 & Under
Free with General Admission for Adults ($5)
*Advance, timed-entry tickets required for all, including Members and children.
Have a safe and scary-ish time for the whole family at Phil-O-Ween! Dress up, mask up (COVID-19 face masks required), show up. Walk the gardens, enjoy candy pick-up stations, music, creepy decor, and more.
Participants 5 years of age and older are required to wear COVID-19 face masks, indoors and outside.
---
When: October 30-Nov 1
Where: GolfSuites Tulsa, 600 Riverwalk Terrace, Jenks
Safe Fun for the Entire Family at GolfSuites Tulsa Outdoor Fall Fest. Missed those favorite dishes from the State Fair? Worry no longer! We'll have:
Cotton Candy, Turkey Legs, Corn-on-the-Cob, Kettle Corn, Funnel Cakes, and more, available ALL WEEKEND LONG in your suite or in our 19th Hole during the carnival FUN on Saturday, 10/31.
So, shake the cobwebs off those costumes and join us for GolfSuites Fall Fest, Fair Foods & Football!
---
When: October 30-31
Where: Gathering Place, 2600 S. Riverside Dr.
Gathering Place is casting a spell this Halloween weekend with a completely different twist to Sweets & Treats on Spooky Street. Pack up your ghosts and ghouls and witness one of the most immersive drive-through experiences in Tulsa. Enter the haunted circle outside Williams Lodge for a two-night spooktacular event lined with trick-or-treat candy stations, 3-D holographic stories, a jack-o-lantern jam and much more Halloween fun to enjoy from the comfort of your car.
---
When: October 31
Where: ahha Tulsa, 101 E. Archer St.
Spend Halloween day or night at ahha! Create spooky hands that glow, ghostly portraits and more! There will be scary movies outside as well as to-go candy bags. Costumes encouraged! ahhatulsa.org
---
When: October 31, 5:30-7:30 p.m.
Where: Circle Cinema, 10 S. Lewis Ave.
Head to behind Circle Cinema on Saturday, Oct 31 (Halloween) between 5:30pm – 6:30pm only for a safe & free "ALLEY OF TREATS" HALLOWEEN DRIVE-THRU! Friends & Families can drive thru back parking lot of Circle Cinema (off Admiral and Gillette) and receive wrapped treats from staff in the safety of your own car from participating Kendall-Whittier neighboring businesses.
Costumes are encouraged!
---
When: October 31, 6-8 p.m.
Where: Will Rogers Memorial Museum, 1720 W. Will Rogers Blvd., Claremore
Want a fun and safe place to Trick or Treat? The Will Rogers Memorial Museum in Claremore will be open from 6-8 p.m. for trick-or-treaters of all ages. www.willrogers.com
---
Living Arts of Tulsa, in partnership with Casa de la Cultura is hosting Tulsa's annual Día de los Muertos Arts Festival on November 1st, 2020. Like so many events this year, the 2020 Día de los Muertos Arts Festival will be a partly virtual event due to the public safety concerns surrounding the COVID-19 pandemic.
Since we cannot have a children's zone at this year's festival, will be providing FREE art kits for learners of all ages to engage with our socially distanced festival! The kits are for face painting, sugar skull painting, or paper crafts! Each child in your family can select one of the three kits that they would like to do. Pick up dates are October 21st and 28th from 10:00-2:00 PM. Sign up to get a free art kit today while supplies last!
Art Kit Sign-up Link: https://www.signupgenius.com/go/60b0b4da4a82dabfc1-dayofthe4