Family Friendly Halloween Events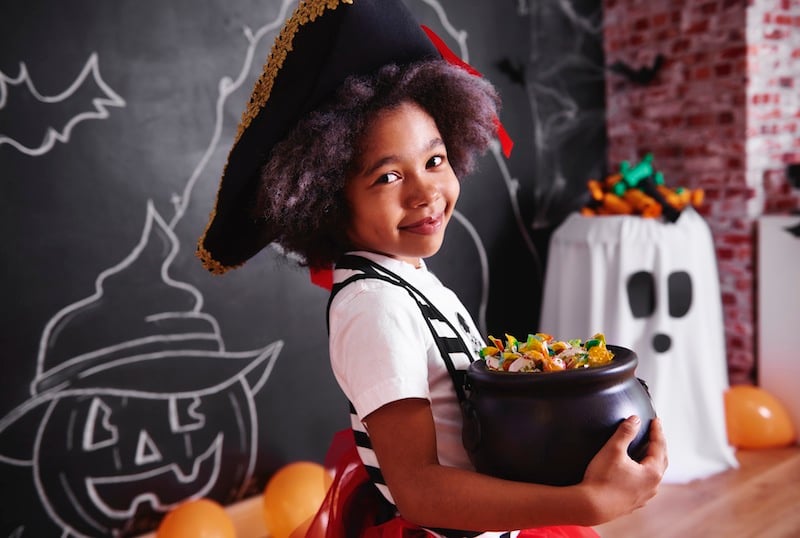 Halloween brings out the kid in all of us, from debates along the lines of "What is the best/worst Halloween candy," to curling up with a spine-tingling book or movie, hoping for a genuine scare. To help you make the most of this sensational season, we've provided the following roundup of family friendly Halloween events in Tulsa!
Looking for more? Check out our list of Pumpkin Patches and Corn Mazes here, and our list of Family Friendly Festivals here. \
---
Trick or Treat Events
When: Thursdays in October, 6-8 p.m.
Where: Tulsa Botanic Garden, 3900 Tulsa Botanic Dr.
In addition to live music on Thursday nights from 6 to 8 p.m., this year a different costumed character will visit each Thursday evening to greet families and take photos. Starting in October, on Thursday night families can visit BOO-tanical activities in the Children's Discovery Garden (additional ticket required.)
---
When: October 21-22, 28-29, 1-4 p.m.; Oct. 20-21, 27-28, 6-9 p.m.
Where: Tulsa Zoo, 6421 E. 36th St. N.
HallowZOOeen includes Goblin Stops where kids can pick up treats as well as other fun activities located throughout the zoo. Pirates and Princesses dinner events take place Oct. 20 and 27 at 5 p.m. tulsazoo.org/boo
---
When: October 25-31, 6:30-9 p.m. (Last ticket sold at 8 p.m.)
Where: Oklahoma Aquarium, 300 Aquarium Dr., Jenks
The Oklahoma Aquarium is excited to celebrate its 20th annual HallowMarine presented by BancFirst. This fantastic, week-long indoor trick-or-treating event is fun for all ages and kicks off on October 25 and continues through October 31.
Join each evening from 6:30 – 9:00 p.m. for a one-of-a-kind trick-or-treat experience. Dress up in your best Halloween costume for a chance to win prizes! Explore the trick-or-treat trail to collect candy & visit all 10,000 of our amazing animals!
---
When: October 21, 9 a.m.-12 p.m.
Brookside, Peoria between 31st and 41st
Trick or treat along Peoria and play in the Kids Zones before the popular BooHaHa parade.
---
When: October 21, 1:30-4 p.m.
Where: McClure Park, 7440 E. 7th St.
Bring the whole family to McClure Park for trunk or treat! There will be games, candy and more!
---
When: October 28, 11 a.m.-4 p.m.
Philbrook Museum, 2727 S. Rockford Rd.
Bring your little ghoulies and goblins to a frightfully fun day just for families. Discover Halloween-themed artmaking stations, play spaces, music performances, and more as you Trick ART Treat in costume through the gardens.
---
When: October 28, 12-4 p.m.
Where: Meadow Gold District (11th St. between Utica and Peoria)
Participating businesses will be passing out candy (Allergy Friendly at Sky Gallery!), get silly selfies with BUCKWOLF at Buck Atom's Cosmic Curios, and play games and Dino-fun at Decopolis!
---
When: October 29, 3-5 p.m.
Where: Case Park, 2500 S River City Park Rd, Sand Springs
Trick or treat, participate in the costume contest and more!
---
When: October 28, 4-7 p.m.
Where: Downtown Bixby
This community event is FREE and features attractions such as carnival games, carnival rides, inflatables, axe throwing, pony rides, petting zoo, hay rides, caricature drawings, face painting, food trucks, and trunk or treating spanning an entire city block. The event will feature a competitive costume contest with community respected judges and prizes provided by local businesses.
There will be a LIVE PRODUCTION with your favorite Disney characters, with several showtimes throughout the event. Additionally, SWAG BAGS will be given out to the first 250 kids in attendance.
---
When: October 31, 1-4 p.m.
Where: Denver Avenue Station, 319 S. Denver Ave.
Visit Denver Avenue Station from 1 p.m. to 4 p.m. on October 31 st for a short but sweet trick-or-treat!
---
When: October 31, 4-6 p.m.
Where: Downtown Jenks
Downtown Jenks will become a home to ghosts, superheroes and more for a family-friendly Halloween celebration. The event, presented by Andy B's Entertainment, will feature decorated tables with many treats on First Street.
Main Street merchants will also participate in passing out candy and other items from their storefronts. The community is invited to attend in costume.
---
When: October 31, 6-8 p.m.
Where: Will Rogers Memorial Museum, 1720 W. Will Rogers Blvd., Claremore
Want a fun and safe place to Trick or Treat? The Will Rogers Memorial Museum in Claremore will be open from 6-8 p.m. for trick-or-treaters of all ages. willrogers.com
---
Other Hauntingly Fun Events
When: Fridays and Saturdays, Sept. 29-Oct. 29, 5:30-10 p.m.
Where: Castle of Muskogee, 3400 W. Fern Mountain Rd., Muskogee
Castle of Muskogee's annual Halloween Festival has attractions for people of every age and desired scare level. Kids can enjoy Halloweenland, the Enchanted Boardwalk, a Halloween Train and more. Those who can't get enough make-believe horror can sign up for Domus Horrificus, Casa Morte and the Trail of Blood. Plus, you can purchase Halloween decor and costumes on-site as well as food and beverages. Learn more at okcastle.com.
---
When: Oct. 26, 10 a.m.-1 p.m.; Oct. 28, 9-11 a.m.
Where: Wheels and Thrills, 10637 N. Garnett Rd., Owasso
Kids 6 and under are invited to wear their costumes and skate, play, ride and jump! Socks required. Sully and Mike W. from Monsters, Inc. will visit on Oct. 28.

---
When: October 26, 5-9 p.m.
Where: Gathering Placee, 2650 S. John Williams Way
Show Tulsa what you've got at Gathering Place's first ever skateboard, scooter, and BMX competition! Open to all ages and athletic abilities,,
Registration required. See schedule and registration info at gatheringplace.org/parkcalendar/event/3145467
---
When: October 27, 6-9 p.m.
Where: Will Rogers Memorial Museum, 1720 W. Will Rogers Blvd., Claremore
Enjoy movie-themed crafts and socializing from 6-7, then watch the original "Dracula," starring Bela Lugosi! Free admission and popcorn. Stay for crafts, the movie, or both.
---
When: October 27, 7-11 p.m.
Where: Gathering Place, 2650 S. John Williams Way
Gathering Place invites all goblins, ghosts, and ghouls to Monster Mash, the dance party of the year! Monster Mash is a costume and dance party that will feature guest DJs, epic lighting, special effects, and live performances on the QuikTrip Great Lawn. Need a breather from the dancing? Paint a mini pumpkin and challenge your friends to lawn games.
---
When: October 27, 5-9:10 p.m. (Film begins at 7 p.m.)
Where: Philbrook Museum, 2727 S. Rockford Rd.
Mr. Body has cordially invited you to an evening to DIE for…
Join Philbrook to watch Clue (the trilogy ending) and celebrate Halloween! Trick or treat, drink a custom cocktail and dabble in a little mystery as we try to uncover a murder at our very own mansion. There will be a costume contest, so please come dressed to kill!!
---
When: October 28, 5:30-9 p.m. (Movie starts at 7)
Where: Gathering Place, 2650 S. John Williams Way
Families are invited to lounge on the QuikTrip Great Lawn and enjoy a free showing of Hocus Pocus at Cox Movie Night at Gathering Place! Before the show, guests are invited to participate in pre-show activities and experiences that bring the film to life.
To get in the spirit, guests can enjoy Hocus Pocus-themed pre-show experiences such as arts and crafts, music, roaming movie characters, decorations, face painting, and more!
---
When: October 28-29 (see schedule here)
Where: Oklahoma Railway Museum, 3400 NE Grand Blvd., Oklahoma City
Looking for some Halloween fun? Join Oklahoma Railway Museum on Oct. 28 and 29 for the Halloween Train. Ride the train decked out with Halloween decorations and get a candy gift bag. You can explore the museum grounds during our Halloween Scavenger Hunt, or play through the mini golf course. This event is sure to be fun for the whole family, and you won't want to miss it! Advance purchase is recommended.
---
When: Oct. 29, 9:15 and 11 a.m.
Where: Anthem Church, 7777 S. Garnett Rd., Broken Arrow
Following each service, join Anthem Church for this free family event! Wear your costumes and enjoy food, inflatables, games, candy and more. weareanthem.church
---