TulsaKids' Weekend Roundup
10 family friendly events happening in the Tulsa Area this weekend!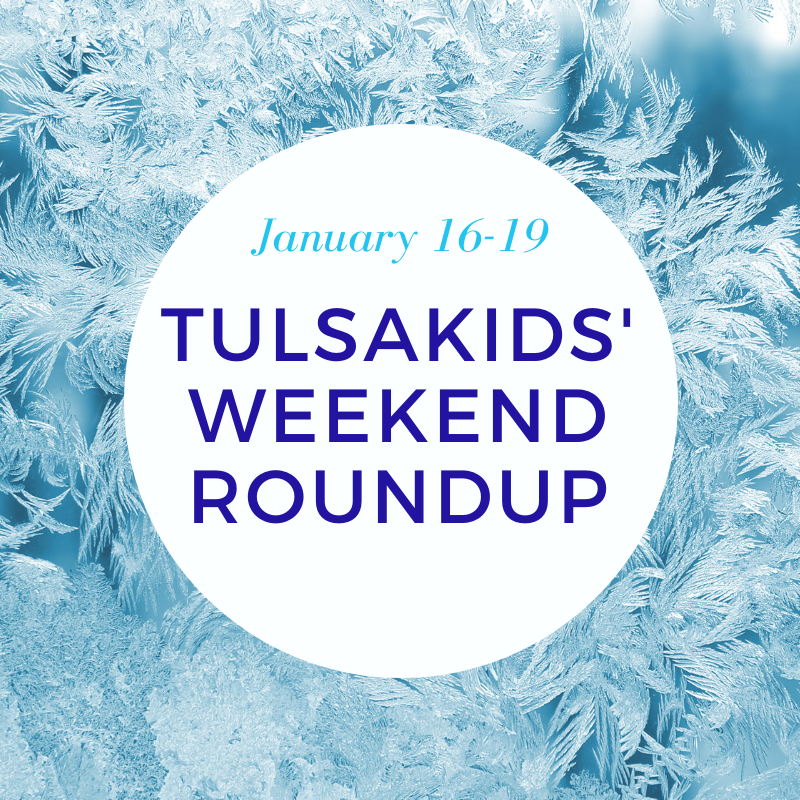 Wondering what to do this weekend? Let TulsaKids help! See our Top Weekend Picks below–and find more at our community calendar!
Also, make sure you are subscribed to our eNewsletters to get each week's updated list delivered to your inbox every Thursday morning.
**Please note: It is always a good idea to double check the primary event webpage or call ahead to make sure the event hasn't been canceled due to weather concerns, etc.
When: Thursday, January 16, 3-4 p.m.
Where: Maxwell Park Library, 1313 N. Canton Ave.
Join Maxwell Park Library for some fun STEAM (science, technology, engineering, arts, mathematics) activities for ages 5-12.
When: Thursday, January 16, 4-5 p.m.
Where: Collinsville Library, 1223 W. Main St., Collinsville
Are you a die-hard fan of Harry Potter, Supernatural, Sherlock or Doctor Who? Do you have your favorite superheroes or K-Pop stars on your phone's background? Do you spend too much time watching YouTubers, playing video games, and arguing whether "Star Trek" or "Star Wars" is better? Then the Teen Fandom Club is for you! Make geeky crafts, watch videos, listen to music, write fanfiction, create fan art, work on cosplay and discuss your favorite fandoms with other sixth through 12th graders. Light snacks are provided.
When: Thursday, Jan. 16, 7:30 p.m.; Friday, Jan. 17, 7:30 p.m.; Saturday, Jan. 18, 3:30 and 7:30 p.m.; Sunday, Jan. 19, 1 and 5 p.m.
Where: BOK Center, 200 S. Denver Ave.
Cirque du Soleil is back on ice with AXEL, a new electrifying experience fusing world-class ice skating with breathtaking acrobatics. Follow AXEL and his dynamic group of friends whose passion for live music and graphic arts come to life in an exhilarating adventure that reminds us that our dreams are within reach.
When: Friday, January 17, 10 and 11:45 a.m.; Saturday, January 18, 2 p.m.
Where: Zarrow Performance Studio, 1901 W. New Orleans St., Broken Arrow
Tulsa Ballet's Children's Series matinee performances of Ma Cong's Peter & the Wolf are perfect for ballet's youngest fans. This theatrical ballet experience is created especially for children and young families, and features a cast of characters children know and love, with narration to help them understand the story. This magical performance will come to life on-stage thanks to all-new sets, costumes, and choreography, designed just for Tulsa Ballet.
With tickets priced at only $10 and a total run time of 45 minutes, this performance is a fun way to spend a morning enjoying and learning about ballet, music and theater.
When: Saturday, January 18, 9:30 a.m.-12 p.m.
Where: Gathering Place, 2600 S. Riverside Dr.
Join Tulsa Artist Fellow Karl Jones for a special story time and art activities at Art Start on Saturday, January 18 in ONEOK Boathouse!
Tulsa Artist Fellow Karl Jones is kicking off this month's Art Start with a special reading of children's books he has edited for Penguin Random House! Starting at 9:30 a.m., Karl will be reading "Mr. Boddington's Studio NYC ABCs," "Mr. Boddington's Studio San Francisco ABC's" and a story he wrote himself about Tulsa ABC's. After story time, dance along as Karl plays his ukulele and sings songs about building, construction and landmarks!
Then at 10 a.m., use your new knowledge of architecture to construct and design your own city or buildings using construction paper. This project is for every age level, and can be worked on as a family!
When: Saturday, January 18, 1-4 p.m.
Where: Tulsa Zoo, 6421 E. 36th St. S.
From boas and pythons to vipers and rattlers, grandparents and children will discover what makes snakes unique and the important role they have in our lives. Meet a zoo animal at each class! $25 per pair, zoo members save 10% Register at tulsazoo.org/classes
When: Saturday, January 18, 2-3 p.m.
Where: Central Library, 400 Civic Center
Have you ever felt like your favorite movie, comic-book character or book should have ended differently or had a better plot twist? Welcome to the world of fanfiction, where fans write alternate stories based on existing characters or story lines. Expand your creativity while being guided by a fellow fanfic during this writing workshop for teens.
When: Saturday, January 18, 6 p.m.
Where: Cain's Ballroom, 423 N. Main St.
Cain's Ballroom welcomes Riverfield Rocks back on January 18, 2020. $3 from each tickets goes to help fund Riverfield's iNSPiRED capital campaign. iNSPiRED includes the Center for Creativity, a new home for Riverfield Rocks, and the rest of the 6th-12th grade fine arts department at Riverfield Country Day School. Hear from the talented youth musicians of Riverfield Country Day School's Riverfield Rocks program!
When: Sunday, January 19, 11 a.m. and 1 p.m.
Where: Gathering Place, 2600 S. Riverside Dr. (ONEOK Boathouse)
Every third Sunday of the month, spend your day strolling through the Park as you learn about nature and explore the many ecosystems that call Gathering Place their home at Sunday Family Nature Walk!
The first Sunday Family Nature Walk of 2020 will bring nature's music to your ears! Learn about the importance of wildlife communication, the concept of sound masking in animals and how the variety of nature's sounds affect the habitats found throughout Gathering Place. End your walk at the Boathouse and make a bat craft as a memento of your Park Walk. Sunday Family Nature Walks are free and open for all ages!
When: Sunday, January 19, 12-4 p.m. (free admission all day)
Where: Gilcrease Museum, 1400 N. Gilcrease Museum Rd.
The third Sunday of every month is Funday Sunday. It's a FREE admission day loaded with fun for the whole family. In addition to exploring Gilcrease's galleries and temporary exhibitions, visitors and their families can enjoy art-making stations throughout the museum, special exhibition-themed programming and the gardens and grounds.
On January 19, celebrate the new year by learning about quilting and weaving, art activities, story time and participating in activities like Zumba.
---
Comments
comments