TulsaKids' Weekend Roundup: December 2-5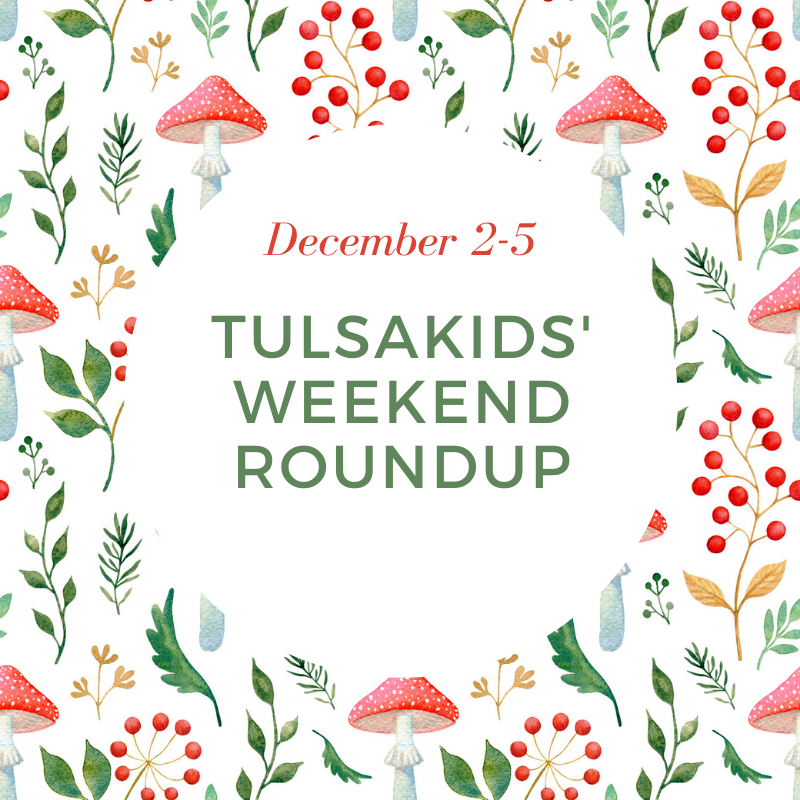 Wondering what to do this weekend? Let TulsaKids help! See our Top Weekend Picks below–and find more at our community calendar!
Also, make sure you are subscribed to our eNewsletters to get each week's updated list delivered to your inbox every Thursday morning.
**Please note: Check websites or call the event organizer to confirm details!
When: Thursdays-Sundays, November 26-December 12, 5-9 p.m.; Open Nightly, December 16-January 2, 5-9 p.m. (Closed Dec. 24 and 25)
Where: Tulsa Botanic Garden, 3900 Tulsa Botanic Dr.
Reconnect with family and friends in the garden illuminated with colorful lights. Make s'mores over fire pits, enjoy holiday music and take in the spirit of the season in our magical garden escape.
NIGHTLY: Hot drinks (with spiked options), beer, wine and s'more kits are available every night for purchase. Holiday hay maze/snowball pit, photo stops and fire pits will be available each night. (weather permitting)tulsa
When: December 2-4, 5:30-9:30 p.m. (Additional nights available through December 24)
Where: Philbrook Museum, 2727 S. Rockford Rd.
Thousands of spectacular lights illuminate the Philbrook Gardens for a festive experience unlike any other. Celebrate the season with hot cocoa, musical light shows, take-and-make art projects, visits with Santa, and more.
Visit Philbrook.org/Festival for more details including a map of the Festival Nights experience.
When: December 2, 3, 4, 9, 10, 11th at 7:30 p.m. and December 5 and 12 at 2 p.m.
Where: Clark Youth Theatre, 4825 S. Quaker Ave.
The Herdmans never go to church. So how did they end up with the lead roles in the Christmas play? Chance, intimidation, and maybe a little Christmas magic help bring the Herdmans, as well as the rest of the town, to a new understanding of the holiday season. Don't miss this Clark Youth Theatre tradition, 39 years strong!
When: December 3, 10 a.m.-7 p.m.; December 4, 10 a.m.-5 p.m.; December 5, 11 a.m.-5 p.m. (Curbside pick-up/online option available as well)
Where: GAST Center, 2301 E. 15th St.
GAST Center is transformed into a Christmas wonderland, which includes many crafters displaying their wares. GAST booths feature Nutcrackers, Smoker-männle and a great selection of imported Christmas tree ornaments, as well as Germany's famous Christmas Stollen. Moreover, Christkindlmarkt offers a variety of Wurst, Kartoffelpuffer, hot apple cider, hot chocolate and coffee. The Christkindl and St. Nikolaus walk among the booths to the delight of the children.
When: December 3, 4 – 7 p.m., and December 4, 10 a.m. – 7 p.m.
Where: Cascia Hall, 2520 S. Yorktown Ave.
Vast.bank is the Presenting Sponsor for Cascia Hall's 39th Annual Cascia Christmas Walk.
This year's tree lot will feature over 200 Fraser fir trees for purchase as well as noble fir wreaths for sale. These trees are soft to the touch; needles are flat and short with rounded tips and a silvery underside. The dark green color, pleasant fresh-cut aroma, and excellent needle retention make this a frequently requested tree. They will be available in 6 – 7 feet, 7 – 8 feet, and 10 feet sizes. The wreaths will be 26 and 30 inches in size.
The tree lot will also feature a special Santa's Village that will have fun activities including Elf on the Shelf Scavenger Hunt, Kids' Christmas Train, Cascia Corn Hole, giant Connect 4, arts & crafts, giant Jenga, photo staging areas, and more.
When: December 3-4 (Click here for schedule)
Where: Will Rogers Birthplace Ranch, 9501 E. 380 Rd., Oologah
Come on out to the Will Rogers Birthplace Ranch for a great family tradition. Vendors, food trucks, crafts, carriage and train rides and our famous Cowboy hay ride. And don't forget that perfect picture with Santa.
When: December 3, 6-9 p.m.
Where: Guthrie Green, 111 E. Reconciliation Way
Enjoy thousands of lights illuminating Guthrie Green and holiday festivities including live music, food, hot drinks, and 30+ local market vendors. Channel 6 meteorologist Travel Meyer will host the Lights On ceremony with special guest Santa Claus at 7 p.m.
When: December 4, 8 a.m.-3 p.m.
Where: Tulsa Garden Center, 2435 S. Peoria Ave.
Tulsa Herb Society's annual holiday market is back in the beautiful Tulsa Garden Center! Purchase handmade items like handmade soaps, spice blends, etc. As well as live plants, local honey, etc. The Snowflake Cafe will be open for lunch from 11 a.m.-2 p.m.
When: Various times
Where: Various locations
When: December 4, 7:30 p.m.
Where: Tulsa PAC, 110 E. 2nd St.
Get up, get on, and get ready for the ride of your life! It's Christmas Eve, and you're about to roller-coaster up and down mountains, slip-slide over ice fields, teeter across mile-high bridges and be served hot chocolate by singing waiters more astonishing than any you can imagine. You're on The Polar Express! Tom Hanks stars in and Robert Zemeckis directs this instant holiday classic filmed in dazzling performance-capture animation that makes every moment magical. "Seeing is believing," says a mysterious hobo who rides the rails with you. You'll see wonders. And you'll believe. All aboooooard!
THE POLAR EXPRESS and all related character and elements © & ™ Warner Bros. Entertainment Inc.
---