TulsaKids' Weekend Roundup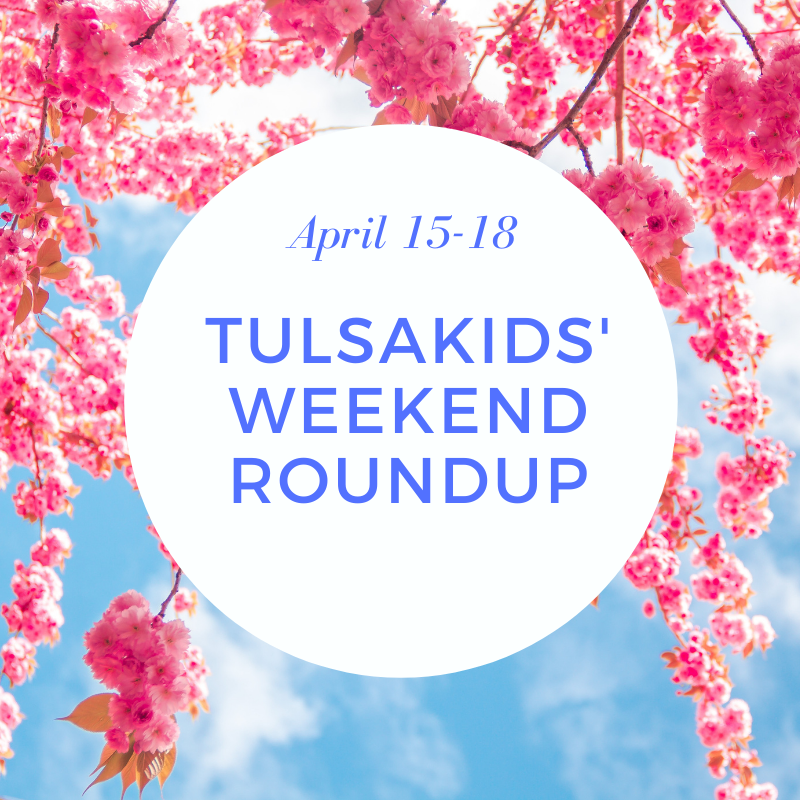 Wondering what to do this weekend? Let TulsaKids help! See our Top Weekend Picks below–and find more at our community calendar!
Also, make sure you are subscribed to our eNewsletters to get each week's updated list delivered to your inbox every Thursday morning.
**Please note: Check websites or call the event organizer to confirm details!
When: April 15, 6-8 p.m.
Where: Tulsa Botanic Garden, 3900 Tulsa Botanic Dr.
Unwind with an evening in the Garden! Experience the vibrant colors of spring flowers and the music of Damion Shade in the Garden. MASA Food Truck will have tasty dinner options. Cash bar with beer and wine will be available at 5:30pm. Bring a blanket or chairs.
Tulsa Botanic Garden is open Tuesday – Sunday, 10 a.m. to 5 p.m. and Thursdays until 8 p.m. during daylight saving time. Admission is FREE for Garden members. $8 for ages 13+, $4 for ages 3-12. Children 2 and under are free. Advance tickets wtih timed entry are currently required.
When: Thursday, April 15, 6-7 p.m.
Where: Gathering Place, 2600 S. Riverside Dr.
SweatClub Boot Camp is a fun and friendly class. Participants will use their bodies and a variety of formats to get moving each week! You can expect Tabata, intervals, strength and cardio for a full-body sweat every time!
ABOUT SPRING FITNESS
Add fresh air and fun into your fitness journey this spring! Starting April 6 through May, check out Gathering Place's FREE fitness programs happening every Tuesday and Thursday at 6 p.m. From Boot Camp to PlyoJam Dance Fitness, we offer programs for all athletic styles and abilities. Enjoy breathtaking views of the Park while learning personalized training techniques that will take you 100 acres closer to your fitness goals!
Gathering Place fitness classes are FREE for all ages to attend. Classes occur every Tuesday and Thursday in April and May. Please stay tuned for updates regarding weather cancellations on the Facebook event page.
3. Fandom Friday Trivia: Sherlock Holmes
When: April 16, 6:30-8 p.m.
Where: Tulsa Garden Center, 2435 S. Peoria Ave.
The game is afoot! Join us as we test your knowledge on Sherlock Holmes in all his film, television and literary iterations. Come at once if convenient. If inconvenient, come all the same. Register online at www.tulsalibrary.org/events to receive a Zoom meeting invite. For adults.
When: April 17-22
Where: Fontana Shopping Center, 7911 E. 51st St.
Rhea Lana's is an award-winning semi-annual children's consignment event! We are excited to bring such a wonderful event to Midtown Tulsa! We love offering this opportunity to buy and sell like-new children's clothes, shoes, toys, books, DVDs, baby equipment, gently used maternity clothes, and much much more at affordable prices. Our events are open to the public ONE WEEK only!
Find schedule here: https://midtowntulsa.rhealana.com/
When: April 17, 10 a.m.-3 p.m.
Where: New Orleans Square, 701 E. 101st St., Broken Arrow
Are you ready to get fit? Check out New Orleans Square's newest festival, the Get Fit Festival. With vendors focused on your mental, physical, emotional and spiritual health, you will be able to get in tip-top shape! We will have free classes throughout the day as well as seminars on popular fitness topics.
When: April 17, 1-3 p.m.
Where: Will Rogers Memorial Museum, 1720 W. Will Rogers Blvd., Claremore
Join the Will Rogers Memorial Museum to explore candy from Will's time in the 1920's. Rocky Mountain Chocolate Factory will be on site for chocolate making demonstrations and samples!
When: April 17, 1-2 p.m.
Where: Central Park, 1500 S. Main St., Broken Arrow
Learn about helping our pollinators by planting wildflowers and milkweed for the Monarchs. Learn how to create your own Monarch/Pollinator Garden.
Free Wildflower Seeds, Monarch Bookmarks and information at monarchwatch.org.
When: Daily at 11:30 a.m. (With the exception of Mondays)
Where: Eleanor's Bookshop, 1102 S. Lewis Ave., Suite D
Join Eleanor's Bookshop for story time!
Details
Story time starts at 11:30 every day, except when we are closed on Mondays.
We always pick out 3 stories to read!
Your visit to story time includes an exclusive Eleanor's Bookshop x Sullystring coloring page.
Our story times are age-appropriate for kiddos 10 and under.
COVID-19 Precautions
Per the city of Tulsa mask ordinance, all adults are required to wear a mask.
We ask our visitors to practice social distancing while at story time.
9. Day of the Child: Piggy Bank Craft Activity/El Dia de los Ninos
When: April 17, 3-3:30 p.m.
Where: Virtual
Join us for a craft activity where we paint ceramic piggy banks in honor of Day of the Child. Join us here: www.facebook.com/TCCLhispanicresourcecenter. Pick up a craft kit from Martin Regional Library (2601 S. Garnett Rd.) or Central Library (400 Civic Center). // Únase a nosotros para una actividad artesanal donde pintamos alcancías de cerámica en honor al Día del Niño. Podrá recoger un kit de manualidades en la Biblioteca Regional Martin o en la Biblioteca Central.
When: Sunday, April 18, 5 p.m.
Where: Gilcrease Museum, 1400 N. Gilcrease Museum Rd.
Yoga instructor Ana Berry will lead a donation-based class in the Gilcrease Victorian Garden.
---