Events in Tulsa This Weekend: September 29-October 1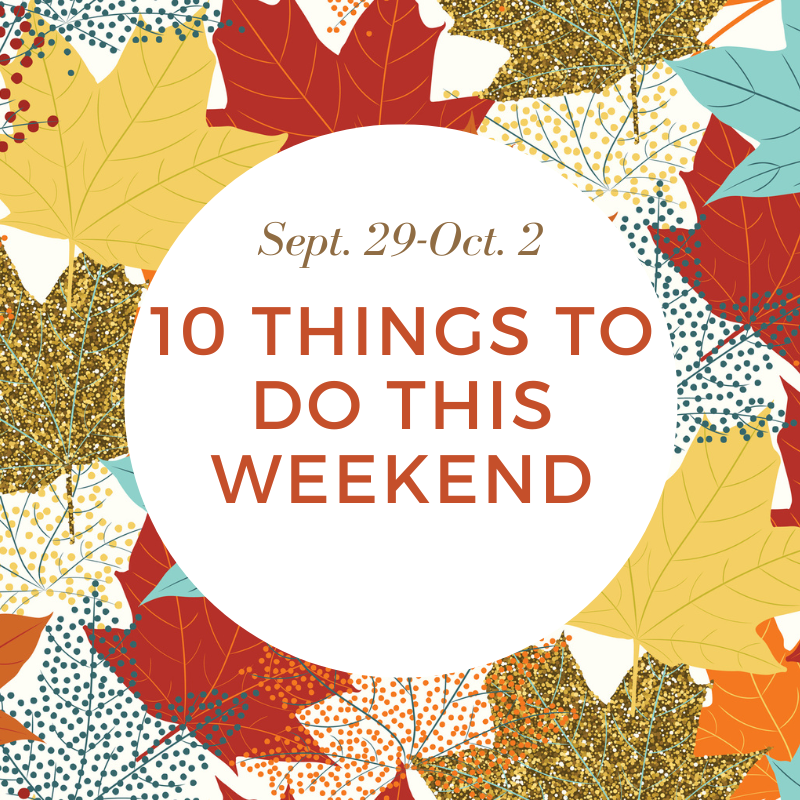 Wondering what to do this weekend? Let TulsaKids help! Below, you'll find at least ten events happening in Tulsa and surrounding areas this weekend. Find more at our community calendar!
Also, make sure you are subscribed to our eNewsletters to get each week's updated list delivered to your inbox every Thursday morning.
**Please note: Check websites or call the event organizer to confirm details, as they can change.
When: September 29, 5-8 p.m.
Where: Tulsa Botanic Garden, 3900 Tulsa Botanic Dr.
Explore the hay maze, pick up pumpkins to purchase and take home, and check out all the scarecrow entries in our annual contest. Pick up a ballot to vote for your favorite to win the People's Choice Award. Stroll the Garden before Bands & Blooms starts at 6 p.m. with live music from Two Crows for Comfort. Bring chairs or a blanket for the lawn and bring a picnic (no glass or outside alcohol) or purchase food here. Local ice cream cart Cherry & Bark wll be here with sweet treats for sale and our Botanic Bar will open at 5:30 p.m.
When: September 29, 7 p.m.
Where: Circle Cinema, 10 S. Lewis Ave.
Celebrate Silent Movie Day with a classic Harold Lloyd comedy at Circle Cinema! The event will feature Circle's restored 1928 theatre pipe organ in action, with a live score to the film played by Bill Rowland of the American Theatre Organ Society, Sooner State Chapter. Plus walk-in music from Circle House Organist Phil Judkins and a short cartoon featuring Felix the Cat. Tickets $5 adults, $2 kids 16 and under.
When: September 29-October 2, various showtimes
Where: Expo Square Pavilion, 4145 E. 21st St.
Hit the road to adventure when Disney On Ice presents Road Trip Adventures skates into your hometown! Exciting twists and turns await as Mickey Mouse and his Disney friends embark on a wild ride to your favorite Disney destinations.
When: September 29-October 9
Where: Expo Square, 4145 E. 21st St.
The Tulsa State Fair is back, with all your favorite rides and concessions, livestock shows and more!
When: September 27-October 2, various shotimes
Where: Tulsa PAC, 110 E. 2nd St.
Intertwining two mythic tales — that of young dreamers Orpheus and Eurydice, and that of King Hades and his wife Persephone — HADESTOWN is a haunting and hopeful theatrical experience that grabs you and never lets go. Audience recommendation: ages 8+ Presented by Celebrity Attractions
When: September 30-October 2
Where: Broken Arrow
It's three festivals in one! Friday (5-8:30 p.m.) and Saturday (9 a.m.-6 p.m.) are the Rose and Chalk It Up Festivals on Broken Arrow Main Street. There will be street performances, a Kids Zone on Friday and other fun. Sunday (10 am.-4 p.m.), head to the Broken Arrow Event Park at 21101 E. 101st St. for Kites over Broken Arrow!
When: September 30, 7:30 p.m.
Where: Philbrook Museum, 2727 S. Rockford Rd.
Join Philbrook for Star Wars: Return of the Jedi. There will be food, a massive Tie Fighter, some very special guests, and a costume contest for those who show up dressed to impress. Purchase advance tickets at philbrook.org/calendar/fowler-automotive-films-on-the-lawn-star-wars-return-of-the-jedi-2022-09-30/
When: October 1, 9 a.m.-4 p.m.
Where: Tulsa Air and Space Museum, 3624 N. 74th E. Ave.
Come out and see local biplanes and talk to pilots. Beautiful biplanes-DOUBLE TROUBLE!
When: September 30 and October 7, 7:30-9 p.m.; October 1-2, 8-9, 2-3:30 p.m.
Where: Spotlight Theatre, 1381 S. Riverside Dr.
Watch the talented youth of Spotlight Children's Theatre perform an original play, "Characters"!
When: September 30-October 1, 5:30-10 p.m.
Where: Castle of Muskogee, 3400 W. Fern Mountain Rd., Muskogee
Castle of Muskogee's annual Halloween Festival has attractions for people of every age and desired scare level. Kids can enjoy Halloweenland, the Enchanted Boardwalk, a Halloween Train and more, while those who can't get enough make-believe horror can sign up for Domus Horrificus, Casa Morte and the Trail of Blood. Plus, you can purchase Halloween decor and costumes on-site as well as food and beverages. Learn more at okcastle.com.
Sign up for TulsaKids' eNewsletter to receive our list of events in Tulsa this weekend every Thursday morning!
---