Family Dining: TulsaKids' Family Favorites Winners and Finalists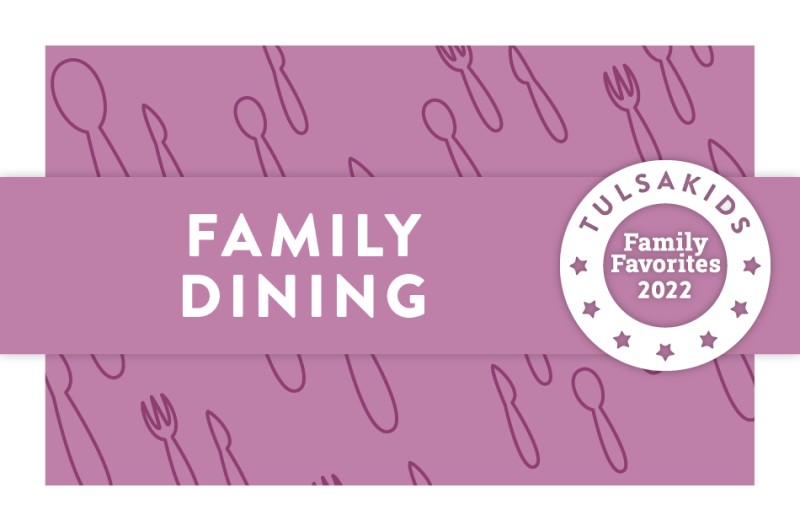 When you can't decide what to eat, check out our list of reader-recommended family friendly restaurants in the Tulsa area! We've got you covered from breakfast to dinner!
FAVORITE PLACE TO GRAB A BURGER
A previous Family Favorite winner, Ron's captures a win once again. With locations throughout Tulsa and the surrounding areas, Ron's has been a go-to for burgers, chili (and Frito pie!), salads and great fries and tots since 1975. Get the Ron's Special, a burger with ham, bacon, fried onions, cheese, lettuce, tomato, pickle and condiments. Get the onions fried in on the burgers and try the Spanish Fries.
Finalists: Fat Guy's Burger Bar; Smitty's Garage Burgers & Beer
FAVORITE PLACE TO GET PIZZA
In a hotly contested category, families voted their three favorites, with Hideaway nabbing the top spot. Since its beginning in 1957 as a cozy pizza place just off the OSU campus, the Hideaway concept has grown to include locations throughout Oklahoma and Arkansas. Now including specialty pizzas, pastas, sandwiches and salads, everyone can find something to love (including those famous fried mushrooms)!
Finalists: Andolini's Pizzeria; Savastano's
FAVORITE PLACE TO GET ICE CREAM (OR OTHER FROZEN TREAT)
Many Tulsa families choose Braum's for after-school treats, after-the-game gatherings or any time that ice cream craving hits. For more than 50 years, Braum's has been bringing families together with their fresh, straight-from-the farm ice cream and dairy products. (The private dairy herd lives right here in Oklahoma!) Even though Braum's has expanded to many stores and many new products, it is still family owned and committed to quality. Their trucks deliver products to each store every other day. TulsaKids readers vote "yes" to that!
Finalists: Andy's Frozen Custard; Rose Rock Microcreamery
FAVORITE ETHNIC RESTAURANT
Mondo's is so popular that it needed its own building! Opening in a new location down the street from the much smaller restaurant on Peoria, Mondo's continues to be a Family Favorite. Featuring authentic, original recipes from the Aloisio family in Abruzzi, Italy, Mondo's is a true family-owned and operated Italian gem.
Finalists: India Palace; Lanna Thai Restaurant
FAVORITE KID'S MEAL
It's no wonder there is always a line of cars at Chick-fil-A. Kids love it (adults do, too!). You know kids crave that crispy chicken – or maybe the grilled version – with a side of fruit and some low-fat milk. It's a meal kids AND parents can feel good about.
Finalists: The Brook Restaurant and Bar; McDonald's
FAVORITE DELIVERY SERVICE
Sometimes parents just don't have the time or energy to make a homecooked meal. And when the pandemic kept us in, DoorDash entered our lives. Delivering breakfast, lunch and dinner – or groceries – DoorDash means you won't have to strap that screaming toddler into a car seat. Relax and get the app.
Finalists: Instacart; Uber Eats
FAVORITE FAMILY MEAL DEAL
Families can get their favorite soups, sides and sweet tea in sharable sizes to go. The kids' meals such as grilled turkey and cheese can be customized to include sides of fruit, broccoli, cucumber & tomato salad, mac & cheese or applesauce. Adults have lots of options, too, which makes McAlister's an easy winner.
Finalists: Charleston's, Taziki's Mediterranean Café
FAVORITE COFFEE SHOP
Family-owned with locations in Tulsa and Broken Arrow, Rocket Brothers is a relative newcomer to the important category of places parents can get caffeinated. Besides coffee, lattes, cappuccino and mochas, you can get tea and specialty drinks – and even affordable bakery treats and oatmeal.
Finalists: Coffee House on Cherry Street, Laurannae Baking Co.
FAVORITE PLACE TO EAT BREAKFAST
Huge biscuits, fluffy pancakes with towers of whipped cream, breakfast burritos, omelettes, sandwiches, endless versions of eggs and sides… What's not to like about this place? Did I mention the Breakfast Stuffed Poblano served with three eggs your way? If you haven't gone yet, just go and see what families are talking about.
Finalists: Bramble Breakfast & Bar; The Big Biscuit
FAVORITE PLACE TO PURCHASE DONUTS
Warm, baby cake donuts? Yes, please. Families looking for a donut/sugar/coffee fix voted Sugar Llamas as their favorite stop. With locations in Tulsa, Broken Arrow and Tulsa Hills, you can find one in your neighborhood. Those mini donuts come in a million flavors – and they're so cute!
Finalists: Hurts Donut Tulsa; Livi Lee's Daylight Donuts Super Shop
FAVORITE FOOD TRUCK
Tulsa families love pizza, and once again, Andolini's wins in the all-important food truck category. Get a ginormous slice of pizza for a mere five bucks and you'll be set (let the kids share one). The hand-tossed pizza is just as fresh and delicious as the restaurant version.
Finalists: Get Toasted; Mr. Nice Guys