Family Fun & Travel: TulsaKids' Family Favorites Winners & Finalists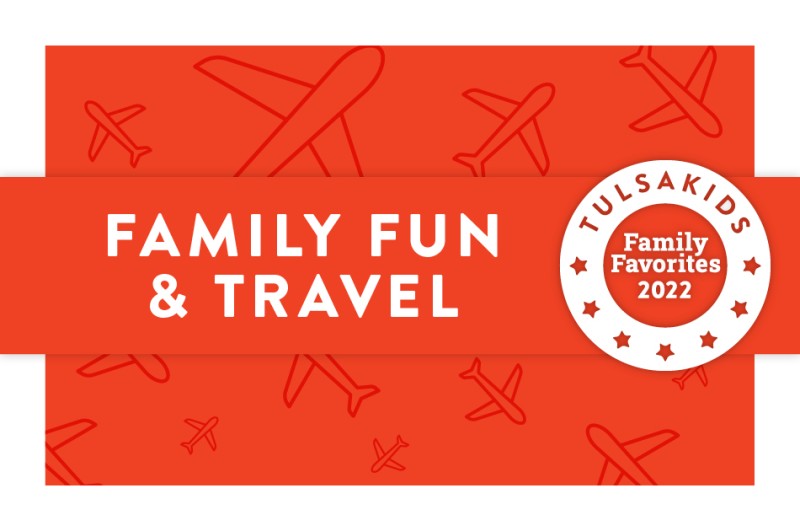 This page is your resource for all things staycation and vacation, as voted on by Tulsa-area parents! Find the rest of our Family Favorites winners and finalists at tulsakids.com/tulsakids-family-favorites.
FAVORITE MUSEUM
A kids' paradise of hands-on fun, Discovery Lab recently opened its permanent location at the south end of Gathering Place on Riverside Dr. Changing and permanent exhibits integrate science, technology, engineering, art and math, encouraging kids to create, problem solve, collaborate and learn the way kids learn best – through play! Take a break for lunch at the Bean Sprouts café and grab a coffee for yourself. With all the hours you'll spend at Discovery Lab, you might as well get a family membership.
Finalists: Philbrook Museum of Art; Tulsa Air and Space Museum & Planetarium
FAVORITE LOCAL ATTRACTION
Designated "a park for all," it's no surprise that Gathering Place was voted #1 by TulsaKids' readers. More than a park, this multi-faceted wonderland offers creative play structures, basketball courts, a skate park, zipline, restaurants to refuel, a lodge and boathouse that are worth the visit just to experience, locations for performances, educational programming, exhibits and events as well as seasonal activities. Storytimes, music and dance performances from a variety of cultures, yoga, basketball skills, movie nights, nature walks and more all await your family at Gathering Place.
Finalists: Oklahoma Aquarium; Tulsa Zoo
FAVORITE LOCAL PROFESSIONAL/SEMI-PROFESSIONAL SPORTS TEAM
Families love to spend an afternoon at ONEOK ballpark or a summer evening under the stars watching Tulsa's favorite home team. Kids love the playground, while parents can watch the game from a blanket on the grass. Friday night games end in fireworks over the Tulsa skyline. Kids 12 and younger can join Hornsby's Bullpen for exclusive deals, birthday bonuses, contests, discounts and free tickets to Sunday day games! There's always something fun going on at a Drillers game!
Finalists: FC Tulsa; Oklahoma City Thunder
FAVORITE LOCAL PARK/PLACE TO GET OUTSIDE
Gathering Place wins in a second category, and it's no wonder. The park has garnered national awards and has welcomed numerous out-of-town visitors since opening. Tulsa families keep going back to enjoy the ongoing, high-quality programming and exhibits, but also to simply spend time together in the park's beautiful, natural setting.
Finalists: Ray Harral Nature Park; Tulsa Zoo
FAVORITE STATE PARK
Tulsa families flock to Broken Bow, the gateway to Beavers Bend State Park. Broken Bow Lake is perfect for bass fishing, but also offers a picturesque setting for tent or cabin campers who want to enjoy the beauty of the outdoors. Vacationers may see black bears, eagles and other wildlife as they hike the trails. For more adventures, rent a canoe, kayak or boat to enjoy the view from the water.
Finalists: Keystone State Park; Robbers Cave State Park
FAVORITE PLACE TO CAMP IN OKLAHOMA
TulsaKids' readers chose the Broken Bow area as their favorite camping destination. With so many hiking trails and activities in the area and hundreds of campsites, it's easy to see why people love the area. Campsites are around $20 per night, so it's an affordable way to enjoy the incredible outdoors with family and friends.
Finalists: Robbers Cave State Park; Keystone State Park
FAVORITE HOTEL IN TULSA
Steeped in Tulsa history, it's no wonder readers picked The Mayo as their favorite hotel in town. The iconic landmark was built in 1925 and has hosted numerous luminaries such as Bob Hope, Babe Ruth, Will Rogers and John F. Kennedy. More recent famous guests include Lady Gaga, Justin Bieber and Josh Groban. Locals host weddings and events at The Mayo, and maybe a staycation now and then.
Finalists: Ambassador Hotel Tulsa; River Spirit Casino Resort
FAVORITE WEEKEND GETAWAY
When Tulsa families want to get away for a weekend or a week, they head to Branson. Adults and kids alike can find something to do in and around Branson. The Ozark Mountains are the perfect backdrop to numerous attractions – the Titanic Museum, Silver Dollar City, performances – there are so many things to do and see in Branson, visitors go back year after year.
Finalists: Bentonville, AR; Dallas, TX
FAVORITE PLACE TO BUY AN RV
Family getaways are more fun when you can take the lodging along with you. Tulsans can take to the Mother Road, or any road, and see the country from the comfort of an RV. The folks at Wade's can explain all your options.
Finalists: Bob Hurley RV; Dave's Claremore RV
FAVORITE PLACE TO PLAY INDOORS
Discovery Lab wins in yet another category. Tulsa families are fortunate to have this amazing new facility where kids can create their own adventures through hands-on play and the magic of discovery.
Finalists: Main Event Tulsa; Urban Air Trampoline and Adventure Park