Family Fun & Travel: TulsaKids' Family Favorites Winners & Finalists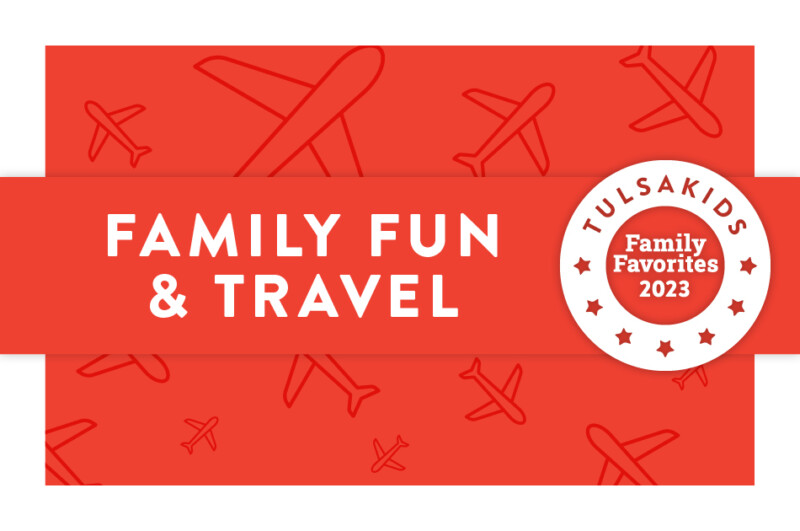 This page is your resource for all things staycation and vacation, as voted on by Tulsa-area parents! Find the rest of our Family Favorites winners and finalists at tulsakids.com/tulsakids-family-favorites.
FAVORITE MUSEUM
Learning is fun at Discovery Lab. Kids and their parents love the hands-on play. Visitors can build, crawl, climb, explore and problem solve as they make their way through permanent and traveling exhibits. Discovery Lab members and Gizmo Guild members get perks like special museum entrance times. And, Mondays at 11 a.m., early learners and caregivers can experience special programs. It's no wonder readers voted Discovery Lab as their favorite museum.
Finalists: Philbrook Museum of Art; Woolaroc Museum & Wildlife Preserve
FAVORITE LOCAL ATTRACTION
Just north of Discovery Lab, Gathering Place welcomes visitors of all ages to a 66.5-acre outdoor wonderland. Touted as A Park for All, Gathering Place certainly exceeds the term "park." Natural spaces, a castle to climb through, a zip line, a slide area, skate park, basketball courts, swings and a special area for the youngest visitors in addition to free, high-quality programming, events and exhibits, Gathering Place is a one-of-a-kind experience. Grab some food and drink at The Patio, Redbud Café or Vista at the Boathouse.
Finalists: Tulsa Zoo; Philbrook Museum of Art
FAVORITE LOCAL PROFESSIONAL/SEMI-PROFESSIONAL SPORTS TEAM
Our readers love Drillers games. Taking the family to ONEOK Field means great baseball, Friday night fireworks, elevated ballpark food and lots of fun cheering on the home team with the help of Hornsby, the Drillers' mascot! Parents can watch the game while kids play on the playground or visit Hornsby's Hangout. Sunday afternoons kids can eat free, run the bases, play catch on the field – there's always a special promotion at the ballpark.
Finalists: Oklahoma City Thunder; Tulsa Oilers
FAVORITE LOCAL PARK/PLACE TO GET OUTSIDE
Tulsa's Park for All wins in a second category this year, for the fourth year in a row. Readers voted Gathering Place as their favorite place to get outside because there's so much for every member of the family to enjoy, from concerts and performances on the QuikTrip Great Lawn to hands-on cultural experiences, storytimes at the Reading Tree and special holiday events.
Finalists: Tulsa Zoo; Turkey Mountain
FAVORITE STATE PARK
Tulsa families flock to Broken Bow, the gateway to Beavers Bend State Park. Broken Bow Lake is perfect for bass fishing, but also offers a picturesque setting for tent or cabin campers who want to enjoy the beauty of the outdoors. Vacationers may see black bears, eagles and other wildlife as they hike the trails. For more adventures, rent a canoe, kayak or boat to enjoy the view from the water.
Finalists: Robbers Cave State Park; Sequoyah State Park
FAVORITE PLACE TO CAMP IN OKLAHOMA
Broken Bow
The area around Broken Bow is a popular camping destination for Tulsa-area families. Near Broken Bow Lake in the foothills of the Ouachita Mountains, visitors can find cabins or camping spots that offer the perfect homebase for activities like boating, paddle boarding, fishing (did you know you could trout fish in the Mountain Fork River?), hiking, visiting the petting zoo, riding go carts, swimming or just relaxing.
Finalists: Robbers Cave State Park; Keystone State Park
FAVORITE HOTEL IN TULSA
Located in downtown Tulsa, this historic hotel originally opened in 1925. Fully renovated and modernized, The Mayo has luxurious rooms, a rooftop bar with stunning views and the bragging rights to being host to many celebrities, including Bob Hope, Babe Ruth, John F. Kennedy and more. If you watched the TV series Tulsa King, Sylvester Stallone's character resides in The Mayo.
Finalists: Hard Rock Hotel and Casino; River Spirit Casino Resort
FAVORITE WEEKEND GETAWAY
Branson is a recurring Family Favorite pick – and we know why. Families can drive over for a relaxing weekend in the Ozarks where parents and kids of all ages can find fun things to do. Besides numerous live performances, Branson is home to attractions like the Titanic Museum, Silver Dollar City, the Runaway Mountain Coaster, Marvel Cave, White Water and much more.
Finalists: Eureka Springs, AR; Broken Bow
FAVORITE PLACE TO BUY AN RV
TulsaKids readers voted Wade's RV as their top pick to get outfitted with a "home on the road." What better way to take a vacation than in an RV outfitted with the perfect floorplan and amenities for your family. With the tagline, "Turning Miles into Memories," Wade's RV can find the perfect new or preowned vehicle for your next adventure!
Finalists: Bob Hurley RV; Camping World
FAVORITE PLACE TO PLAY INDOORS
This incredible children's museum wins in yet another category. Located just south of Gathering Place, Discovery Lab provides endless indoor entertainment for children as they explore the exhibits that are designed to expand their minds, encouraging creativity and critical thinking as they play. Take a breather at the café after a trip through the tape tunnel.
Finalists: Main Event Tulsa; Adventure Avenue
FAVORITE FAMILY-FRIENDLY LIVE PERFORMANCE OF 2022
For family entertainment, it's hard to beat Disney, and Disney on Ice takes the characters to a new level. TulsaKids' readers can see Frozen & Encanto this year at Expo Square Pavilion, Sept. 28-Oct. 1. Parents might want to spring for the preshow tickets for this one. Kids will get to interact with Elsa and Mirabel and enjoy games, crafts and storytelling.
Finalists: The Nutcracker – Tulsa Ballet; Frozen the Musical – Celebrity Attractions
FAVORITE FESTIVAL
TulsaKids readers agree with Tulsa State Fair's tagline, "11 Days of Awesome." Late September and early October typically provide perfect weather for rides, animals, displays, concerts and, of course, famous food-on-a-stick at the Tulsa State Fair.
Finalists: Oktoberfest; Rooster Days