Staying Healthy: TulsaKids' Family Favorites Winners and Finalists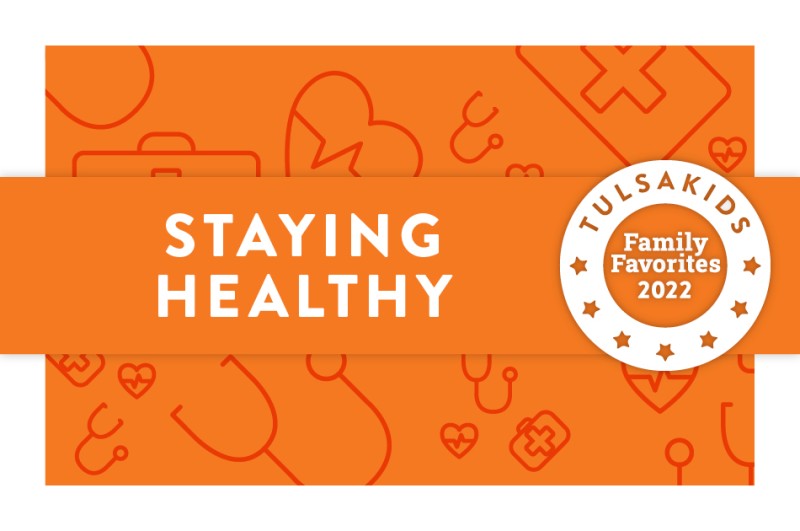 The COVID pandemic has kept health and wellness at the forefront of parents' minds – even more so than usual. But family health is always a top priority! Below, you'll find a list of parent-recommended health professionals, as voted on by TulsaKids readers in our 2021 Family Favorites contest.
Find the rest of our Family Favorites winners and finalists here.
FAVORITE PEDIATRICIAN
Readers may recognize the name because Birth & Beyond Pediatrics has been voted a TulsaKids Family Favorite many times. Parents love Dr. Sood as well as the caring, compassion staff at Birth & Beyond Pediatrics. They trust Dr. Sood to provide the best experienced and professional health care in an environment where they and their children feel comfortable.
Finalists: Dr. Elizabeth Dunlap, Florence Park Pediatrics; Dr. Stacy O'Sullivan, Pediatric Specialists of Tulsa
FAVORITE FAMILY DOCTOR
Dr. Ross is a past Family Favorites winner in this important category. A family doctor treats the entire family – infants, children and adults. Dr. Ross provides helpful information about healthy habits on his website. His patients appreciate that he spends time with them, listening to their concerns.
Finalists: Dr. Bradley Hardy, Warren Clinic Family Medicine; Dr. Elizabeth Severns, Warren Clinic Family Medicine
FAVORITE OB/GYN
TulsaKids' moms appreciate Dr. Rapp's experience in all aspects of women's health care, especially when pregnancies might involve risk or need unique care because of issues such as diabetes, hypertension or other potential problems. Every patient is treated as an individual with specific and personalized care.
Finalists: Dr. Sarah Shepherd, OB/GYN Specialists of Tulsa; Dr. Tracey Lakin, The Women's Health Group
FAVORITE OPTOMETRIST
Kids and their parents love to see Dr. Groves for their eye health. The entire family can get exams and get glasses or contacts at His Vision Eye Care.
Finalists: Dr. Colby Beats, Broken Arrow Vision Clinic; Dr. Gary T. Denslow, Pediatric and Family Eye Care
FAVORITE KID-FRIENDLY DENTIST
On the Cusp wins again this year in this category. Parents appreciate the excellent care and caring environment at On the Cusp's two locations. The staff takes extra time with children who are anxious or may have special needs. They have experience treating children for all kinds of issues, including those that may require sedation or oral surgery.
Finalists: Fox Broermann Pediatric Dentistry of Tulsa; Morrow, Lai and Kitterman Tulsa Children's Dentistry
FAVORITE ORTHODONTIST
Dr. Emerson has been voted to the top spot once again. Whether families need early treatment, treatment for teens or adults, Dr. Emerson takes care of it using the latest technology. Professional, experienced and fun, Dr. Emerson listens to patients and gives them the smile they desire. The offices are comfortable, with amenities that make all those trips to the orthodontist almost enjoyable.
Finalists: Dr. Blake Henry, Henry Orthodontics; Dr. Kelly Klontz, On the Cusp Pediatric Dentistry and Orthodontics
FAVORITE ALLERGIST
Dr. Love's training and experience in pediatrics and allergy/clinical immunology makes him a top choice when parents are looking for someone to treat their children's allergies. He's also a dad who understands parents' concerns and fears about their children's health.
Finalists: Dr. Lodie Naimeh, Allergy Clinic of Tulsa; Lynn Wiens, M.D., Warren Clinic Allergy and Immunology
FAVORITE ENT
TulsaKids' readers voted Dr. Vaidya as their top choice for ear, nose and throat issues. Dr. Vaidya specializes in pediatric otolaryngology and nasal and sinus surgery.
Finalists: Dr. Evan Moore, Eastern Oklahoma ENT; Dr. Spencer Voth, Warren Clinic Otarlaryngology
FAVORITE PLACE FOR PEDIATRIC THERAPY
Parents love the comprehensive care their children receive at TherapyWorks. Occupational, physical, speech, feeding and school therapy are all offered by professional, experienced therapists under one roof. The large facility offers treatment in a comfortable, appropriate environment.
Finalists: Speech and Beyond Pediatric Therapy; TherapyTown
FAVORITE ORTHOPEDIST
When it comes to orthopedic surgery, TulsaKids parents voted Dr. Schwartz as their trusted physician. Dr. Schwartz works within the Saint Francis Health system to provide professional and experienced care to his pediatric patients.
Finalists: : Dr. Brian A. Chalkin, The Orthopaedic Center; Dr. Caleb Nunley, Tulsa Bone & Joint Associates
FAVORITE CHIROPRACTOR
TulsaKids families like the warm and welcoming philosophy of Thrive Chiropractic Clinic. Their goal is to minimize stress for both kids and their parents, not only through prenatal, post-partum and pediatric chiropractic care, but through providing kid-friendly entertainment while mom is getting adjusted. Dr. Cassidy Meredith and her team are devoted to helping women through pregnancy and beyond, and even work with groups like Baby Wearing Around Tulsa to provide extra support through education.
Finalists: Free Spirit Chiropractic; Hays Chiropractic; Optimal Health & Wellness
FAVORITE HOSPITAL
Saint Francis Hospital provides compassionate care to families in Eastern Oklahoma for all their health care needs. Primary care, women's health, urgent care, pediatrics, cancer, orthopedics, cardiology or any medical need from infants to old age, Saint Francis can help you through with support and exceptional care from dedicated physicians, nurses and staff.
Finalists: Ascension St. John; Hillcrest Medical Center