Pets: TulsaKids' Family Favorites Winners and Finalists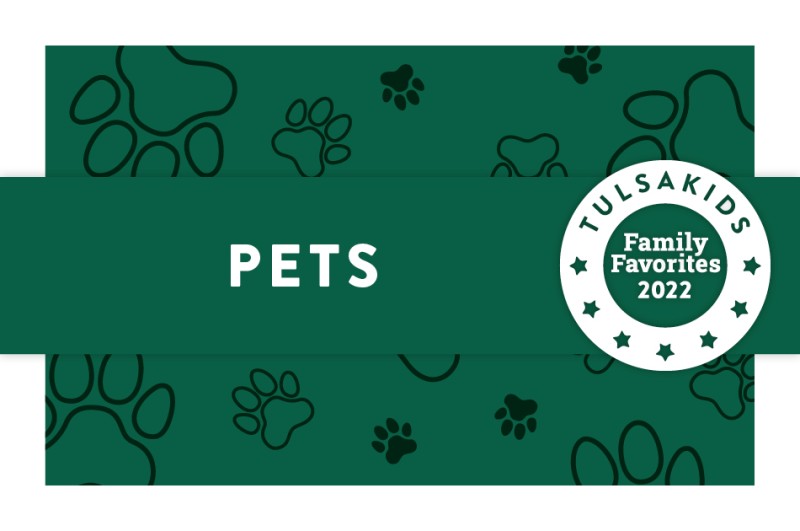 Pets are such an important part of the family, we had to give them their own Family Favorites category! Thanks to TulsaKids Readers for voting for their favorite pet-related businesses!
FAVORITE VETERINARIAN
When it comes to the family pet, Woodland West is a winner. Serving Tulsa and the surrounding communities, Woodland West gives pets compassionate, loving treatment. Pets are family members, too, and Woodland treats them as such.
Finalists: Forest Trails Animal Hospital; Good Shepherd Veterinary Hospital
FAVORITE DOG GROOMING
This is a business families can feel good about. Not only do they make sure every dog has a positive grooming experience, but they will also groom a rescue dog for every grooming you book! Aw, good dog!
Finalists: Muddy Paws; Sloppy Dog Wash
FAVORITE PLACE TO BOARD YOUR PET
"Resort" is the right word to describe this winning all-inclusive pet boarding service. Pets are treated to climate-controlled accommodations, a live, 24/7 webcam so you can watch your pet any time, and a variety of kennel options from the Lamborghini Suite to the basic Indoor/Outdoor option.
Finalists: Noah's Bed & Biscuit; Top Dog Ranch
FAVORITE PLACE TO BUY PET SUPPLIES
Pet food, prescription food, leashes, collars, toys, medications – you name it – if it's something a pet needs, Southern Ag. has it. Families ranked this business #1 for a reason – everything pet-owners need and excellent customer service.
FAVORITE PET RESCUE
Puppy Haven Rescue
When it's time to adopt that family pet, families chose Puppy Haven as the top spot to find, well, Spot…or Spike…or Princess…. Every dog deserves a furever home.
Finalists: Skiatook Paws and Claws Animal Rescue, Inc.; Tulsa SPCA