Enrichment: TulsaKids' Family Favorites Winners and Finalists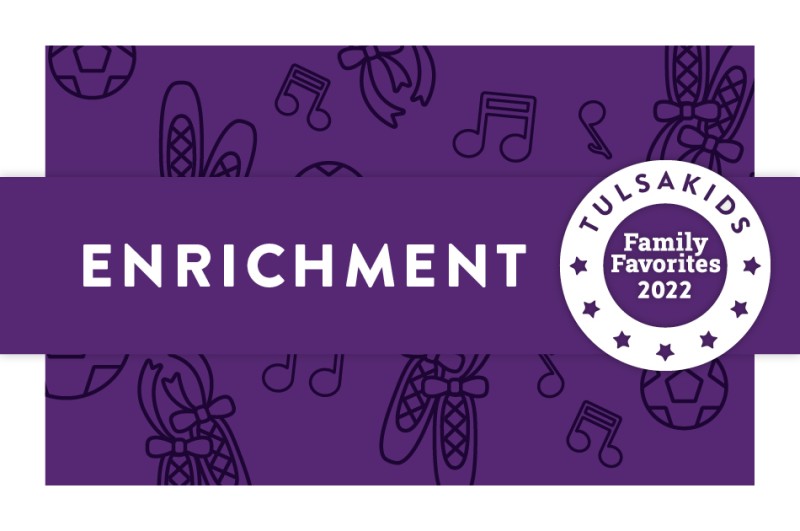 From camps to soccer programs, swim lessons and much more – here are TulsaKids' Readers' picks for the top enrichment programs in the area!
FAVORITE IN-STATE SUMMER CAMP
The mission of New Life Ranch is to "proclaim the Gospel of Jesus Christ and equip believers for ministry." New Life campers are treated to a variety of activities, including horseback riding, rock climbing and water play. Younger campers go to Frontier Cove in Adair, while those in grades 7-12 camp at Flint Valley in Colcord.
Finalists: Camp Loughridge; YMCA of Greater Tulsa
FAVORITE OUT-OF-STATE SUMMER CAMP
Tulsa area parents voted Camp War Eagle in Arkansas as a favorite place to send their kids in the summer. A Christian sports, adventure and recreation camp for kids ages 6 – 17, the camp is set in the beautiful environment of northwest Arkansas.
Finalists: Camp Barnabas; Camp Mystic Guadalupe River
FAVORITE YOUTH THEATRE
Parents picked Clark as a top program for their kids to learn all about acting from experienced adults who create a safe space for young people to make connections with others as they learn about themselves and the art of theatre. Clark's award-winning productions not only help kids hone their acting, singing, set design and expressive skills, they teach cooperation, creativity, teamwork, focus – all the qualities needed to pursue an avocation or a future career in theatre.
Finalists: Spotlight Children's Theatre; Theatre Tulsa
FAVORITE GYMNASTICS OR CHEER
A non-profit, Aim High seeks to give small gymnasts a fun way to learn the sport in a nurturing environment. Parents looking for camps, dance, gymnastics programs for toddlers to teens or classes for children with special needs, can all find something to fit their child at Aim High.
Finalists: Above & Beyond Gymnastics Center; The Little Gym of SE Tulsa
FAVORITE DANCE STUDIO
In this competitive category, Tippi Toes Tulsa jumped to the top. Whether you want to share music and that all-important sensory environment with your baby, join a Toddler and Me class, or enroll your children ages 3 and older in a ballet, tap & jazz or hip hop class, you can find what you're looking for at Tippi Toes. Parents love to see their children getting exercise and instruction in positive, fun, high-energy classes.
Finalists: Destiny Dance; South Tulsa Dance Co.
FAVORITE MARTIAL ARTS STUDIO
Focusing on both the internal discipline and the external physicality of martial arts, this studio offers children and adults classes that build strength, coordination and fitness. The kids' martial arts classes are exciting and fun to keep kids interested, while learning life skills and self-defense.
Finalists: Christian Karate Academy; Golden Dragon Taekwondo
FAVORITE PLACE TO LEARN SOCCER
Parents of kids of all ages love SoccerCity, voting it their top choice for soccer training and fun. The Lil' Kickers program has classes for ages 18 months through 9 years. Classes are developmental, where trained coaches work with kids at their level. Play is fun, with activities geared toward each age level, and parents are included in the youngest children's classes. SoccerCity offers indoor soccer for older kids and adults, including youth and adult leagues. The summer camps are another winning option that makes SoccerCity a Family Favorite!
Finalists: Soccer Shots; YMCA of Greater Tulsa
FAVORITE SOCCER CLUB
Club soccer is popular with Tulsa area kids and youth. Metro Tulsa Soccer Club United (MTscU) was voted a Family Favorite for the second year in a row. MTscU offers programs for all levels of skill for young people ages 2 to 19, including players with special needs. Whether you're looking for a rec team or premier level, MTscU can help you find a spot.
Finalists: Broken Arrow Soccer Club; Tulsa Soccer Club
FAVORITE MUSIC PROGRAM OR LESSONS
TulsaKids' readers voted Saied as their top pick for their family's music needs. Lessons for all ages and instruments, band and orchestra instruments to buy or rent, print music, pianos, guitars, organs – Saied's has been helping families with their musical needs since 1946. The knowledgeable staff at one of their six locations (two in Tulsa) can guide you with personalized service, or you can shop online. Saied Music Company believes in the power of music and supports music education in schools. Saied's music students have the opportunity to perform in a monthly showcase or in special events.
Finalists: Anthem Road Academy; Tulsa Youth Symphony
FAVORITE ART PROGRAM OR LESSONS
Philbrook does it all for kids (and their parents) – art-making and creative opportunities abound. Saturday Open Studios and Studio Labs invite everyone to get messy making art. Philbrook uses the stunning outdoor gardens to inspire young and old through hiking, sketching and creative programming. Youth 17 and younger have free admission at Philbrook. (Summer camps are back this year!)
Finalists: ahha Tulsa, Tulsa Art Center
FAVORITE SWIM LESSONS
Miller Swim School has been teaching Tulsans and families in surrounding communities to swim for generations. With a strong focus on water safety, Miller family and staff make it their mission to provide the best instruction possible for infants through adults. Private lessons, group lessons and swim teams, anyone and everyone can and SHOULD learn to swim!
Finalists: SafeSplash + SwimLabs Swim School; YMCA of Greater Tulsa
FAVORITE TUTORING
Tulsa area parents know that their kids will find experienced literacy tutors at Lavender's Bleu. They like the free assessment as well as the individual instruction and the flexibility of 1-hour, 30-minute or 45-minute sessions. All tutors are certified reading specialists.
Finalists: Brain Balance Center of Tulsa; Mathnasium
FAVORITE PLACE FOR STORY TIME
When it comes to incredible storytimes, it's tough to beat the Tulsa City-County Library (TCCL). With multiple locations and experienced librarians putting their special spin on storytime – and all those books! – TCCL is certainly a winner in this category. Making literacy come to life with music, fingerplays, performances and more, TCCL staff keep kids and their parents coming back.
Finalists: Gathering Place; Tulsa Toy Depot