Winter in Tulsa from A to Z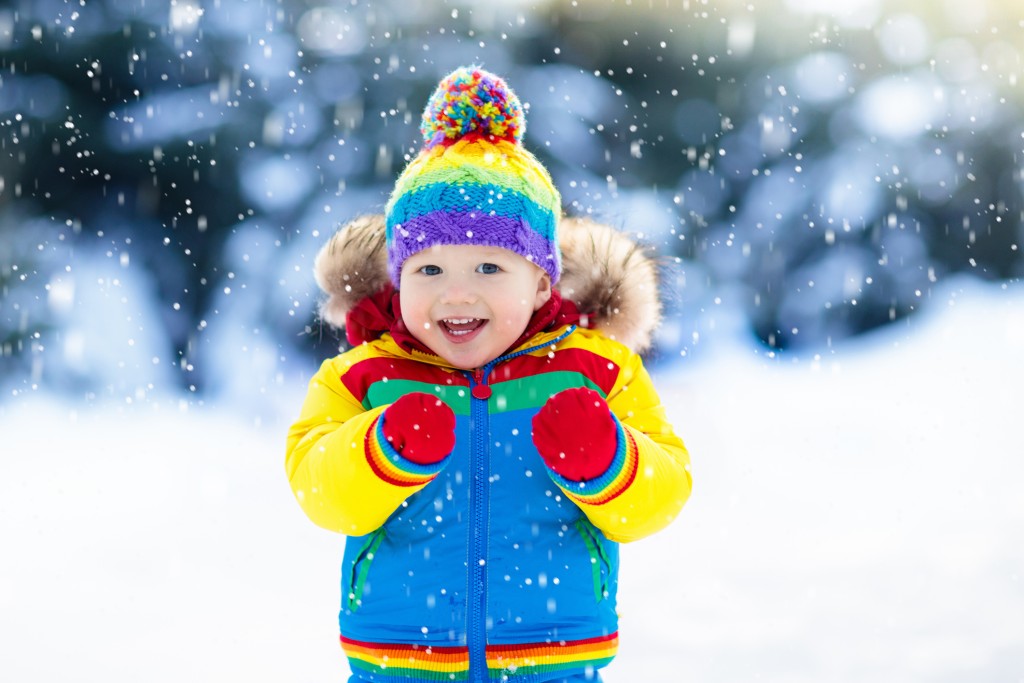 For those who prefer shorts to overcoats, or swimsuits to snowsuits, the prospect of winter may seem like something just you have to power through in order to come out on the other, sunnier side. Or maybe you're all about embracing the chill and looking forward to a good snowstorm or two. Either way, use this list to create your own winter fun bucket list. There's a lot to look forward to!
Arvest Winterfest has some fun things planned for its 15th year, including new holiday shops and, for those 21+, a Boozy Brunch with Santa! And of course, it wouldn't be Winterfest without the chance to ice skate beneath a towering Christmas tree!
Tulsa Botanic Garden's Garden of Lights is a must-do for the holidays. Not only is the garden illuminated with thousands upon thousands of lights, you can make s'mores over the firepit, grab a bite from food trucks, throw "snowballs" and more. Plus, Botanical St. Nick will visit on select nights! Get your tickets now!
Honorable Mentions: BA Ice Rink, The Best Christmas Pageant Ever by Clark Youth Theatre
We always look forward to Tulsa's Christmas Parade. But most of the communities surrounding Tulsa have some pretty fabulous parades as well! Click here for a schedule.
Honorable Mention: Tulsa Ballet's Cinderella (Feb.)
D: Downtown
As with Christmas parades, most of the Tulsa suburbs – think Broken Arrow, Sapulpa, Owasso, Sand Springs, Jenks, etc. – are worthwhile places to visit during the holidays. Not only are their Main Streets/downtown areas decorated in the spirit of the season, they are all unique shopping destinations!
Special shout-out to downtown Tulsa: They've got a new website, downtowndaysofwonder.com, to help you track all the holiday fun. From shopping to concerts and more.
Honorable Mention: Disney on Ice at BOK Center (Feb.)
If you "just like to smile" because "smiling is [your] favorite," don't miss laughing along to this holiday classic, accompanied by a live orchestra! If you can't make the show at the Tulsa PAC on Dec. 2, you can also catch it at the McKnight Center in Stillwater on Dec. 1.
F: Family Favorites
It's me, hi. Shameless plug here! TulsaKids' Family Favorites includes sections highlighting our readers' favorite dining and shopping destinations in the Tulsa area. Check them out this season to learn why they're the best!
Honorable Mention: Fairgrounds (There's always something going on at Expo Square! Find a list of upcoming events at exposquare.com/events)
Guthrie Green is a wonderful, low-key place to see some really beautiful lights – for free, in the convenience of downtown Tulsa! Their Glow on the Green kickoff is December 2, 6-9 p.m. and will feature a holiday market, visits with Santa and other entertainment.
H: Holiday Shopping
From pop-ups to long-standing shopping extravaganzas, don't miss these popular holiday markets: tulsakids.com/the-best-holiday-markets-and-shopping-in-tulsa/
I: Ice Skating
Ready to hit the ice? Here are three opportunities to go ice skating in the Tulsa area:
Honorable Mention: Indoors (tulsakids.com/indoor-places-to-play-in-tulsa/)
The Arthritis Foundation's annual 5K is an opportunity to add a little festivity to your fitness – while raising money for a good cause. Runners are encouraged to wear a holiday costume and "be there with bells on"! Saturday, Dec. 3 at River West Festival Park
Honorable Mention: Jesus Christ Superstar, presented by Celebrity Attractions (Jan.)
Each year, TCCL's African American Resource Center invites the community to its Kwanzaa event "celebrating culture and community." There will be "a brief explanation of the history and purpose of Kwanzaa alongside cultural expressions by members of the Tulsa community and an exploration of how the seven guiding principles of Kwanzaa can show up in our lives." Monday, Dec. 26, 6-8 p.m.
L: Lights On!
Put this on your bucket list, STAT! Local Lights On events start Nov. 17, with several occurring Thanksgiving weekend. Find our list at tulsakids.com/holiday-lights-in-and-around-tulsa/
Honorable Mention: Libraries (They always have something fun – and free – planned!)
M: Martin Luther King, Jr. Parade
The MLK, Jr. Commemoration Society's annual parade returns to the historic Greenwood District January 16. The Society is also accepting entries in its Youth Contests through November. Learn more about these and enter at mlktulsa.com/schoolcontests
Featuring performances by local children in addition to professional dancers, The Nutcracker by Tulsa Ballet is a holiday tradition that mesmerizes year after year! This year's performances at the Tulsa PAC run Dec. 9-23.
Honorable Mention: New Year's Eve (tulsakids.com/ways-to-celebrate-the-new-year-in-tulsa/)
A Winter Break escape to the OKC area may be just what you need this year! We keep seeing images on Facebook of the Chickashaw Leg Lamp (it even has its own Facebook page!), and Enid reportedly boasts the world's largest Christmas tree! Find more fun things to do in OKC, including shopping and dining destinations, at tulsakids.com/kid-friendly-christmas-fun-in-okc/
Honorable Mention: Oxley Nature Center (Check their calendar for monthly and special events!), Oilers games
It doesn't get much more magical than Philbrook Festival. Not only is the iconic villa adorned with Christmas lights and classic decor, the lights are set to music in a spectacular show! Plus, you can visit LEGO Village inside, Santa, do art projects, roast s'mores and more.
Honorable Mention: PBR Release the Beast at BOK Center (Feb.)
To be honest, we were having trouble coming up with a "Q" item. But thankfully, one of our Facebook group members suggested Queenies! And since we love Queenies year-round, we're happy to add them to the list. Follow them on social media to get information about holiday ordering and daily specials. You won't be disappointed!
People travel from far and wide to see Rhema's incredible display of Christmas lights. Plus, admission is free (although donations are accepted). Occurs nightly, Nov. 23-Jan. 1.
Honorable Mentions: Roosevelt's on Cherry Street, Route 66 Historical Village (the train is decorated in lights!)
This may be one of the biggest new additions to Tulsa holiday celebrations this year! Sapulpa's Route 66 Christmas Chute features 800-f00t-long canopies decorated in a total of ten themes. Plus, weekends promise special pop-up shops, food trucks and other fun.
Honorable Mentions: Santa (tulsakids.com/where-to-find-santa-in-tulsa/), Sledding (tulsakids.com/the-best-sledding-spots-in-tulsa/)
We're expanding our annual 12 Days of Christmas Giveaways to include THREE MORE CHANCE TO WIN! That's right, from Dec. 1-15, we are giving away more than $1,500 worth of amazing items from local partners, including Tulsa Ballet, Airtopia, Disney on Ice and The Polar Express Train Ride. Go to tulsakids.com/contests for all the details (coming late-November)!
Honorable Mention: Turkey Mountain
Utica Square's annual Lights On event Thanksgiving evening is just the beginning. Many families enjoy visiting their adorable Nutcracker scenes and larger-than-life nutcracker statues scattered throughout the shopping area. Plus, you can visit Santa's charming cottage for free in a beautifully lit setting.
Wake up and head out early Thanksgiving morning to participate in Tulsa Running Club's annual VonFranken Family Food Run along the Arkansas River! The event is free, but participants are encouraged to bring a non-perishable food item to donate.
Honorable Mentions: Volunteering, Valentine's Day
Gathering Place is once again transforming into a Winter Wonderland! Visit the park on December 9, 10, 16, 17, 23, 24, 25, from 6-9 p.m., for lights, holiday music, Santa and tons of festive fun.
Honorable Mentions: White Christmas Sing-Along at Circle Cinema
We're cheating just a teensy bit on this one, but The Polar Express Train Ride is going to be an unforgettable opportunity to eXperience Christmas magic this year. On this one-hour journey to meet Santa, guests will get to visit with Santa, listen to storytime, enjoy treats, caroling and more. Get your tiX at okcthepolarexpressride.com/
Y: You-Time
Honestly, we were stuck on "Y" – of all the letters! But this prompted a good reminder: Take some time to yourself this holiday season, if possible! It can get hectic, stressful, all the things. So think about what makes you happy and find some ways to practice self-care.
Honorable Mentions: Yule Log (One of our Facebook group members suggested this, but we're not quite sure where to order one locally, and Google didn't help! Any suggestions? Add them to the comments!)
Tulsa Zoo is open year-round, with the exception of Christmas and one other, non-winter date. And if the weather turns particularly chilly, you can always plan your visit to take advantage of the Zoo's many indoor buildings.
---