Ten Places to Volunteer With Your Family in Tulsa
For many Tulsans, charitable giving is a way of life; but it can be difficult to know where to start.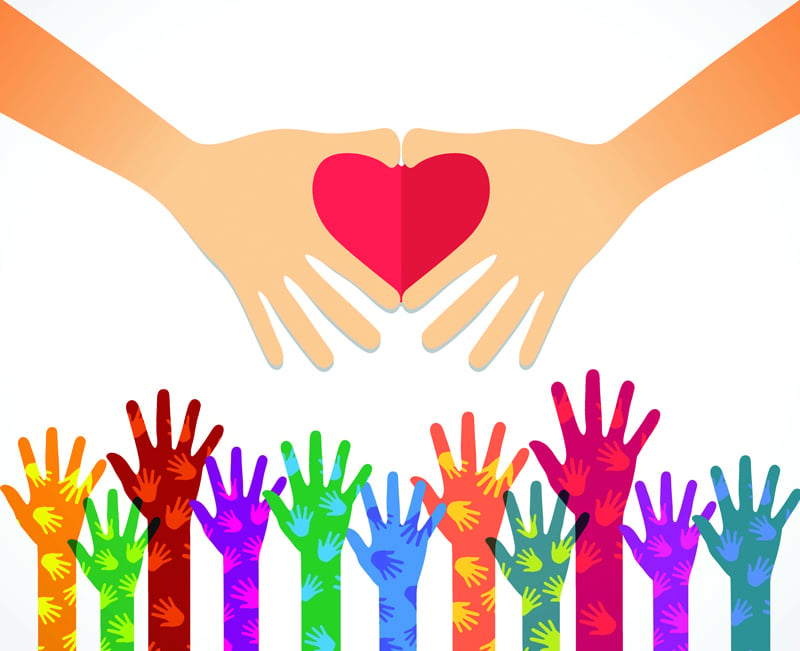 Originally published October 2017; updated July 2020
Tulsa is a uniquely philanthropic city. We have the benefit of many generous private foundations, including the second largest community foundation in the country; second only to the Silicon Valley Community Foundation (thanks, Zuckerberg). From major gifts to the community, like Gathering Place (funded in part by George Kaiser Family Foundation), to the dozens of fundraisers and charity 5Ks every spring and fall, charitable giving is a way of life for many of us in Tulsa.
But when it comes to demonstrating to our children what it means to give of "time, talent and treasure," things can get a little more complicated. We worry, will my kids be welcome? Will my kids get anything out of it? Where do I start?
It can feel overwhelming to know where to find a volunteer experience that fits your family.
How to choose where to volunteer
Start with considering your family's interests and values. You may have already had conversations with your children about current events (helping hurricane or fire victims) or answered questions related to the upcoming holidays. Likely, you are emphasizing kindness and generosity toward others. Consider what other values you might want to teach your children, such as resilience, compassion, conservation, civic pride or generosity.
Next, ask your kids' opinions about what kind of concerns they have or what they would like to do to help others. If they get to have input about where or what volunteer activities that your family might participate in, they will be more enthusiastic (especially true for preteens and teens). And by starting the discussion, you may discover that kids have some creative suggestions. They may be interested in picking up litter, when you might have guessed something different.
Last, just try it! Many of us may already be involved with the PTA or scouting or church ministry. That's fine — community volunteering doesn't have to be a long-term commitment. Many organizations like to have volunteers come in to do one-off projects (see: Tulsa Area United Way Day of Caring). Others prefer weekly or monthly engagement. Be prepared to go through training and/or a background check; organizations have these steps in place to protect both your time and theirs — because both are so valuable!
The value of a volunteer
Americans volunteer more than eight billion hours of time annually; this time is valued at more than $193 billion! This breaks down to nearly $25 for each volunteer hour. Organizations that rely heavily on volunteers to carry out their mission often calculate the value of volunteer time as part of their budget. They know that if they had to pay staff to do the same work, their reach would be much more limited. Volunteers can literally be the difference between an organization contributing to the greater good of the community or closing its doors.
Not only do organizations value your time, but your investment makes our community stronger and more connected. And your family will gain as much as it gives, possibly including a new-found gratitude for what you have.
Get Started
These local organizations have volunteer opportunities for families; recommended ages are indicated next to the organization's contact information.
Ages 11+. The Community Food Bank of Eastern Oklahoma is the largest hunger relief organization in Northeastern Oklahoma and has more than 450 partner agencies; 1 in 4 Oklahoma children faces food insecurity. The Food Bank's volunteer activities include: packing/unpacking food, packing Backpacks for Kids, assisting on the Mobile Pantry and more.
Conversation starter: Ask your children how they feel when they are hungry. Is it hard to do school work? Talk about how the food bank helps hungry children.
Any age with an adult. Meals on Wheels delivers meals to homebound seniors and other individuals; volunteer drivers do the vast majority of the meal delivery throughout the Tulsa area. Neighborhood deliveries are along a pre-arranged route, to the same people every week. More than just a hot meal, volunteers provide a human connection and may be the only person a meal recipient sees all day. Children who enjoy talking to others, especially elderly people, may enjoy riding along with you.
Conversation starter: Ask your child what volunteers provide besides just a hot meal to clients.
Ages 9+. If your child loves animals, a volunteer opportunity with the SPCA may be a good choice; with numerous volunteer opportunities and regular volunteer trainings, your family can support the adoption and rehabilitation of cats, dogs and other furry friends.
Conversation starter: What are some of the most important responsibilities of animal owners?
Ages 4+. Now, you don't have to be Catholic to volunteer with Catholic Charities, but if your family is interested in supporting refugee families, Catholic Charities is the place to go. They are the federally designated refugee organization in the city of Tulsa, and they help refugees from Burma, Vietnam and more make the transition to life in the United States. Volunteer opportunities include: food pantry work, sorting clothing, grounds keeping/trash pickup, administration, babysitting, putting together apartment kits for refugee families, refugee welcoming committee.
Conversation starter: Ask your children to describe what it would be like to go to another country where you couldn't speak the language and didn't know anyone.
Ages 13+. Iron Gate provides daily hot meals, grocery pantry resources, and kids' snack packs. Volunteer opportunities include serving food, stocking shelves, distributing groceries and packing Kids Packs; ages 13+.
Conversation starter: What do you think kids like best about getting the Kids' Packs?
Ages 6+. James Mission is a clothing and essential needs resource for foster care families; often when kids enter foster care, they have just the clothes on their backs. Volunteer opportunities include sorting clothes, caring for facilities, filling Loads of Love bags, and more. Ages 6+.
Conversation starter: What do you think it would be like to live with a new family if you were a child?
Ages 6+. Salvation Army in Tulsa is best known for the Angel Tree program at Christmas, but they also run programs year round for the homeless and disadvantaged youth. Holiday opportunities range widely, but do include meal services (Thanksgiving and Christmas shifts are very popular; children 12+ can serve with an adult), working at the Angel Tree booth at the mall and Bell Ringing.
Conversation starter: What do you think will be the most popular toy or item asked for by kids on the Angel Tree?
Ages 10+. John 3:16 Mission volunteer opportunities include a little bit of everything including serving meals at their overnight shelter, food distribution, clothing services, mentoring, after-school tutoring, summer literacy programs and more.
Conversation starter: Why is it important to help people who might be having a hard time getting clothing or even doing well in school?
Ages 8+. We've all seen the numerous "Up with Trees" signs around town, but did you know that your family can adopt your own tree site? (Sponsorships start at $6,000). You can also get your hands dirty by helping plant trees, pruning, mulching, distributing saplings, and more!
Conversation starter: Why are trees important to human beings and to our planet?
Ages 12+. Serves individuals with "physical or mental challenges that result in a developmental delay, ages 0-6"; volunteer opportunities include administration, classroom, facilities, fundraising.
Conversation starter: Do you know any children who have disabilities? What are some ways you can include them?
Whether you volunteer with your family, your place of worship, school or scout group, getting involved with community organizations shows kids what it's like to be part of the larger community and increases empathy. Volunteering is often on our minds during the holiday season, but that shouldn't be the only time we participate. Talk with your family (kids included) about how they might like to get involved and start to explore the many way to help people and places in need, right here in Tulsa.
---