Taking the Kids to a Furry Convention!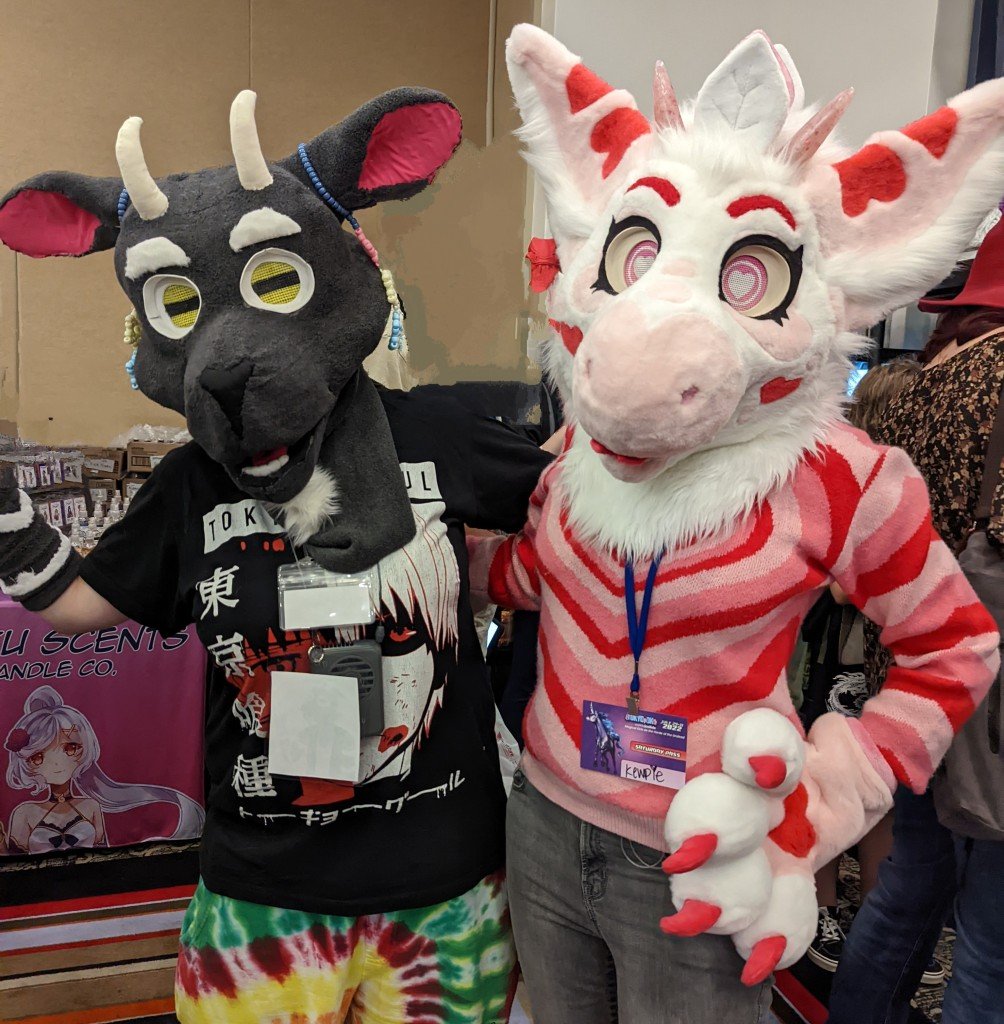 These days, more and more kids, tweens, and teens are falling in love with the Furry fandom. Furries are a group of folks that enjoy cosplaying as cuddly, adorable animals, and they will often create their own original character or even make (or pay for) their own "fursuit." As the parent of a tween who loves furries and has been drawing her own original characters for years, I am looking forward to taking her to the Tails and Tornadoes Furcon this weekend, especially after we had such a great time last year! The convention runs from September 2 through 4 at the Southern Hills Marriott Hotel and Convention Center. If your kid loves this cute and cuddly brand of cosplay, you should consider joining us!
Here are a few things to know before you go:
1. Furry culture is widely misunderstood.
Unfortunately – especially in a world where it's never been cooler to collect Marvel comics or cosplay Star Wars – the furry fandom is often the target of bullying and mockery. Just this morning, I came across a disappointing 2014 clip where Mika and Joe from Morning Joe were beside themselves laughing at a potentially dangerous event where furries were evacuated from a convention. I am Facebook friends with some lovely young adults from the furry fandom, and I've seen them receive hateful comments for sharing their enjoyment of furry cosplay online – apparently there is a thriving anti-furry troll community online because of course there is. And I even caught some flak when we shared our furcon experience with some friends thanks to a persistent misconception that furry culture is some sort of adult fetish (there's a really fantastic Anthony Padilla video that genuinely explores the world of fursuits and debunks that frankly offensive rumor).
I can't for the life of me fathom why this mean-spirited behavior continues in a world where it's totally fine for adults to get Sailor Moon tattoos or bust out the old D20 for a a DND campaign, but I chalk it up to people projecting their own insecurities. In reality, the furry fandom is just as complex and multifaceted as any other, and the vast majority of furries first connect with the fandom as kids or young adults. Often, these are creative folks who love the escapism of pretending to be a cute character, and the fandom is especially accepting of non-neurotypical and LGBTQ youth. For many of these folks, the furry world is the only safe space they have to truly be themselves.
Furry culture is ultimately about self-expression like any other aesthetic or subculture from Phish hippies to biker gangs to scene kids. Like all fandoms, there's a sense of community that comes from meeting and connecting with folks who share a mutual interest, and that sense of community intersects with the innate escapism of pretending to be a fictional character they created themselves. As this Channel 4 clip on furry culture reported, dressing up and role playing as a furry can make some fans feel more confident and social. As fursuiter Red Hyena put it, "There's a lot of people that just can't break loose like that normally, and the mask gives you the chance to break out without feeling like you're breaking some kind of rule."
The furry fandom is also innately artistic. Many kids get started in the fandom by drawing their characters, and fursuiters will often make their own suits or create fan art, using online tutorials to learn how to build props and sew. Even those who purchase a fursuit go through the creative process of imagining a character (fursona), creating their own complex backstory and physical details
2. They don't have to dress up to have a good time.
It's true that your kid will probably be begging for a fursuit after going to their first fur con. But they won't feel at all out of place if they show up without one. Lots of folks who identify with furry culture will be hanging around without a fursuit, and with this Oklahoma heat, some folks who have them may not be in their full outfit. If you want to make your kid feel truly special, you can pick up a couple of really fluffy fur ears and a tail online pretty cheaply and have them here in time for the con. And if your kid loves fursuits and wants one after the convention, just remember: every minute they're making a fursuit is a minute they're not staring at a screen.
3. Proceeds from the event help support a good cause.
When you support furries by attending Tails and Tornadoes, you're also supporting our real-life furry friends. Tails and Tornadoes donates to ARF (the Animal Rescue Foundation). This Bartlesville-based rescue organization offers spay and neuter clinics, adoption services, and animal rescue.
4. There are some fantastic artists to support there, so it's a good chance to break into the piggy bank.
Like other genre conventions, Tails and Tornadoes gives artists a place to share and sell their work. If your tween loves art, furries, anime, pop culture, etc., they're almost guaranteed to find something here they want to shell out dough on, and there are always affordable goodies like buttons to stick on their backpack. If they've been hanging onto their allowance, this is a great place to spend a few bucks.
5. You can plan ahead to attend some great panels.
Like other conventions, Tails and Tornadoes has a full schedule of panels visitors can attend. You can check out a complete schedule here. You'll find meet and greets as well as panels on drawing, songwriting, writing, and more.
6. There is a lot of dancing.
Not all furries love to dance, but watching those who do is definitely worth the price of admission. There's just something magical about watching a furry character dance around that calls to mind school football games and Disneyworld parades all rolled into one neat little package. Here are the details on the dance competition. They're also hosting Floor Wars (furry dance battles), so be sure to check that out as well.
7. They have a furry-themed escape room!
New this year is an escape room you can check out for $20 per player (maximum group size of six players). Private games are available if you purchase at least 5 tickets and reserve your space online. The escape room finds players at Camp Iwanasolvya as they work against daylight to earn their merits.
8. There are some pretty amazing fursuits, so be ready to snap some pics.
If you've been to a convention like the recent TokyoOK event, you've probably seen a handful of furries. Although furries tend to be cuddly mammals that look not entirely unlike school mascots, furry creators and costume artists can get pretty creative. Then there are the mythical creatures like dragons and phoenixes.
There's a whole sub-set of the furry fandom called Protogens that add a sci-fi twist to the furry world. Protogens are basically cyborg animals that might say, light up or have interchangeable limbs (and they look super cool). You'll also see all types of animals from border collies to red pandas to owls, and some fursonas will themselves be in cosplay (I've seen a few critters in medieval attire, for example). There are also hybrid animals like bat-dogs or shark-dinosaurs. Most importantly, fursuiters tend to be really nice people who love to show off their work (or the art they've purchased), so they are usually very generous about letting you take their pics.
That's about it. I hope to see you there! Let me know if you're going and have a super fun week in your little nebula!
---