Plant the Love of Learning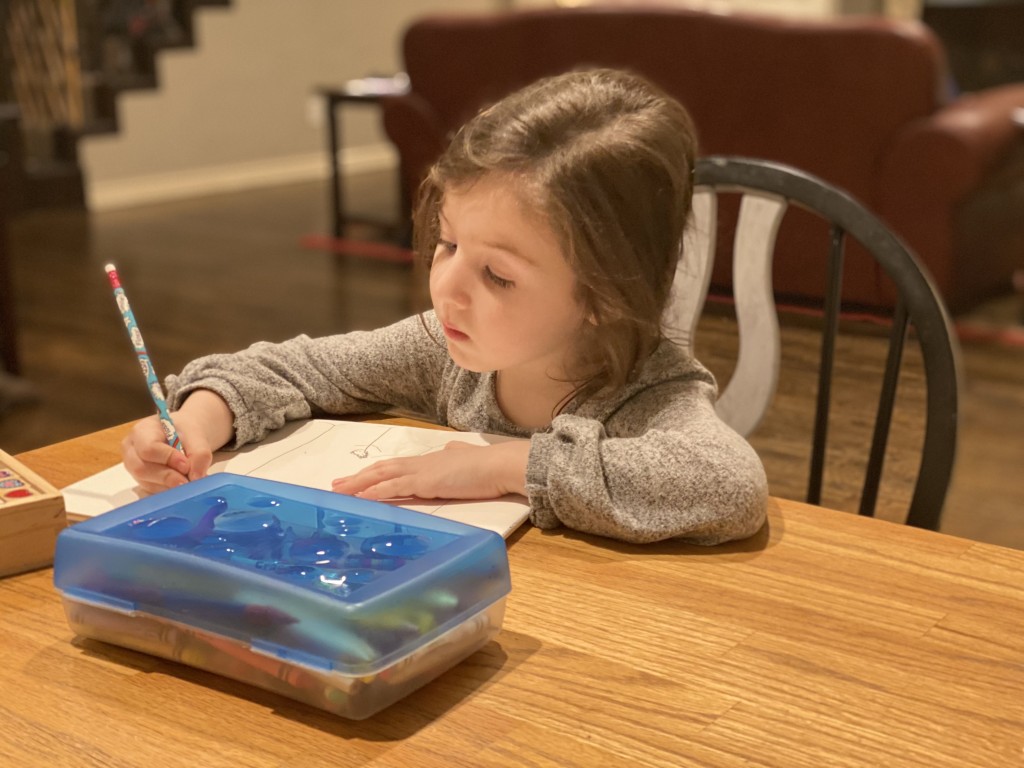 When my daughter was born 5 years ago, my interest in education grew tenfold. I wanted to cultivate a love for learning in her from the start. My hope was (and still is) that she will be a lifelong learner, whatever that means for her as a unique individual. For some people, it means they look for novel solutions to problems. For others, it means they continue to learn in an academic field or within a hobby area. There are many ways that people can continue to learn throughout life. Being a lifelong learner is truly a mindset.
All kids are born with an interest in the world and desire to understand how things work. So, why do some people seem to age out of the passion for learning while others do not? While the ability to learn and the pursuit of knowledge is partially hard wired in us, a huge contributor comes from our home environment and influences. Our roots are nurtured one way or another from day one, which is why nurturing a love for learning can and should start there as well.
I believe that it is our responsibility as parents and caregivers to keep our children engaged in learning at home, even if and when they move into a traditional school system. Though my daughter goes to a school, I am focused on providing other opportunities for her to learn at home or wherever our family is on any given day. She sees no difference between fun and learning, which is the goal. Learning can be fun even when it is challenging.
Here are four tips to plant the love of learning in your child.
1. Choose toys that contribute to your child's development in a positive way.
There are certain things I refer to as "enduring toys." These are toys that are truly worth the investment because they are engaging, used for a long period of time, and enhance brain development. Two examples of enduring toys my daughter plays with daily are LEGO® and magnetic building tiles. They enhance problem solving, creativity, focus and are STEM-themed (science / technology/ engineering / mathematics). Toys that allow kids to pretend play, develop art and music skills, and build literacy are also fantastic. Many of the items like this around our house are by Melissa & Doug®.
Unfortunately, not all toys are created equal. Some toys are loud, flashy, and promote distraction in unhealthy ways for children who need to develop a longer attention span and should be used sparingly, according to child development research. The reality is our kids will end up with a mix of toys that are more directly connected to learning and others that are not. We as parents and caregivers should be thoughtful though about what we are buying and what type of influence it might have.
With the pandemic there has been even more of a pull toward video games. I personally do not think all video games are bad. I think they should be reserved for kids of a certain age with time limits imposed. In fact, some video games are great for learning how to code and problem solve, among other skill sets. I am particularly a big fan of Minecraft and wish it had been around when I was young.
2. Provide opportunities for outdoor investigation.
Some children play in organized sports teams. Other kids play outside using sports equipment, bike, or swim. All of these activities are fantastic because they create fun memories and promote physical fitness. An often forgotten outdoor activity is allowing your child to explore nature, which contributes to an understanding of science and respect for the environment. Do you remember collecting leaves as a child to look at and compare different types? Did you think finding bugs under rocks was interesting? Did you have a rock collection? Kids are still fascinated by that stuff in 2021. I am so glad they are.
Outdoor investigation can take place around your house. Using a magnifying glass to look at plants and insects during the day or a telescope to look at the stars at night opens the door for your child to ask some great "why" questions. If you want to go beyond your own yard, the Tulsa area has many places to explore the outdoors and offers family-friendly hiking.
3. Reconsider how your child is spending time in the car.
How long is your child in the car each week? Perhaps you take your kiddo to and from daycare or school. You might also go on car trips. It can be tempting to plug kids in to electronics in to keep them from getting bored, but there are other options, too. The car is an ideal place for child to flip through a book if he or she isn't prone to carsickness. Even if your child does not read yet, there are highly entertaining picture books. Audiobooks for kids are also fun and promote active listening and recall skills. Pick books or audiobooks on topics that interest your child.
When my daughter is in the car for longer than usual, we use the time to find new songs to listen to, do joint storytelling exercises, tell jokes, or she looks at a book. That is what she is used to and what is normal for her, so car trips are easy with minimal complaining.
4. Listen to what your child is interested in, not what you think they should be interested in.
Lastly, remember that your child is a person with distinct interests. Perhaps you were into football, but your child just is not taking to it. That is okay. That same child might have an interest in learning an instrument instead. If you try and make a child love the same things as you, it is likely you will find resistance. Help your child learn about the world in general while also allowing him or her to focus on that thing they just cannot get enough. Children also often change their interests many times, so be willing to adapt. In other words, we as parents must learn through this process as well.
_ _ _
Being a parent or caregiver in a pandemic world is not easy. Whether you have a baby, a young child not yet in school, or a school-aged child who might be in and out due to quarantining and unusual school schedules this academic year, help your child by engaging him or her in a learning environment at home. Perhaps this means reading a book together, cooking together, or creating an art project. It looks different for each family, for each child, and on each day – with the same goal. Plant a love for learning that your child will have for life and long after this pandemic is over.
About Amanda Murphy:
Amanda Murphy is passionate about what parents can do to enhance and supplement their child's educational experience outside of the classroom. She believes in a model where kids grow up excited to learn, which starts with the parent or caregiver. As mom to a very bright and active 5-year-old girl in a not-as-active pandemic world, Amanda is constantly seeking out new ways to tie learning into real life to keep her daughter engaged. This involves outdoor exploration, a focus on literacy, building imagination, learning toys, and much more. Her belief is that each child is born with a passion for learning, but that harnessing it correctly is essential. Equally, she believes all children are smart, just in different ways.
Amanda was born and raised in Tulsa where she attended the University of Tulsa before earning graduate degrees in management and new media studies at Northwestern University and DePaul University in Chicago. After work took her to the East Coast, she moved back to Tulsa in 2014. She is married, and in addition to her young daughter, has a stepson entering his teen years. Amanda consults through her business, Lemons 2 Empires.
---