Deep-fried delicioso: ¡Churros!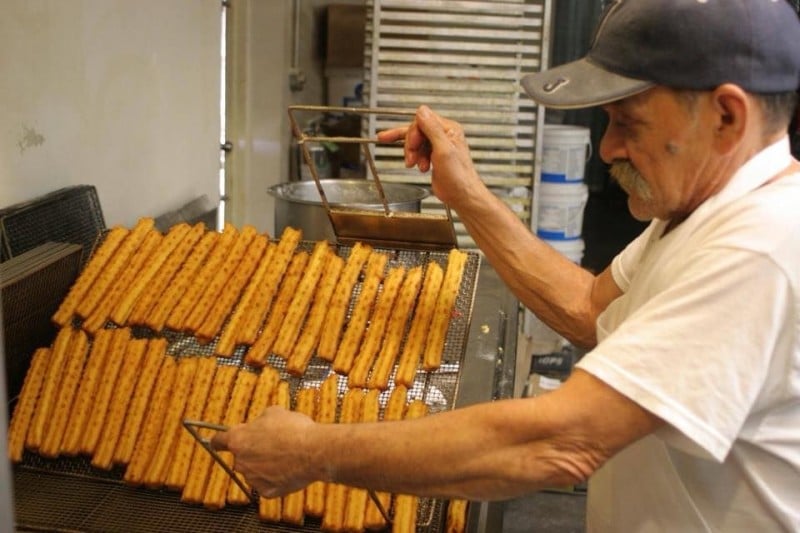 The roads are practically empty.
Although it's just 4:30 a.m., artisan baker Efrén Romo has been up for a while. He has been hard at work mixing, shaping and frying batch after batch of his specialty — a classic Mexican confection called the churro, a hand-crafted, elongated pastry, crispy and golden on the outside, but soft and white on the inside. Sprinkle a little sugar on top, and the churro becomes the perfect companion for a bitter, cold day.
Approaching the door leading into the Pancho Anaya Bakery, near Admiral and Garnett Road in east Tulsa, the peace and silence of early morning is shattered. A radio is blaring, playing some "música norteña," a Mexican ensemble of accordions and drums. Several bakers are inside, banging trays full of bread. A gigantic mixer grinds away. Being up and running so early has a wonderful reward: The air is fragrant with the smell of baking bread.
A native of Aguascalientes, Mexico, and a proud Tulsan, Romo has been perfecting his churro method for nearly half a century. He and his team turn out 600 to 1,000 churros at a time.
To make his churro, Romo eschews the traditional pastry piping bag in favor of a huge metal syringe. The dough is fashioned into cylindrical strips with the typical exterior grooves and a hollow center so a filling can be added.
"The concept is the same. The process is similar, but also a little different," Romo says. He says with modern kitchen machinery, he no longer has to press the dough with a piece of wood. "It's easier, but you still need your hands. A machine cannot do this. And that's beautiful, because this is a demonstration of our roots."
Everything is done very quickly. "Timing is key," says Romo, as he methodically shapes the dough, checks the oil and loads a tray with mountains of sugar. "But you cannot use a watch or be checking the clock every second. It's a matter of feeling and smelling. That's how you know when the churros are ready for the next step."
Once the churros have rested enough — based only on Romo's innate sense — they are coated in sugar. Then, they are ready to eat, and the quicker the better.
"The best thing is to eat them when they are still 'calienticos'" — pretty hot, that is — and "of course, they taste better with a 'champurrado' (thick Mexican hot chocolate)."
Immediately after that fleeting moment of joy, Romo starts over again.
Asked why his special method makes such tasty churros, Romo stops for a moment, adjusts his baseball cap and says: "My hands, that's the secret. Our recipe is very traditional, very authentic. But our hands make the difference. That's why they taste so good."
This article was originally published at juanderfulthings.com.
About Juan Miret:
Juan Miret is a Venezuelan-born journalist, author and Latinx Storyteller.
He's been living in the United States for the last 20 years. He is part of the new Tulsa. A city that reminds us that today's immigrants come from all corners of the world, bringing a range of ethnicity and beliefs, loving their families and defending their new home loyally.
---