Joe's Big Family: Joe Erwin, Deaf Father and Business Owner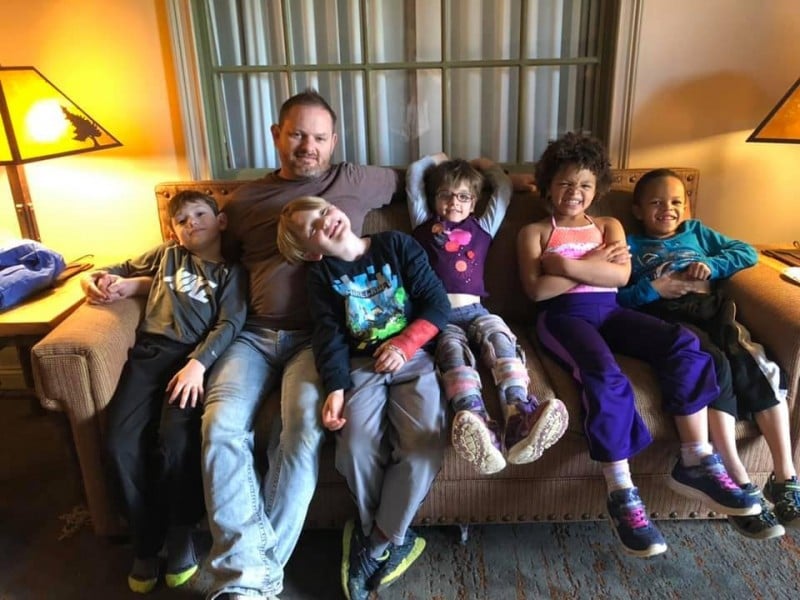 My name is Joe, and I am a proud deaf father. I own a carpentry business, Erwin Custom Woodworks, and am a handy person to have around. I like to fix things and help people – that is just who I am. I am also a father of six amazing and crazy children. You might assume all of my kids are deaf. You would be wrong.
Ninety percent of deaf children are actually born to hearing parents. In my situation, five of my children are hearing, and one little girl is deaf. Our dynamic as a family is no different than any other family's. We still jump on the couch, and I still yell at my kids, either using sign language or my voice or sometimes both. A few years ago, a concern of mine was that all of my hearing kids would chat and play together, while my deaf daughter was always left out. I would try to encourage all the kids to involve her, but they preferred to use their voices. As a parent, you worry about your children and want the best for their future. I wondered how I would ever bring all my kids together.
Around that time, I got more involved with TSHA by doing some maintenance for the building. I learned they have a Deaf Services department, and other services that could benefit me and possibly my daughter as well. I didn't realize how instrumental TSHA would be in connecting the missing pieces of my family together. I found out they had multiple events throughout the year tailored for children who have hearing loss. A light-bulb came on in my brain, and I knew this was the thing for my daughter. I discovered TSHA's Summer Camp, and immediately enrolled my one daughter who was old enough to attend. She went, and saw all the other hearing sisters and brothers, like herself, interacting with their deaf siblings.
My children's perspective on deafness, and what it means to have a deaf sister, changed that summer. My deaf daughter had a newfound relationship with her siblings. The siblings now help her read, cook and sit with her. They are willing to include her in fun things. They still fight like all siblings, of course, but that summer camp really impacted my kids' lives. I'm excited for what the future holds for my family, and all the experiences I get to share with them now that we are closer than ever. Every deaf child has a unique mode of communication. The key is to be patient and to find out what works best for your family and your unique child.
I am thankful to TSHA for connecting my family together more strongly through events such as the Children's Holiday Party, Summer Camp and Deaf Awareness Week activities. This week is actually national Deaf Awareness Week, and I couldn't be more of a proud deaf father to my amazing kids. There is so much in store for their futures as they continue to grow – and that equally includes my deaf child.
If you want to learn more about deafness, sign language, or how to get more involved with the deaf community, I encourage you to contact and to support TSHA and their work in the community.
About TSHA
TSHA is a non-profit and Tulsa Area United Way partner agency serving Oklahomans of all ages who are impacted by hearing loss. TSHA serves the community through its Community Resources, Interpreting Services, and Deaf Services departments. Community Resources provides sign language classes, information and referrals, children's events and support groups. Interpreter Services provides certified sign language interpreters 24/7. Deaf Services provides workshops, and one-on-one guidance for deaf and hard of hearing adults. Learn more at www.tsha.cc.
---