Bayou Boyz BBQ:
Food Makes the World Go 'Round, Part 3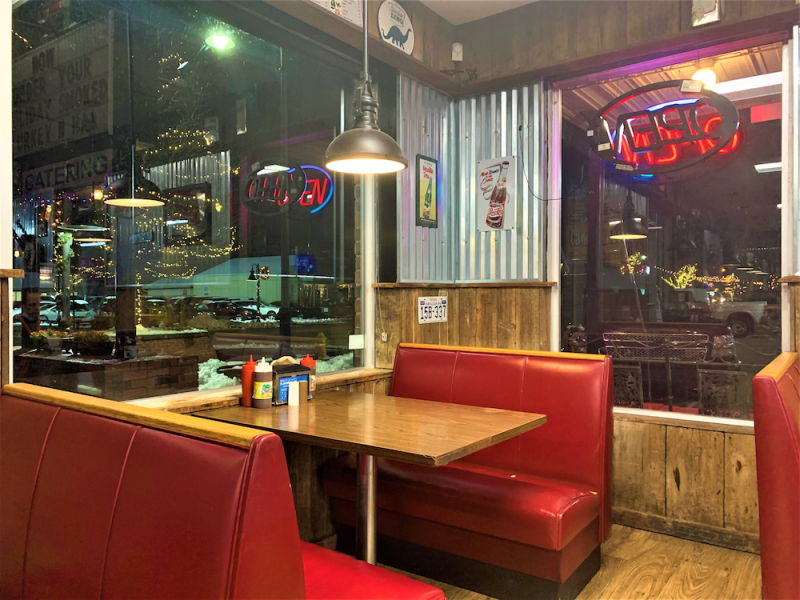 Bayou Boyz BBQ is a family-owned restaurant located in beautiful downtown Jenks right on Main Street. The story of this restaurant started when Cecil and moved from Austin, Texas, to Jenks about 20 years ago. When he moved, he brought along his family recipes from the Deep South.
His dishes are inspired by his grandma's Cajun recipes, including their popular Mac & Cheese.
The building housing Bayou Boyz BBQ was the very first Kentucky fried chicken in Jenks. It was then converted to Big Daddy's BBQ. Later, Casey's Barbecue sold it to Bayou Boyz.
Creole means blended, and Bayou Boyz serves a variety of Creole dishes.
The restaurant cool decorations, including lots of license plates from Route 66 along with others that their fans have sent them.
Cecil had to change some of his recipes to adjust to the style of serving they do in the restaurant. They serve from a line, rather than made to order. This gets you your food more quickly, but means the food has to have a higher moisture content so it does not dry out while being kept warm for customers.
Cecil and members of Girl Scout Troop 1510
When you walk in, you see a variety of options to choose from, including ribs, smoked barbecue and pulled pork.
They make your plate in front of you, and you can order from a variety of options that are made in-house from scratch in the kitchen. It's truly an amazing experience.
One of the cool things about their sauces is that the barbecue sauce is locally made in Tahlequah. It was based on their house recipe but is produced by a contractor to meet state regulations.
They offer catering and takeout family-style meals. They have fried alligator and étouffée. And they serve fried pies in many flavors. The cabbage was Cecil's grandmother's recipe, a German recipe minus vinegar.
Here's a recipe from Bayou Boyz BBQ you can make at home!
Bayou Boyz BBQ Macaroni & Cheese
Ingredients:
2 Tbsp. butter
1 cup diced onions
1 cup chopped bacon, uncooked
1 cup milk
2 cups hot water
1 32 oz. block Velveeta (you will use ¾ of it)
4 cups macaroni
Melt butter in the pan.
Sauté onions and bacon in butter. Do not undercook, but do not let it turn crispy.
Add milk and stir in; allow milk to naturally rise. Add hot water and bring to a boil.
When done, add ¾ large block of Velveeta, cut into smaller cubes to facilitate melting.
Boil macaroni according to the package in a separate pan.
Drain the macaroni, and add it to the cheese, onion, and bacon mix.
Cover with a thin layer of Cavender's seasoning and a thin layer of smoked paprika or Spanish paprika. Stir in the seasoning.
About Madison Orr
About me! I am Madison Orr. I'm in Girl Scout Troop 1510 currently working on our Silver Award. I've been a part of Troop 1510 for 9 years. I'm an artist and own the sweetest cat ever, whose name is Jumbo Shrimp! I fill my time up with things like drawing, gaming, and hanging out with my friends. With COVID and everything it's been hard finding little spots of happiness, but this project has helped me have a reason to get out of bed. Haha!
---