38 Weeks—Learning is Messy!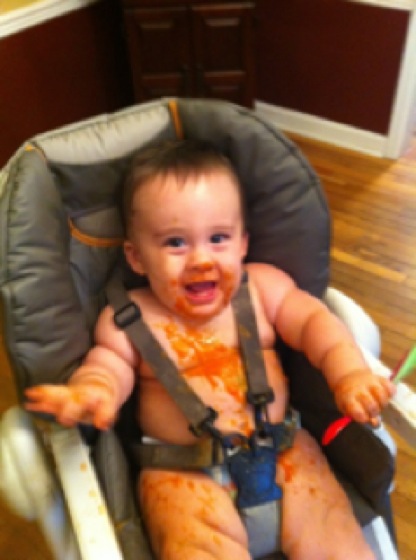 My parenting book (that I obsessively refer to and drive myself completely insane with) says that if your child shows signs that he's ready to feed himself, not to stop him. Well, last night I let him have at it and the above photo is the result. I can't decide if he's actually trying to feed himself or is using the spoon as a teething toy. Either way, I will be stripping him down to his diaper for all future meals.
Also, the high chair that I worked so hard to keep clean will never be the same. I remember feeding my nephew and thinking "Oh my baby's high chair will never be this messy" (sorry Sister, but I did). I guess I can put this on my ever growing list of things I thought "Pre-Baby" (Man, that list is growing by the minute).
One more thing I hate to admit, but it's true, Bennett is "saying" Da Da. It's more like a "Da da da da da da," but it's a definite sound used directly at my husband. Grrr, foiled again!
To the Motherhood,
Abby