Kick Off Con Season with Tulkon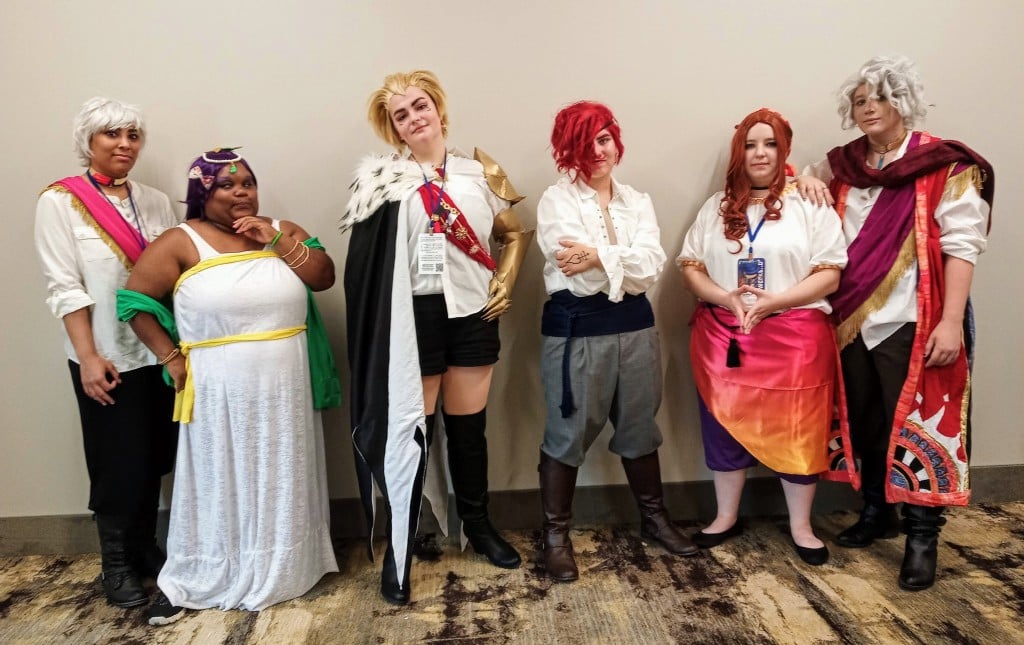 We all have things we missed the most during The Plague Year, from grandparent hangouts to white elephant Christmas parties. But for those of us who love little more than donning a lovingly put-together cosplay and heading out to a con, the absence of genre conventions was one of the most painful sacrifices of 2020. Now that we're all old pros at practicing basic safety measures and a good portion of us are sorted into House Pfizer and House Moderna, conventions are back on, and it's shaping up to be an amazing year. Kicking off the fun this weekend is a promising new regional fantasy and sci-fi convention dubbed Tulkon. The event runs from Friday, April 16th, through Sunday, April 18th, and our family couldn't be more stoked.
An Interview with Tulkon Chairman Scott Richardson
To find out more about this exciting event, I spoke with convention chairman Scott Richardson, who first got involved with the fantasy/sci-fi community world as a kid in the '80s and attended his first convention, Atlanta's famed Dragon Con, in the '90s. Back then, Scott recalled, conventions were a magical space where fans would come together once a year to bond over the stories and worlds they loved.
"Traditional fandom was always a way for people to get involved with a group and meet people with similar interests. Years ago, I got involved with an anime club in Atlanta…back then, everyone was still using VHS copies, and you brought in your VHS tapes and created a library where everyone shared their movies."
Scott told me this type of sharing was the basis for many college clubs, which themselves evolved into some of the first anime conventions.
Like me, Scott's first fandom was Star Trek, which he watched over the air while he was growing up. And like so many Gen-X kids including myself, his first experience with Tolkien came in the animated Rankin/Bass Hobbit film.
"Back then, you took what you could get," he told me, "and you got to see what was shown on prime time. PBS was great because you could watch Doctor Who; Red Dwarf; Wild, Wild West; things like that."
Those stories opened the door to worlds upon literary worlds, and thanks to a sci-fi/fantasy book version of the Columbia House Record Club, Scott went full Alice in Wonderland, diving deep into every literary world he could. For younger readers out there who are unfamiliar with this deal, it was the '80s equivalent of a free trial. You would purchase up to 12 cassette tapes (or in this case, books) for a penny if you agreed to pay for an item a month at full price down the road. And just like that maxed-out Hulu trial you meant to cancel but never did, you could always cancel at any time.
"I got a subscription in my name, my mom's name, my dad's name, my dog's name," Scott laughed. "Every week, two to three boxes would show up. I went from nothing to a wall of books almost overnight."
Those books drove his passion for the genres, and soon he was looking for more to sate his thirst. "I was going to the library, finding books, always an adventure. Cross-referencing that with mythology leads to another book…like a 'Pick a Path' adventure for discovering new authors."
I thought back to my own childhood and teen years and how familiar this story was. In a time when it wasn't considered cool to fangirl over sci-fi and fantasy, I would obsess over watching the next episode of V, Quantum Leap, and Thundercats. Friends introduced me to V.C. Andrews, then J.R.R. Tolkien and Stephen King, and soon I was sneaking books behind my textbook in class. And the only thing better than tearing through a new book series or sci-fi show was sharing the love of those stories with friends.
Recapturing the Magic
In a world where fandom is highly commodified, the creators of Tulkon hope to recapture some of that original magic by creating a fantasy and sci-fi con with a focus on the pure joy of sharing the literary and creative aspects of fandom among like-minded souls. For example, Scott hopes to see more folks embracing original cosplays that aren't limited to existing characters, focusing on a more creative side of costuming.
"We're trying to recapture that special feeling where you get excited about that big annual event, with an emphasis on local community," Scott shared.
Tulkon aspires to be a traditional genre event with a few focus areas that de-emphasize the pop culture/consumer side of fandom and capture the experience of storytelling many fans experienced growing up.
Putting together a first-year con in the wake of the COVID year has required a fair amount of thinking on their feet, but Scott and team are up to the challenge. A little minor schedule shuffling and a few shifts to virtual presentations thanks to unanticipated restrictions are hardly a drizzle on this parade.
Tulkon Schedule
The three-day convention, located at the Doubletree Warren Place, kicks off on Friday at noon and wraps up with closing ceremonies on Sunday at 5 p.m, with early registration beginning on Friday evening.
Here's what you can look forward to:
After a year of begging your kids to just finish that danged module, what parent couldn't use a break? Leave the kids with a sitter and check out the Friday night 9 p.m. whiskey tasting, where, for a small fee, you can taste five select whiskeys and leave with an etched whiskey glass or beer glass.
You can dance if you want to. After the whiskey tasting, do the Safety Dance at the '80s Dancescapade. Cause your friends don't dance, and if they don't dance, well, they're no friends of mine.
Like all good conventions, Tulkon features a vendor and artist alley, where you can expect to meet artists, authors, cosplayers, and the like. Tulkon has a specific focus on artisanship, so expect to see leatherworking and metalworking artists among others.
Bring your special D20 or check out some new tabletop fantasy games in the gaming area. The event will also feature panelists who discuss the evolution of tabletop gaming culture and other related topics.
Get off of your feet for a minute and screen a film. Sci-fi and fantasy films will be shown all weekend long in the screening area.
There are tons of great panels planned all weekend long. Check out panels on moral relativism, 50 years of Star Trek, cosplay, gaming, DND, writing, futurism, and more.
The Tulsa chapter of the Society for Creative Anachronism (SCA) will be out in full force with demonstrations on all kinds of medieval topics including calligraphy, painting, and more.
In addition to virtual guests including fantasy writer A. Lee Martinez, writer/editor Jason Sizemore, and one-man-show genius Charlie Ross (who will be performing his version of Lord of the Rings), this year's special guests include veteran actor Scott Aiello, Film Reroll podcaster Paulo Quiros, Y.A. author Hanna C. Howard, artist/illustrator Mitch Bentley, screenwriter Omar Zuhdi (arguably the original creator of Stargate), fan guest of honor Tim Frayser, author Michael Vance, science guest/molecular virologist Dr. Jeannette Loutsch, and a host of fantastic cosplayers and panelists.
Cosplay and a Traditional Masquerade
Expect to see plenty of great cosplays as well as a traditional masquerade (cosplay competition).
There and Back Again, Safely
Every good adventure is better if you make it back in one piece. Before you go, it's a good idea to review some of the safety measures that will be in place.
The basics:
Wear a mask.

Observe the six-foot rule when possible.

Expect temperature checks.

Stay home if you're sick.

Observe hand hygiene and respiratory etiquette.
Tickets run $35 for the whole weekend, $25 for two days, and $15 for a one-day pass, and kids 10 and under are free. Add-ons are available including tickets for the Mix and Mingle, artist shirt, or guest dinner. You can purchase tickets in advance online or at the event.
Team Coffee Nebula will be hanging out all weekend, so be sure to follow our Instagram for highlights. We hope to see you there! Until then, have a beautiful week in your little nebula.
---