3 Tweens Take On Tokyo in Tulsa '19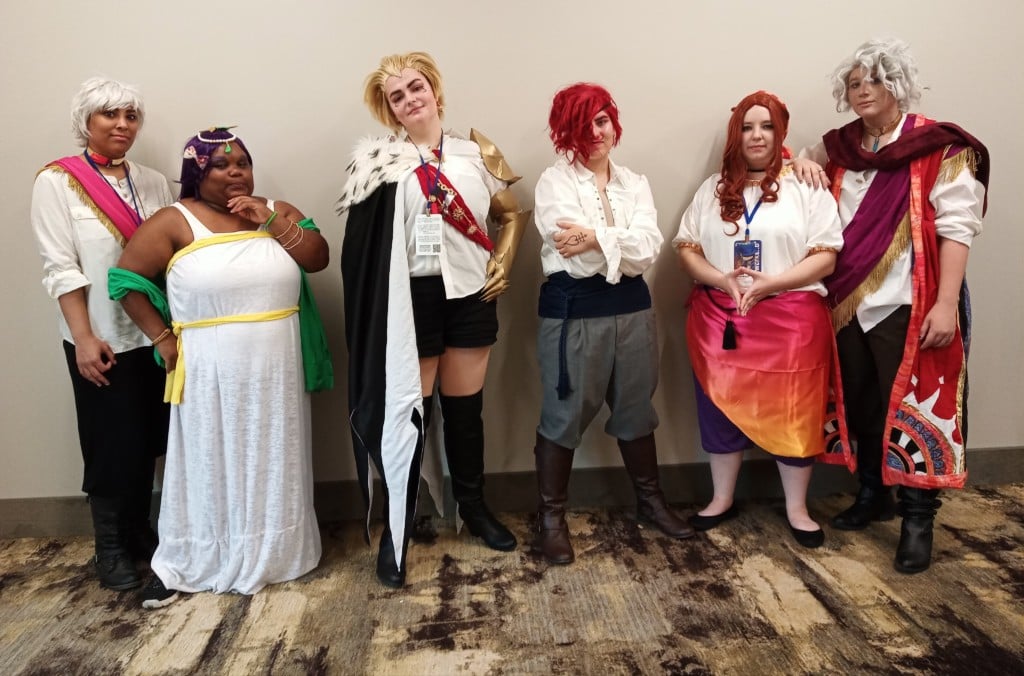 Kristi's note: This year, I thought I'd let the kids speak for themselves about their Tokyo in Tulsa experience. I helped transcribe some of their ideas, but most of their language and all of their ideas are original. Please leave them a comment! Thanks for reading, and have a beautiful week!
The Creator by Lucy Owen
When Arthur first showed anime to me, I really liked the style. I would find animes on YouTube and Netflix. I like to draw in what my dad says is like a comic book-kawaii style. When I evolved my drawing skills, it started out really plain. The head was round and the hair was simple.
Then I started reading a book series called Kilala Princess. It's a manga book series where there's this girl who wants to become a princess and finds a tiara with a bunch of blank gems. What she has to do to find the blank gems is find ways to get to different universes, and in the last book, she finally becomes a princess. She interacts with Disney princesses and their partners along the way, like Aladdin, who is a Disney prince.
Since the characters' eyes were really big, I started practicing drawing cute, kind of kawaii and chibi eyes. I looked at videos to inspire me on YouTube like LaurenzSide Animated, Aphmau, and Gacha Mike, who does Gacha Life and Gachaverse stuff. That's how I got into watching GLMMs, or Gacha Life Mini Movies, and then Gachaverse and Gacha Life. Gacha is a set of games and apps for customizing characters that are kind of chibi.
A lot of the time, I try to dress in ways that cosplay in Gacha style and the animes and mangas I like. I wear cat ears and dress in cute outfits I've seen in mangas and try to make something similar.
But I've been into cosplay since way before that. I really like Five Nights at Freddy's, and I thought, hey, I could cosplay them. So I would try to make a lot of Five Nights at Freddy's characters. For example, I took a dress I had and a plain hat and with my mom's help, I hot glued pieces to turn it into a Freddy cosplay. It was successful because I looked a lot like Toy Freddy.
Another time while my mom wasn't looking, I cosplayed Chica using things I had around the house and it was also really successful. I looked just like Chica. I even had my plush cupcake and because I didn't have a plate, I used a bowl. Since Chica's plate was plain white, I just used a plain white bowl. I even made my own "Let's Eat" bib using paper.
You have to get creative and find either what's perfect or what's close enough to make your cosplay.
When I went to Tokyo in Tulsa last year for the first time, I didn't know what to expect. I thought it was amazing once we walked around and saw everything. I saw a lot of cool cosplays, but a lot of them I didn't recognize. Even if I don't recognize it or don't know its name, I still think every cosplay is cool. I saw Harley Quinn and a lot of Undertale cosplays, and I'm really into Undertale.
This year, I noticed a bunch of cosplays that I loved. There was Monica cosplay from Doki Doki Literature Club, and I saw some characters from My Hero Academia, which is a really good anime. If you haven't seen it, it's on Hulu. A few people were doing Izuku, whose hero name is Deku. I love seeing people who group together from the same anime or manga.
People like to work hard to be a character they really want to be or really wish they could be. It gives you a chance to make-believe. No matter what, it's hard work and the costume looks great. Even if you don't have enough money, your costume will be great because you are creative. Everyone has a creative part of their mind.
Tokyo in Tulsa and cosplay has a lot of people who like drawing, learning, and creating. It's amazing to be around people who love the show you watch or have the same game interests. Or people who kind of dress a little differently than other people do.
I've been into cosplay since I was four years old, so for four years. I want to keep going to conventions and work on my cosplays.
The panels are also really cool. Next to the cosplay, I love visiting the vendors. They have a lot of original art and plushies. There is a lot of art inspired by gameplay, mangas, and animes. Even inspired by Netflix and Hulu. Everything is cute and chibi and it's a great way to get ideas to change your art style.
If I would recommend an anime or a manga to a kid, I would recommend Kilala Princess, My Hero Academia, and Sword Art Online. If you're thinking about getting into animation or cosplay, remember that fine looks good enough. Be creative. And if you need to DIY something, you might need parental supervision, so make sure you have your parents around to help you be creative.
If you want to go to any conventions and walk around and look at all the good stuff and see all the cosplays, Tokyo in Tulsa is a great place. Did you ever go to Tokyo in Tulsa or even Wizard World? Leave me a comment below and thanks for reading my first ever blog!
Signed,
Lucile the Cat
Age 8
The Sensory Experience by Noah Roe
Arthur is the biggest anime fan I've ever known, and Lucy is into Japanese animation and cosplay. I'm not at all a big anime fan like my brother and sister, although I do like My Hero Academia.
I'm more into reality shows and YouTube documentaries like West Coast Customs. It might seem like I wouldn't be into going to pop culture conventions. But when you go to a pop culture convention like Tokyo in Tulsa, you don't have to be a huge anime fan to have a great time.
When I went to Tokyo in Tulsa last year for the first time, I was surprised at how many people there were. I had no idea there were so many anime fans in Oklahoma and immediately thought the cosplays were really cool.
I love cosplay because I like seeing all the hard work and detail people put into their cosplays. It's impressive to me that they put so much effort into something that they might only wear a few days out of the year.
Every day of any convention is completely different and you see so many different people. Of course, you see cosplays from a bunch of animes you're familiar with. But I didn't realize how many animes really exist, and it's very surprising.
The other thing is that each convention is so different. Tokyo in Tulsa focuses mostly on anime, but you also see other pop culture things.
At the D&D panel, the panelists were talking about how to design your character and some tips on how to roleplay your character. I've never played Dungeons and Dragons, but I'm familiar with it from Stranger Things, and my family likes to play tabletop games, so I found it very interesting.
As a person on the autism spectrum, I wanted to give some advice for people with sensory issues. For someone else, TNT might be loud or overly stimulating. But there is a manga library that's really quiet where you might be able to go when you need some space. Last year, there wasn't really a quiet place, but this year, it was a separate and quiet space to read that could be good for sensory issues. For people with autism, this is a definite improvement over last year.
The panels might also be good for people with autism. If you have a kid with autism, you should ask the host if the panel is going to be really loud. For example, the coding panel was very dark and quiet.
If there are a lot of people, traveling between venues might be difficult for a person with sensory issues. But when we were there, it was less crowded.
I would suggest if you have autism, it's a good idea to research the panels ahead of time and give yourself plenty of time. Ask people on the web about their experience before you go, but don't let your autism stop you from going if you want to go.
If there's anything I left out, please leave me a comment below. Or if you have any questions, feel free to ask!
Thank you for reading my blog! I put all of the information I could think of in it.
Take care,
Noah
Age 11
The Anime Fan by Arthur Owen
I'm a huge fan of anime. Maybe as not much as some others, but I'm still a huge fan. I've been into Pokemon a long time, and as I've gotten older I've gotten into reading manga and watching other anime.
Here are a few of my favorites:
Sword Art Online

Bleach

Fullmetal Alchemist

Danganrompa

My Hero Academia

Tiger and Bunny

Blue Exorcist

Death Note

Is it Wrong to Pick Up Girls in a Dungeon

Sword Art Online 2

Fairy Tail
If you're my age and you're interested in checking out some animes from this list, expect a little bloodshed. If you're watching Attack on Titan, make that a lot of bloodshed.
Okay, so if you have never gone to TnT before, I'll tell you what it is and what to expect.
Tokyo in Tulsa is a manga, anime, and just pop culture event where every third person is Izuku Midoriya (My Hero Academia). When you get there, you notice all the people…so many people. An incredible amount of people. An amazing amount of people.
The whole crowd is either people in cosplay or just laid back fans trying to have fun. That amount of people can be a little overwhelming for people like me who are introverts, but you end up having fun anyway.
Like Lucy, I really like cosplaying a lot. I just love the really good ones. Lucy loves even the "E for effort" cosplays, but I'm all about the ones that look completely genuine. I really think it's cool when people put a lot of effort into their cosplays.
A Quick Word About My Official Opinion on Mashup Cosplays:
You know that Deadpool guy that was going around Tokyo in Tulsa giving everyone thumbs up in a World's Best Dad apron? And the Deadpool narwhal? And Deadpool Pikachu?
Basically, anything Deadpool.
While you're there, do a favor to some of the people who have come there to help everyone else have fun by visiting some of the panels. I only went to two this year, and both times I had a blast. I attended a workshop on coding and it was some stuff I already knew, but it was fun.
The vendors are fun. There's so much cool stuff there. There were necklaces, posters, all kinds of things. Some people even sold cosplays…handcrafted cosplays. If I could, I would take all the money to spend at the vendors. The original art is awesome. You're not just buying something from the store. You're buying something from the artist.
If I was going to change anything, I would like to see more snack options available on each site next year. But overall, it was amazing. I had a great time. In general, I would recommend that you go if you're an anime fan.
Thanks for reading my blog. I hope to see you soon at Pop Culture Expo, Wizard World, or next year's TnT. Leave me a comment below about Tokyo in Tulsa, and that's me signing out.
Arthur
Age 11
---