Hip Valentine's Day Date Nights Sans Kids
Oren, Cafe Olé on Brookside and Ruth's Chris Steakhouse are just three of Tulsa's many fabulous date night options.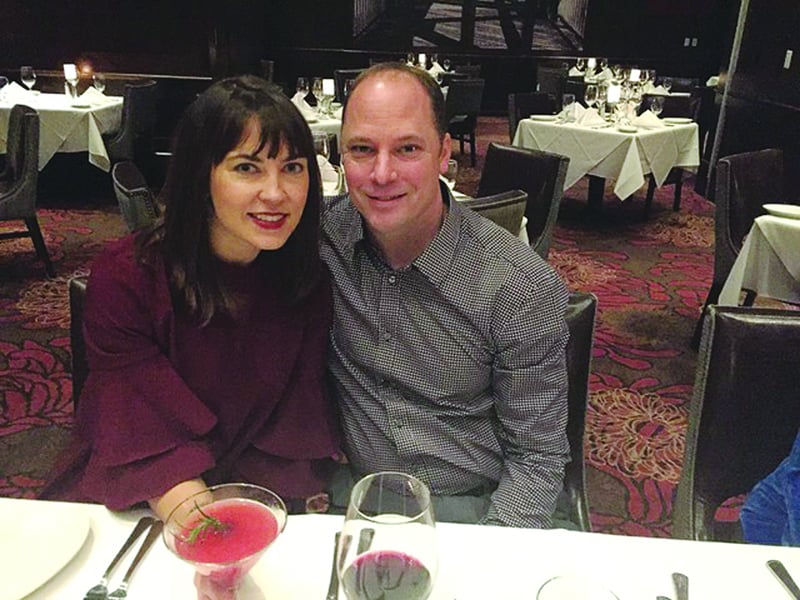 Ah, Valentine's Day. When I was a young-(ish) bride, I found myself vaguely disappointed if I wasn't whisked off to some exotic tropical all-inclusive resort, or plied with jewels, or at least brought to a decadent expensive dinner – a dinner where I hadn't made the reservation, to boot! Never mind budgetary constrictions, or work, or life.
Well, of course parenthood interceded with these fatuous desires. There were Valentine's Days missed entirely to kiddie puke or pregnancy blechs. There were Valentine's Days where we brought the breastfeeding infant to a less-than-sexy place (The Outback – but, hey, we could sit and sip wine!) and left the older kids with a sitter. There were years where all we could muster would be a tired, congenial smooch before slouching off to bed at 9 p.m. Of course, now that I'm old and wise(r), romance is PVT killing himself at work to support his many children; romance is PVT texting to say he's going to be late; romance is PVT looking eight months ahead to plan a trip when I can't even picture next Sunday.
So – if you're with a good one – Valentine's Day isn't too big a deal, ladies! Hopefully, your partner or husband remembers. Hopefully, he gets you a little trinket. But, hopefully – most of all – he is good to you every day of the year! And if you're able to celebrate this year? Well, it's a great time to get out on the town a little bit.
Now, I suggest NOT going out on Valentine's Day itself — too crowded, overworked staff, not as pleasant as any of the many days around it! But there are few new hip places in little old Tulsa, so, if you're feeling adventurous, check them out!
Oren
I convince PVT (who is not a daring foodie type) to try Oren, a brand-spanking-new, devastatingly chic restaurant in the Center 1 building off 35th and Peoria. Oren is "Locally Sourced, Regionally Seasonal, Globally Influenced." The chef here – Matt Amberg – slogged through many years making culinary magic in NYC. He met his wife there who shared his dream of owning his own restaurant – and living somewhere affordable!
Matt returned to Tulsa and spent many years at the Stonehorse Cafe until he opened Oren. Oren is a light, white, minimalist space with an attractive bar area — I spend a lot of time watching the drama of beautiful people mingle at the bar.
The menu features a lot of unusual tastes: We start with Arancini (little delicious risotto balls), and Sweet Potato Croquettes. Odd, but good! Our next course comes from the "Composed Vegetables." PVT plays it safe with Brussel sprouts, but I try Jerusalem Artichokes – weird but delightful little artichokes with greek yogurt, pickled hon shimeji (those are mushrooms for you Cro-Magnons who don't know whacky mushroom varietals), and the clincher –  "Grapefruit Snow." There are little white shavings everywhere that do seem citrus-y. The effect is delicious, but I can't wrap my head around all the labor involved in carefully shaving grapefruit pulp into pretty snow-like tufts!
I briefly wonder if we'll need to make a Run for the Border on the way home, but our next courses are wonderful: I try the Ricotta Gnudi – little ricotta dumplings – and PVT surprises me by choosing the Pink Grouper with Whole Grain Mustard Sauce over the New York Strip. The flavors are all so unique, the food and portions light. We don't have that usual heavy food coma feeling after a more typical restaurant meal. If you're up for something unique and memorable, try Oren!
Bin 35 Bistro and Cafe Olé
Incidentally, Oren is right next door to Bin 35 Bistro, a French/American bistro that is supposed to be très bien, and Cafe Olé, a Mexican cafe that is very close to my heart: Cafe Olé has a cozy patio during both winter and summer, and the salsa, margaritas and guacamole are some of the best I've consumed (and I'm an expert!). You cannot go wrong eating anywhere in this hip little enclave on Brookside.
Ruth's Chris Steakhouse
And then! Do you know about the magicalness of Ruth's Chris Steakhouse at River Spirit Casino? I'll admit, I am not a slot machine or gambling lover (OK, OK, besides the gamble that involves begetting children), but, wow!, PVT and I went to see Steve Martin (known only to old people but super fantastic) at the casino and squeezed in dinner first. I stepped into this darn eyesore of a casino that I drive by and disparage every day, and we had a fabulous, fancy time.
Ruth's Chris looks out a bit on the river, and the lighting and ambiance are perfect. With a glass of wine coursing through my blood, I could have convinced myself I was frolicking in a high-end Palm Beach hotel. The bar was a great scene — fancy-looking Tulsans abounded. My friend Trisha was even brave enough to bring her kids for her husband's 40th birthday dinner — and with the perfect steaks, everyone leaves happy.
More Date Night Ideas
Tulsans, I am just scratching the surface of date-night nirvana: I have heard fabulous things about Amelia's, Hodge's Bend, Palace Cafe, Doc's on Brookside, Tucci's, and Ol'Vine Fresh Grill. I can vouch for a sparkling evening at Bull in the Alley and Dalesandro's. Get out there, moms! It's a great time to go on a date in Tulsa!