Creating Your COVID School Cancellation Schedule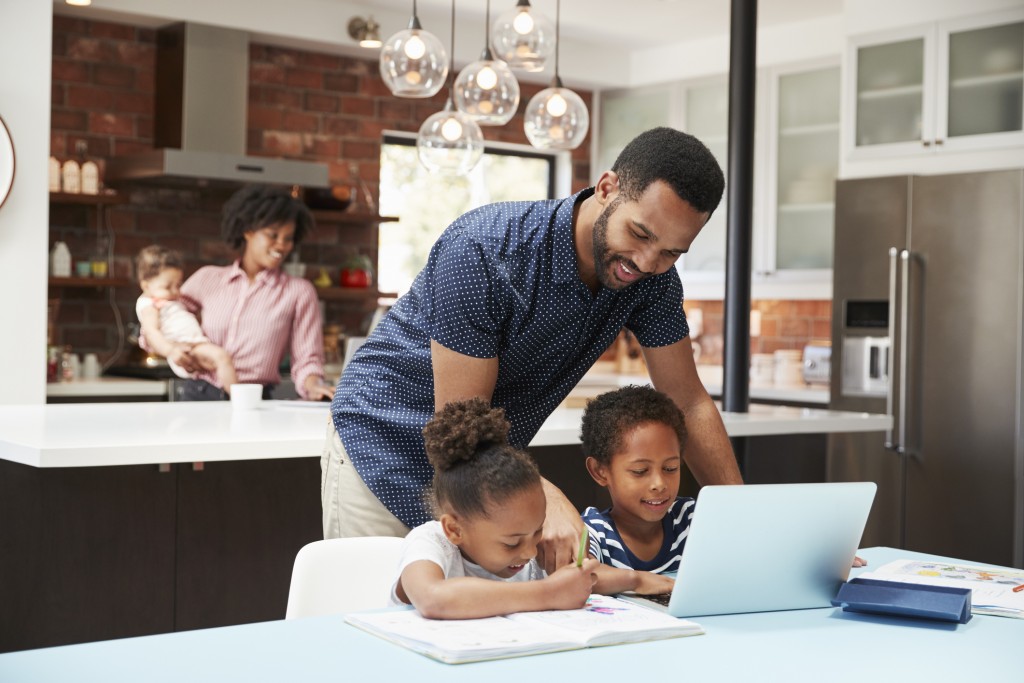 The COVID-19 pandemic has caused millions of families across the globe to adjust to a new normal, however temporary. With school out temporarily and millions of parents across the country working from home, many parents are shuffling their lives around to adapt to a new reality of daily life.
Maintaining structure in this challenging time is important for a number of reasons. Chief among them is that keeping your kids on schedule will invariably make it easier to complete your own work. Then there's the academic side. Even when districts aren't yet requiring students to work remotely, many parents are concerned about the schooling their children are missing out on and want to help keep them on track in the meantime.
Additionally, the CDC notes that keeping up with routines can help your child better cope with the emotional challenges they may face during the COVID-19 pandemic. Under the CDC's guidelines for managing anxiety and stress related to the pandemic, the CDC recommends maintaining regular routines that include time for fun and learning.
To get advice on creating a family schedule, we turned to the experts: Tulsa parents.
Jessica Case and her husband Jeremy have been navigating the work-from-home and homeschool balance with two young children for three years. Her husband had been working from home on his own for years when the family shifted to the whole family working and schooling at home full-time.
Jessica Chase homeschooling one of her children
It wasn't as easy as flipping on a switch, though. "It was an adjustment to bring three more people home all the time," she said. The family relies on a structured schedule and digital communication to keep everyone in the loop.
For many families like the Cases, managing time to work is a delicate balance. Small children in particular can require a high level of interaction, making work at home tremendously challenging.
For the Case family, that means one parent works during the day while the other works intermittently during the children's daily schedule. Jessica notes, "I plug in 20-minute chunks while my kiddos are working independently, as well as working in the evenings a few days after bedtime depending on what I need to accomplish."
Although some work will necessarily require designated on-the-clock hours, for those whose work is task-oriented, working after the children are in bed or during free play time is often the most manageable approach.
Union second-grade teacher Grace Roberts' daughter isn't school-age yet, but Grace has been collecting resources to help parents manage the extended break since it started to look like school closures were on the horizon.
"I've been following everything since I figured we would eventually need it. I know I'll have parents asking me, so I wanted to be ready." She noted that in a similar "Takes a Village" mindset, teachers and parents across the country have been compiling lists, links, and countless resources at an unprecedented rate, leveraging the power of social media to share, support, and uplift each other and our children.
And we certainly need it. Until a week or two ago, most parents were planning spring break camps and family vacations. Instead, we're faced with extreme social distancing measures unlike anything we've ever experienced. That means not only are we struggling to keep our kids entertained, but we're doing so without ever leaving our homes.
And it's not just newly remote employees who find themselves facing a new challenge. For stay-at-home parents, the important work of keeping a home in order and managing daily responsibilities can be all but impossible with school-age children unexpectedly at home.
Important Schedule Considerations
Before you get started compiling your schedule, consider the following:
1. How many hours do you need to complete your workload?
If you're new to working from home, it may take some time to get a full grasp of how many hours you'll need to accomplish your workload.
2. When will you need to work?
Determine if your work requires you to work during certain set hours or if you can be more flexible with your schedule.
3. Is it possible to work with your children underfoot?
Younger children can be difficult to keep on a schedule that is conducive to work. Assess whether spacing your work out during their downtimes is possible. When it comes to working with small children in the home, getting your routine down can be a matter of trial and error, so try to stay open to change.
4. What goals do you have for your children during this time?
Determine your priorities for your kids during this time. Since no one is sure yet how long the COVID-19 crisis will last, it's a good idea to think about sustaining habits that could substitute for your kids' school schedule for an indeterminate amount of time. Are you more concerned with keeping your kids on a routine? Are you focused on making sure they stay on track academically?
Building a Weekday Schedule
Integral to a good family schedule is a highly structured wakeup time. It may be tempting to fall into summertime habits and let your kids sleep in as late as possible, but once you lose the structure of the school week, it can be difficult to get it back. You'll also want to stick to a set bedtime.
Work in a set time for breakfast and lunch, and decide what time kids will be free to play on their own for the day. Your kids need healthy meals and exercise more than ever to help boost their immune systems. Even under quarantine, it's fine to take a walk or play outside, although you'll want to avoid letting them play with groups of other kids.
Your family schedule will depend on how old your kids are and how much interaction they need throughout the day. It's also a good idea to have a couple of back-up activities in case what you originally planned doesn't work out.
No one expects you to get the kids ready for college while school is out. At the end of the day, do what feels right for your family, whether that's giving the kids busy work so you can finish yours or helping them finally figure out the magic of exponents.
Here are a few things you may want to consider as you're building your schedule:
1. Exercise with YouTube
If you're looking for ways to get your kids moving in an organized way without exposing them to public spaces, YouTube offers a plethora of videos. Host a daily dance party: Kids love to learn dances like the Cha Cha Slide and Git Up Dance, and everyone can be as silly as they want to be in the privacy of your home. There's also a vast selection of kid-friendly yoga videos available for free on YouTube.
2. Audiobooks and Podcasts
The Tulsa City-County Library offers free online access to thousands of audiobooks, and there's never been a better time for kid-friendly podcasts, which are accessible through any number of streaming audio services.
3. Reading Time
Schedule in reading time even if your kids aren't reading yet. Young children can benefit from listening to books, and they can also benefit from spending time turning pages and checking out how books work.
4. Chores
Don't forget to schedule age-appropriate chores. Chores give kids a sense of responsibility, purpose, and routine, and having everyone throw down helps reduce the chaos in your home.
5. Electronic Devices
It's a good idea to decide how you're going to handle devices. Consider unplugged periods during the day when your kids won't be using devices to work online.
6. Educational Resources
If you visit the Tulsa Library website, you'll also find virtual lessons on a wide range of subjects including art, design, and language. Additionally, many online learning resources like ABCMouse are offering free access to their services for a full month or more during school closures. We have a complete list of resources on our website here.
7. Creative Time
Be sure to set aside time for creative thinking. One of the best ways to keep kids busy during school closures is to encourage creativity through art and storytelling. If your art supplies are pretty basic, remember that all most kids need to get super creative is a pencil or crayons and paper. Journal keeping also helps kids work through their feelings in a positive and healthy way.
8. Virtual Field Trips
Museums across the country like the Boston Children's Museum are responding to school closures by offering virtual field trips. Click here for a complete list of resources.
Consider Digital Scheduling
If your co-parent or kids use devices, digital scheduling solutions like Google Calendar can be a lifesaver. Building notifications into your kids' schedule can save you from countless "is it time for lunch yet"s.
Jessica and Jeremy Case share both their personal and work calendars to keep each other up to speed. In the hustle and bustle of managing work and kids, Jessica notes, "We can see what and where the other is going and doing," keeping everyone on the same page.
Sample Schedule 1
8 a.m.: Wake up, get dressed, and eat breakfast.
9 a.m.: Go for a morning walk or play in the backyard.
10 a.m.: Creative time with play centers similar to those they might use in school. In centers, kids can spend time with LEGOs, art supplies, Play-Doh, kitchen toys, or other creative play zones.
11 a.m.: Reading or audio book time
11:30 a.m.: Chores and clean up time
Noon: Lunch
12:30 p.m.: Independent play time
1 p.m.: Online academic learning
3 p.m.: Outdoor play
4 p.m.: Free screen time
Sample Schedule 2
8 a.m.: Wake up, get dressed, and eat breakfast.
9 a.m.: Reading time
10 a.m.: Free play
11 a.m.: Online math time
Noon: Lunch
12:30 p.m.: Independent play time
1 p.m.: Online language arts learning
2 p.m.: Exercise or outdoor play
3 p.m.: Free screen time
4 p.m.: Creative activities
Help With School Lunches
Millions of families across the country depend on school lunch assistance to give their kids a healthy meal twice a day during the week. For TPS families concerned about access to food during the school closure, Tulsa Public Schools is offering grab-and-go lunches. Visit our website to learn more. Union Schools will offer a similar program with drive-through pickup on both breakfast and lunch.
---