Top 5 Places for Kids to Volunteer in Tulsa
Even if it's not a school requirement, youth volunteering has many benefits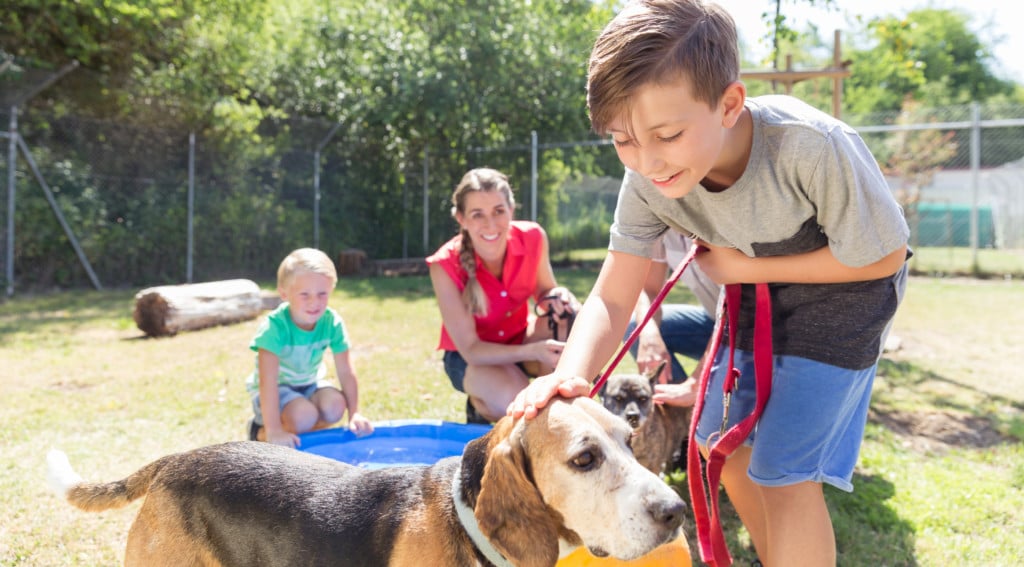 So, last week I talked (well, wrote, actually) about tweens working to make money. This week, it's all about the other kind of work: volunteering! Kids, tweens and teens volunteer for different reasons. Some have to get service hours for a school or a club, like Key Club. And even if they don't have to do it, there are still many personal benefits for teens who volunteer. In fact, youth who volunteer for at least one hour per week are more likely to do well in school and less likely to engage in destructive behavior, such as alcohol or drugs.
The summer is a great time to volunteer, since kids are out of school and parents are looking for ways to entertain them during the day. You could even volunteer as a family during the weekend!So now that you know the benefits of volunteering, you're probably thinking, but Sarah, I don't know any good places to volunteer with kids and teens. Well, that's where I come in. Here is my list of five of the best places for youth volunteerism in Tulsa.
Every summer, as you know, the Tulsa City County Library puts on the Summer Reading Program, for babies all the way up to adults. They rely on teen volunteers to help with giving stickers and handing out prizes. If your teen needs to get service hours for school, this is the ideal volunteering job because you can knock out all those hours during the summertime!
Now, obviously the deadline (which is around May 1st) has passed to sign up to volunteer for this summer, but you can talk to your local librarian if your kid is interested in working next summer. They have applications that you can pick up at your library in the spring. I volunteered with the Teen Team program last summer, and I really enjoyed it! I also completed all my service hours for school, which was a real bonus. I went in several times a week for the majority of the summer, and got to help sign people up and answer questions about the program.
If your thirteen- to fifteen-year-old enjoys reading or spending time at the library, then this job is perfect! Click here for more info.
I have volunteered with this program too, and it's another great one for getting service hours. Every second Saturday of the month, Asbury United Methodist Church sends groups of people to volunteer at different places in and around Tulsa. And you can choose where to go! When you arrive at around 8:15, you will check in and decide which volunteer location you want to go to. Then there are some short announcements before you head out to wherever you'll be working.
When I volunteered there, I spent my time working with a group of people who stay at Asbury and crochet sleeping mats for the homeless out of recycled plastic bags. Everyone was really kind and helpful, and some older ladies even showed me how to crochet! Of course, if manual labor is more your thing, then you and your son or daughter might enjoy going to build houses with Habitat for Humanity. There are also lots of other choices, and they change month to month! Second Saturday is also a great place to volunteer as a family! When I have helped there, my dad has come along with me several times, and he helped generate a lot of "plarn" (plastic yarn) to be crocheted into the mats. The link to their website is here.
Did you know that one out of every six people living in Oklahoma doesn't know where their next meal is going to come from? When I hear those odds, I think, "That could be me. But since it isn't me, since I know that I'm going to have breakfast when I get up in the morning and dinner at night, and lunch and snacks in between, then I have a responsibility to help out those who don't have enough food."
If you feel the same way, then you should look into volunteering at the Food Bank! There are lots of children who rely on free lunches at school in order to get enough food during the day, and during the summer they don't have that. That's why the Food Bank offers their Hunger-Free Summer program. And that's just one of many different events you can volunteer at. I think this is a great way to volunteer with your family, help fight hunger, and show your kids just how privileged they are. Go to the Food Bank's website if you're interested in volunteering there.
When you think of someone who doesn't have a home, you might typically think about them spending time under a bridge. There is one bridge in particular where a lot of people who are homeless gather, but not for the reasons you might think. Every Thursday night, at the bridge at Maybelle and Brady, Night Light Tulsa works to provide meals, clothing and care for 250 to 300 individuals who are homeless. They rely on volunteers to do things like serve hamburgers, hand out clothes and books, and wash feet. I have volunteered there once, and I can say that it is a very good way to help those in your community. I would say it is best for tweens and teens, especially since it goes until 9:00 p.m. My mom came and volunteered with me, and it was nice to do some good together. Visit the website here.
I saved this one for last because, well, who wouldn't want to volunteer at a place with lots of cats and dogs? Helping out at the Tulsa SPCA would be a perfect opportunity for animal lovers or future vets!
My family adopted our two-year old dog, Carson, from the SPCA, and so we can say firsthand that they do a great job of matching pets to potential owners! They have many different ways that you can help out if you want to work to better the lives of animals in Oklahoma! Kids ages nine to sixteen can help care for the cats and dogs, helping them get used to being around humans so that they can one day go to a fur-ever home! Adults can volunteer by helping connect cats and dogs with potential owners, educating the public, and helping out at the reception desk.
Everyone is required to go through several hours of orientation before they can volunteer so that the kitties and puppies get the best care possible. 🙂 This is another great opportunity for family community service, especially if your family loves animals or is looking to adopt! Read all about it at the link right here.
So there you have it, folks! Five different places you, your family, or your kids can volunteer at. Let's all do some good this summer, and try to make the world a better place!</p
About Sarah Ray:
Hi! I'm Sarah Ray, and I'm 15 years old. I have always liked to write, and have kept a journal since the age of seven. I also enjoy reading, playing the piano, and doing crafts. I'm so excited to have my first official job doing some guest blogging for the Tulsa Kids magazine this summer!