Cook Up Some Summer Fun
Brownie Ice Cream Sandwiches, Grilled Fruit with Maple Glaze, Cinnamon Swirl Campfire Bread, Summer Fruit Sandwiches and Mexican Street Corn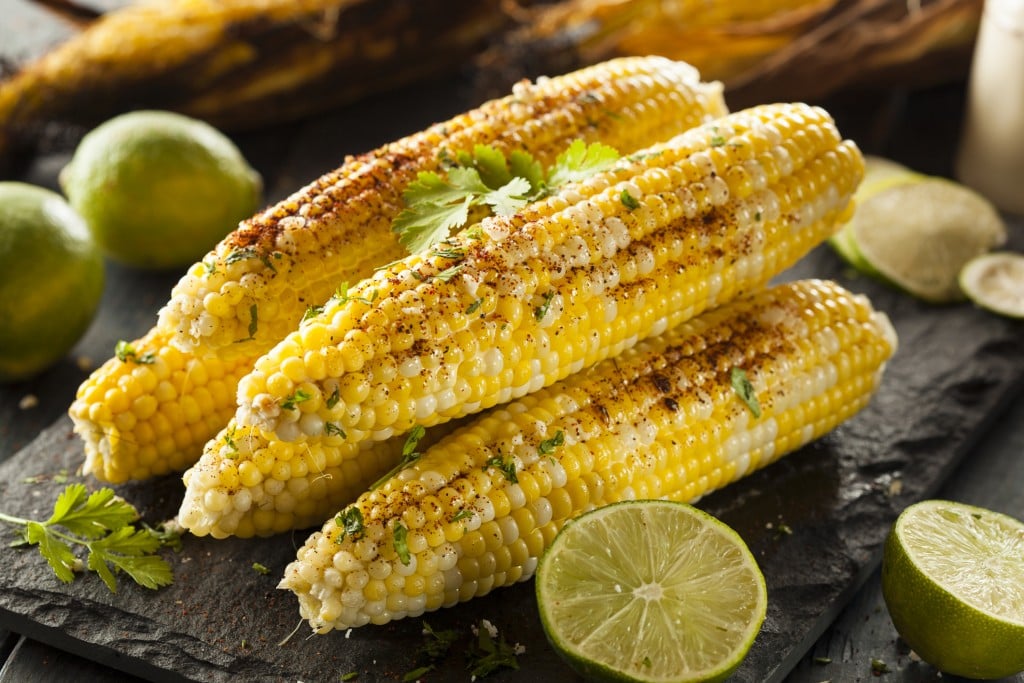 Cook up summer fun with these easy, summer recipes.
Some of the best summer memories are the simplest.
My family's favorite summertime memories include picking blackberries, making a homemade slip and slide in the backyard and eating ice cream sundaes for dinner. Each of these memories is simple and inexpensive, and can be done in times of peace or pandemic.
One fun way to make memories with your kids is to be creative in the kitchen. Making homemade lemonade is a lot of fun, and kids will appreciate it even more after squeezing all those lemons. Homemade ice cream is another fun treat to make as a family.
As some families continue to shelter in place – or at least carefully choose their outings – summer fun right in our own backyards (and kitchens) is more appealing than ever.
Here are some recipes so you can cook up some fun with your kids this summer.
---
Summer Recipes
Kids love these brownie ice cream sandwiches!
Easy Brownie Ice Cream Sandwiches
Makes 8
1 (16-ounce) box brownie mix
1 pint vanilla ice cream, slightly softened
Mini chocolate chips or sprinkles
Line a 9-inch square pan with foil, then spray with nonstick cooking spray. Make brownies according to package directions. Pour mixture into pan, and bake as directed. Cool completely on cooling rack, about 1 ½ hours.
Place pan in freezer for 30 minutes. Use foil to lift brownies from pan, and peel foil from brownies. Cut into 4 rows by 4 rows.
For each sandwich, spoon 2 tablespoons of ice cream on bottom of 1 brownie square. Top with second brownie square, gently pressing together. Roll sides in chocolate chips or sprinkles. Freeze 1 to 2 hours or until ice cream is firm. Wrap each in plastic wrap, then store in freezer until ready to eat.
---
Grilled fruit might be new to your kids. They will likely love it, especially over vanilla ice cream.
Grilled Fruit with Maple Glaze
3 tablespoons pure maple syrup
3 tablespoons unsalted butter
1 teaspoon vanilla extract
1/4 teaspoon kosher salt
6 apricots peaches or plums, halved lengthwise and pitted
Vanilla ice cream
Heat an outdoor grill for medium heat.
While grill is warming, cook maple syrup, butter, vanilla and salt in a small saucepan over low heat, stirring until butter is melted.
Grill peaches, apricot or plums cut-side down, brushing with syrup mixture as they cook, until lightly charred and tender, 8–10 minutes. Transfer to a plate, and brush with additional syrup. Let fruit cool slightly, then serve with ice cream.
---
Try this bread on a family campout or in your own backyard with an outdoor fire pit.
Cinnamon Swirl Campfire Bread
3 tablespoons ground cinnamon
2/3 cup sugar
1/3 cup butter, melted
1 (around 16-ounce) can refrigerated biscuit dough
Combine cinnamon and sugar together and place on a platter or large plate.
Melt butter and place on a platter or large plate.
Separate biscuits. Form each piece of biscuit dough into a rope 4 to 5 inches long, making sure not to stretch them out too long.
Wrap the dough pieces around campfire sticks. (If using wooden sticks, soak them in water for 30 minutes before using). Pat the dough around the end of the stick to keep it in place so it won't fall off.
Hold over campfire, with an adult's help, and slowly turn the biscuit dough until it is lightly browned and firm, which takes about 8 to 10 minutes.
Dip bread into melted butter and then in cinnamon sugar.
---
The recipe title is a bit of a wink to kids. Calling them sandwiches is more fun than "pound cake with fruit." Use any of your favorite fruit!
Summer Fruit Sandwiches
8 ounces strawberry cream cheese, softened
10 slices pound cake
Fresh sliced strawberries
Sliced bananas
Seedless grapes, sliced in half
Spread cream cheese on pound cake slices. Layer fruit on top, gently pressing into cream cheese mixture. Serve open-faced.
---
Most kids like this corn that's rolled in sour cream and cheese. If your kids can't stand mayo or sour cream, just skip it. Instead, you can roll in butter, then continue with the lime juice, cilantro and cheese. This version comes from the Simply Recipes food blog.
Mexican Street Corn
6 to 8 medium ears corn, husks removed
1/2 cup Mexican crema or sour cream
1/2 cup mayonnaise
1/2 cup minced cilantro
1 clove garlic, minced
1/4 teaspoon ground chipotle pepper, to taste
2 teaspoons lime zest (1 lime)
2 tablespoon lime juice (typically 1 lime)
1/2 cup cotija cheese, crumbled
Lime wedges, to serve
Heat a gas or charcoal grill to 400 degrees.
Whisk together the sauce: In a bowl, whisk together the crema, mayonnaise, cilantro, garlic, chipotle pepper, lime zest and lime juice. Taste and season the mixture with salt if needed. (Crema has a little salt already.) Set aside.
Grill the corn: Place the husked corn directly onto grill grates. Grill the corn for about 3 minutes, undisturbed, or until kernels begin to turn golden brown and look charred. Turn over and repeat. When all sides are browned, remove from the grill onto a plate.
Top the corn with sauce and cheese: Using a brush or a spoon, coat each ear of corn with the crema mixture. Sprinkle with crumbled cotija cheese. Sprinkle with additional chipotle pepper, if desired. Serve immediately with extra lime wedges.
Find more recipes for summer and year-round at tulsakids.com/food!
Natalie Mikles is a mom of three – 12-year-old twin girls and an 11-year-old boy. She writes about food, sharing recipes for busy families and picky eaters. She has been recognized for her food columns as well as features on families and issues affecting local children. She loves pizza and movie nights with her family.
---