Host a Haunted Movie Night
For the kids!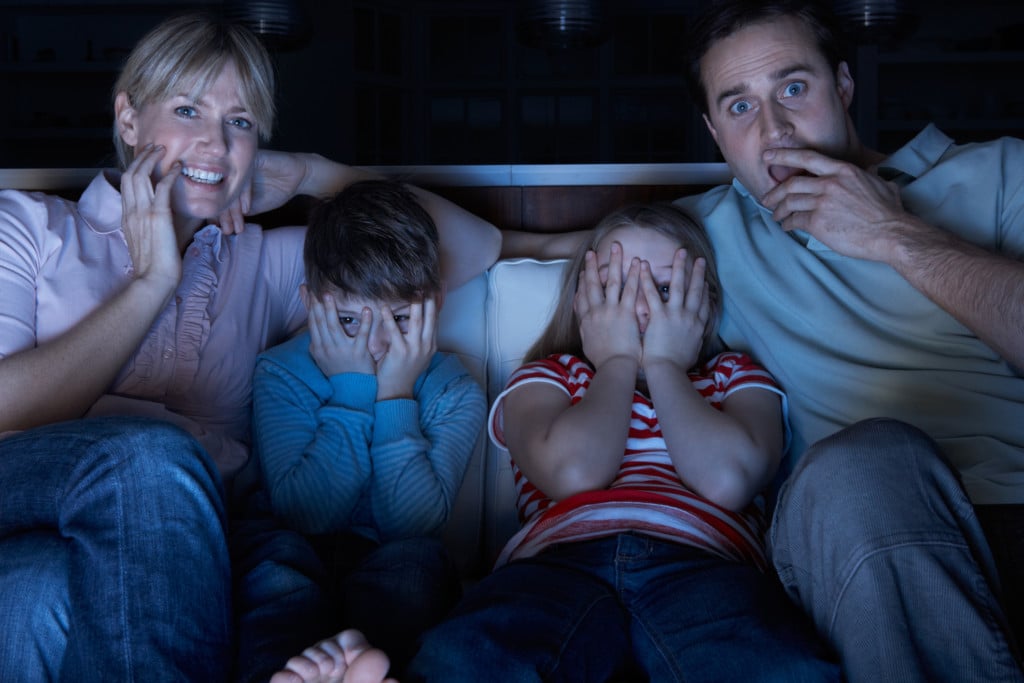 I'm not a horror movie fan, although occasionally I'll allow cultural peer pressure convince me to cue up a creepy flick—"The Shining," for example. However, I adore the cutesy side of Halloween—friendly bats, painted pumpkins, the odd raven—and this extends to kid friendly Halloween movies.
To host your own Haunted Movie Night, simply whip up some Halloween-themed treats (see some suggestions here), add a warm beverage (hot chocolate, anyone?), a cozy blanket and your film of choice.
Here are three of our family's favorites:
Paranorman (2012, PG, 1 hr. 32 min.)
My son is four years old and has a good tolerance for things a little on the creepy side. He simply tells himself, "Those are nice zombies!" And in Paranorman's case, they are.
I watched Paranorman for the first time earlier this year and we both enjoyed it so much that I ended up purchasing the digital version.
Paranorman is an animated film about a lonely boy who can see dead people and lives in a town whose tourist trade is founded on a legendary witch's curse. When the boy starts seeing bad omens of things to come, he has to figure out how they connect to the witch's curse and how to put an end to it.
(Spoiler Alert)
As he investigates—with the help of his reluctant older sister, the school bully, a steadfast friend and the highschool quarterback—he discovers that "the witch" was simply a young girl who, like himself, could see the dead. Misunderstood by her Puritan neighbors, she was condemned to burn at the stake as a witch.
The message is one of inclusivity—to not let fear of those you don't understand drive you to make brutal and foolish decisions. It is a heartfelt film with a lot of humor as well.
The Nightmare Before Christmas (1993, PG, 1 hr. 16 min.)
Of course, this one is a classic—and Danny Elfman's soundtrack can't be beat! We've watched this one enough at our house that my son is able to sing a good portion of "This Is Halloween."
The Nightmare Before Christmas tells the story of Jack Skellington, the Pumpkin King of Halloweentown, and the events that follow his discovery of Christmastown. Agog over the snow, the presents, the lights, the joy—Jack decides to host his own Christmas, eventually taking over the role of "Sandy Claws" himself.
Unfortunately, the citizens of Halloweentown don't quite "get" Christmas, and Jack-as-Sandy-Claws ends up delivering a sleigh full of horrors to children everywhere, getting him in a lot of trouble—until the real Santa Claus returns to put things right.
The House With a Clock In Its Walls (2018, PG, 1 hr. 45 min.)
Joss and I got to attend a free screening of The House With a Clock In Its Walls at Circle Cinema, as part of the Tulsa Library's Summer Reading Program. Since we've only seen it once, it's probably too soon to call it a "favorite"—but I wanted to mention it anyway.
The House With a Clock In Its Walls is based on a 1973 middlegrade book by the same name, written by John Bellairs. I read it for the first time last October so had been looking forward to seeing the movie, which stars Jack Black and Cate Blanchett. It tells the story of a newly orphaned boy who goes to live with his eccentric uncle—a man who just happens to be a wizard living in a house haunted by a mysterious clock in its walls. The clock had been built into the walls and hidden by the house's previous owner, an evil wizard who died while performing a particularly nasty spell.
The boy—Lewis—accidentally brings the deceased wizard back from the grave in an effort to impress a new "friend" at school, and must work with his uncle to find the clock and destroy it before the evil wizard can bring the world to its end.
My favorite part of this book is the lesson in friendship that Lewis learns: You shouldn't waste time trying to impress the kids who don't value you. Instead, look for the ones you have more in common with.
This movie is the scariest of the three, but Joss enjoyed it, aside from covering his eyes at a couple points. There is a lot of fun, fantastical magic throughout the movie, such as an enchanted easy chair that serves as the uncle's pet "dog"—so I'd highly recommend this as a charming, family friendly Halloween flick.
Other Options
"Beetlejuice" (1988, PG, 1 hr. 32 min.)
"Coraline" (2009, PG, 1 hr. 40 min.)
"Corpse Bride" (2005, PG, 1 hr. 17 min.)
"Edward Scissorhands" (1990, PG-13, 1 hr. 45 min.)
"Ghostbusters" (1984, PG, 1 hr. 45 min.)
"Hocus Pocus" (1993, PG, 1 hr. 36 min.)
"Hocus Pocus 2" (2022, PG, 1 hr. 43 min.)
"Hotel Transylvania" (and sequels) (2012, PG, 1 hr. 31 min.)
"It's the Great Pumpkin, Charlie Brown" (1996, Not Rated, 25 min.)
"Room on the Broom" (2012, Not Rated, 25 min.)
"A Babysitter's Guide to Monster Hunting" (2020, 94 min.)
"Muppets Haunted Mansion" (2021, PG, 52 min.)
"The Addams Family" (2019 and 2021, PG)
"Scaredy Cats" (2021, G, 1 Season)
What's your favorite kid-friendly Halloween movie? Let us know in the comments!
---