Healthy Halloween Treats to Make With Kids
Four fruit-based, spooky treats that won't leave you terrorized by sugar highs.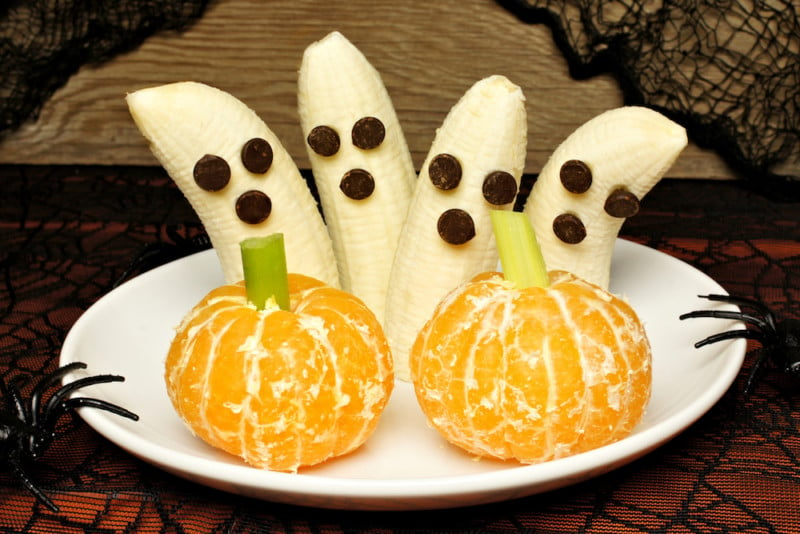 Your kids will no doubt get plenty of sugar this October. On the other hand, you may still want to make some fun, Halloween-themed treats with them! Here are some healthy Halloween treats that the kids will love making and devouring.
Ghostly Goodies
Banana Ghosts:
Ingredients:
Bananas
Chocolate Chips (mini and regular)
Peel and cut bananas in half.
Use chocolate chips to create ghostly faces. Use two mini chips for the hollow eyes and a larger one for the shrieking mouth. Be sure to orient the face so that the flat end of the banana is the bottom.
Strawberry Ghosts:
Ingredients:
Strawberries
Almond Bark
Mini chocolate chips
Melt almond bark in a microwave-safe bowl, heating it in short bursts until melted.
Dip strawberries in melted almond bark and lay on wax paper.
Add chocolate chip eyes. (Optional: Use melted chocolate or black frosting to create moaning mouths.)
Monstrous Munchies
Green Apple Monsters
Ingredients:
Green apples
Candy Eyeballs
Strawberries (sliced)
Peanut Butter
Sunflower Seeds
Cut your apples into quarters. Carve each slice so that it looks like there are two green lips on the top and bottom and an open mouth in the middle.
Coat the "mouth" with peanut butter. Add a strawberry slice so that it hangs out of the apple, like a tongue!
Stick sunflower seeds into the top inner "lip" so they look like crooked teeth.
Attach candy eyes using peanut butter as an adhesive to the top lip.
Pumpkin Perfection
Mandarin Orange Pumpkins
Ingredients:
Mandarin oranges, peeled
Celery
Slice celery into small rectangles. Set in the middle of each whole mandarin orange. Voila! The perfect pumpkin!
Bonus Recipe
Because it wouldn't be Halloween without some indulgence, here's an extra recipe for some tasty chocolate bats!
Chocolate Bats
Ingredients:
Reece's cups (unwrapped)
Oreos
Vanilla frosting
Candy eyes
Separate the individual Oreos, removing the crème-filled center. Break each cookie in half, creating half-moon shapes.
Use frosting to attach two Oreo "wings" to each Reece's cup, positioning the wings so that they meet in the center of the PB cup.
Use frosting to attach candy eyes in the center of the Reece's cup, overlapping with the Oreo wings.
---