Cinergy Entertainment: Fun for the Entire Family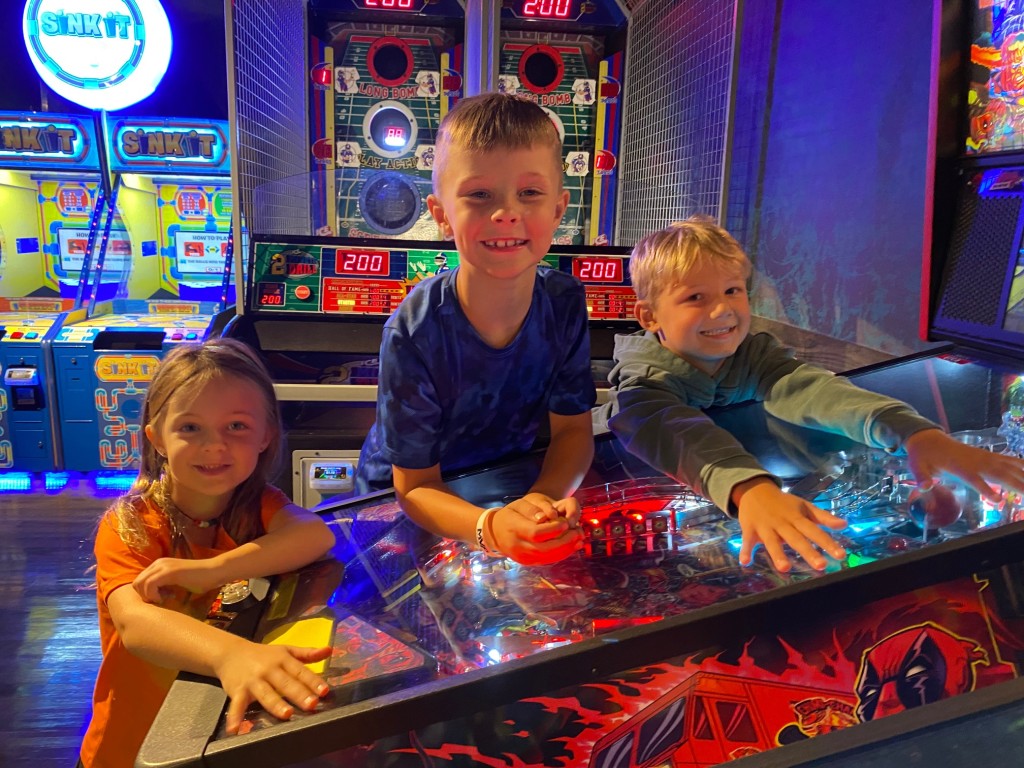 Cinergy Entertainment, located at 68th and Memorial, recently invited TulsaKids to experience all they have to offer! And it's a lot! Beyond the 8-theater auditorium, they have an arcade, bowling, escape rooms and more. Cinergy Tulsa opened in April 2019, in a space that previously housed an antique mall and discount theater. TulsaKids staff member Lindsey Copes visited the business along with her kids and a couple friends. They focused their time on the theater and arcade, making sure to sample some tasty treats as well. Enjoy some of their photos below!
Seeing a Movie at Cinergy
Cinergy's 8-theater auditorium features laser projection and Dolby Atmos sound. They pride themselves on being "the only dine-in theater in Tulsa with full service and QR ordering right from your seat!"
Lindsey reports that the theater seats are clean and comfortable. Plus, they include a call button if you need to order in-movie snacks! The seats are also heated, come with their own trays, and recline for maximum comfort.
Cinergy shows a variety of current films. This week's offerings, as of 8/29/22, include Minions: The Rise of Gru, Thor: Love and Thunder, DC Super Pets and more.
Movie Snacks
Snacks are such an important part of the movie-going experience. And at Cinergy, they're delivered right to your seat! Lindsey and her crew perused the full menu and settled on pizza, popcorn, candy and sodas. She says that the staff were friendly, and everything arrived in good time.
Visit cinergy.com/menu/tulsa to view the menu, so you know what to order next time you go! The Kids Menu offers mini-corn dogs, chicken nuggets, mac 'n' cheese and a cheeseburger. Each kids meal comes with seasoned fries and a free drink for kids 12 and under.
Game Time
Cinergy's arcade features everything from classic games to modern favorites. Lindsey reports that her kids particularly enjoyed a virtual bunny ride, and it looks like they got to play some ski ball as well.
Do your kids love VR? Cinergy offers a Hologate Virtual Reality experience: "Grab a weapon to defend yourself, strap on your visor, and step through the Hologate into another world. Immersed in a fully three-dimensional digital realm with a graphical fidelity so sharp you'll feel like you're really there, you and up to three friends can embark on a harrowing adventure to defend yourselves and emerge victoriously."
And escape rooms are still a popular past time. Cinergy has five escape rooms, each with a different theme, so you can always try something new. As of 8/29/22, themes include Bunker 57 (zombie apocalypse); Captain's Cove; Gold Rush; Haunted Mansion and Water Landing (smuggling). Each escape room holds up to eight players. Learn more and book your spot at cinergy.com/escape-room/tulsa.
Other Cinergy Offerings
As if that's not enough, Cinergy also has axe throwing, a sports bar, bowling alley and party rooms available for rental. A unique bowling alley feature is the HyperBowling option. HyperBowling combines traditional bowling with gaming, as "lights on the bumpers create moving targets that players aim to hit or avoid!" Lanes must be reserved in person.
Go to cinergy.com/specials/tulsa for information about current and upcoming promotions. For example, September 3 is National Cinema Day! Patrons can enjoy $3 movies, popcorn, hot dogs, soft drinks and bowling shoes.
Hours and Contact Info
Hours, as of 8/29/22:
Monday-Thursday, 2-11 p.m.
Friday, 12 p.m.-1 a.m.
Saturday, 10 a.m.-1 a.m.
Sunday, 10 a.m.-12 a.m.
Cinergy is open 365 days a year!