Campfire Cooking Brings Families Together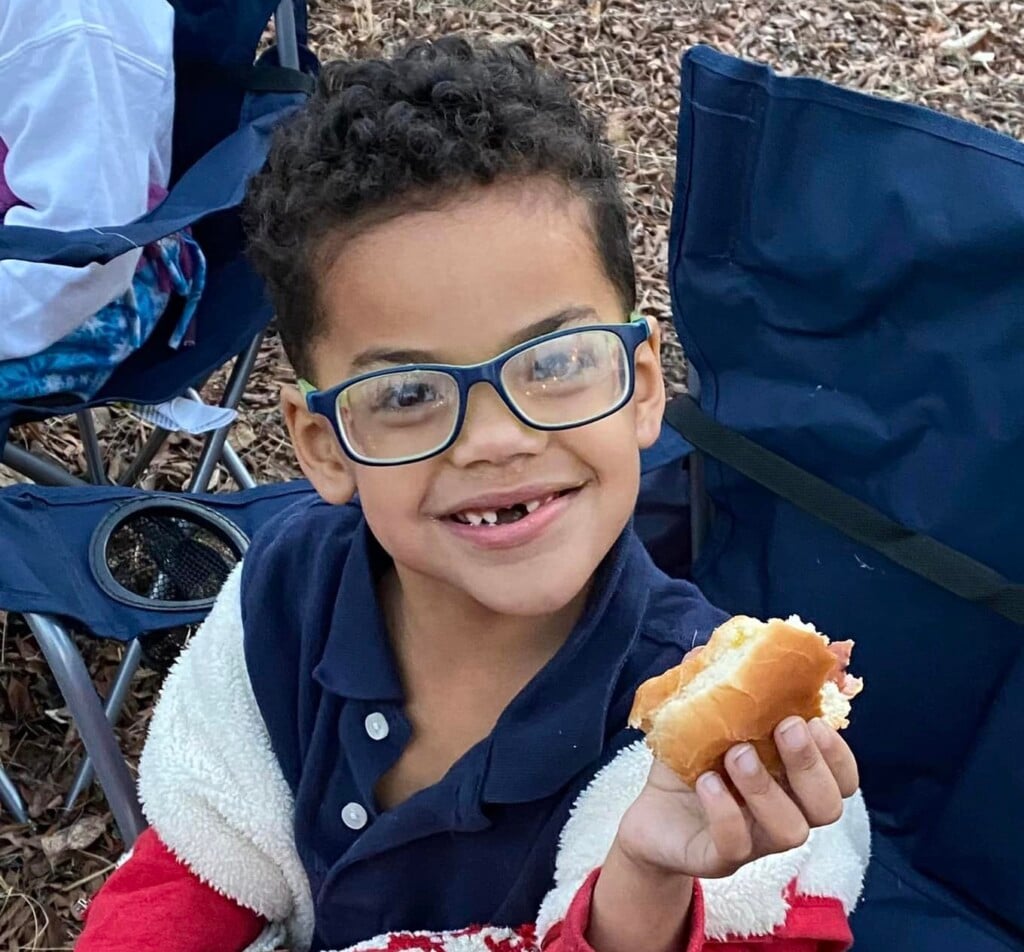 Providing opportunities for outdoor play is a great gift we can give our children.
Those experiences can be as small as kicking a soccer ball in the back yard or taking a neighborhood walk and as big as loading up the family for an overnight campout.
Outdoor play gives kids the chance to move their bodies, use all their senses to experience what's around them and take in their natural environment. When camping or hiking, kids get to do this on an even bigger level – testing their physical limits and spending days without a screen in sight.
Whether camping is a family tradition or a brand-new experience, the packing, driving and planning is worth it. Days spent hiking, skipping rocks and exploring, and nights spent under the stars create lasting memories and promote family bonding. And besides that, it's just fun!
Here are some of our favorite recipes when camping. You don't have to go all out with the breakfast skillet. (We won't tell if you bring Pop Tarts.) But the smell of sausage and eggs cooking outdoors is amazing and worth the effort. Some of the other recipes, like the granola, can be made ahead of your camping trip and are great for snacking.
---
You only need one dish to make this hearty breakfast skillet. Cook it on a camp stove or over a campfire in a Dutch oven.
Campfire Breakfast Skillet
Serves 4
1 pound breakfast sausage
1 medium russet potato, chopped
½ yellow onion, chopped
1 bell pepper, chopped
½ stick butter
4 eggs
½ cup grated sharp cheddar cheese (optional)
Chopped chives
Light grill and let coals burn until hot.
Add sausage to cast-iron skillet or Dutch oven and cook until brown. Add potatoes, onion and bell pepper along with 2 tablespoons of the butter. Cook for about 10 minutes, or until potatoes are tender.
Crack eggs directly onto sausage mixture. Dot with remaining 2 tablespoons butter. Cook 5 minutes or until eggs are cooked to your preference. Top with cheese and chives.
---
If your camping trip includes fishing, hang on to this recipe. There's nothing like fresh fish cooked over an open flame.
Bacon-Wrapped Trout
Serves 4
4 trout, butterflied, bones removed
Salt and pepper
6 tablespoons olive oil
1 cup fresh parsley, chopped
3 tablespoons chives, chopped
4 tablespoons capers, drained and chopped
6 cloves garlic, finely chopped
Juice of 1 lemon
½ pound bacon
Light grill and let coals burn until hot.
Season trout with salt and pepper. Mix together olive oil with parsley, chives, capers, garlic and lemon juice. Divide the mixture between the trout, and stuff inside.
Wrap each trout with bacon. Grill, turning frequently to prevent flareups, until bacon is crisp, about 20 minutes.
Note: This can be cooked over an open flame campfire. Cook in a Dutch oven over hot coals, and depending on how hot your fire is, begin checking for doneness after 10 minutes. It could take anywhere from 10-25 minutes for the fish to cook through.
---
Make this yummy granola before you head out on your camping trip. It's perfect for snacking on while hiking.
Camper's Best Granola
5 cups old-fashioned oats
¾ cup sliced almonds
½ cup pecans, coarsely chopped
¼ cup raw sesame seeds
¼ cup raisins
¼ cup dried cranberries
¼ cup dried blueberries
1 ½ teaspoons cinnamon
½ teaspoon nutmeg
Zest of 2 oranges
¼ cup canola oil
½ cup honey
½ cup maple syrup
¾ cup unsweetened coconut
Preheat oven to 400 degrees.
Combine all ingredients, except coconut. Spread on cookie sheet. Bake 20 minutes, stirring occasionally. Add coconut 5 minutes before done.
Cool before sealing in an airtight container.
---
The perfect mix of sweet and salt, these bars are a favorite family treat.
Peanut Butter Pretzel Bars
Makes 12 bars
½ cup pretzels, crushed
1 ¾ cup quick-cooking oats
¼ cup sliced almonds
½ cup mini chocolate chips
½ teaspoon kosher salt
1 teaspoon vanilla
1 cup creamy peanut butter
¾ cup honey
Line an 8- or 9-inch square pan with parchment paper.
Place the crushed pretzels, oats, almonds, chocolate chips, salt and vanilla in a bowl and stir to combine.
Whisk together the peanut butter and honey. If the mixture is too stiff, warm it in the microwave until it's easy to stir. Add the peanut butter mixture to the oat mixture and stir to combine.
Press the mixture into the prepared pan, and top with more crushed pretzels or chocolate chips if you like. Chill for 1 hour before slicing into bars. Store in an airtight container or the refrigerator.
What About Toddlers?
Toddlers aren't always interested in or ready to eat the big campfire meals the rest of the family is eating. Here are some ideas for toddler meals and snacks while camping.
Oatmeal with raisins and cinnamon
Tortillas and peanut butter
Classic PB&J
Hummus with veggies and crackers
Graham crackers and applesauce
Pepperoni slices and cheese cubes
Camping Tip!
Tulsa parents Kendall and Nathan Ellsworth are the parents of seven kids. Taking their crew on a camping trip requires planning and patience. But, she said, the intentional time spent as a family is worth it. Her keys to camping success – hot dogs, s'mores, hammocks and an amazing fire pit.
And one more tip – invest in the long (30-inch) roasting forks or campfire sticks. She says her family has used the 18-inch sticks with wooden handles, but for children it still put them a little too close to the fire. The 30-inch sticks keep your hands farther away from the hot flames.
Natalie Mikles is a mom of three – 12-year-old twin girls and an 11-year-old boy. She writes about food, sharing recipes for busy families and picky eaters. She has been recognized for her food columns as well as features on families and issues affecting local children. She loves pizza and movie nights with her family.
---