Family Hiking and Camping in Oklahoma
There are many benefits to taking your kids hiking, and many opportunities to do so in Oklahoma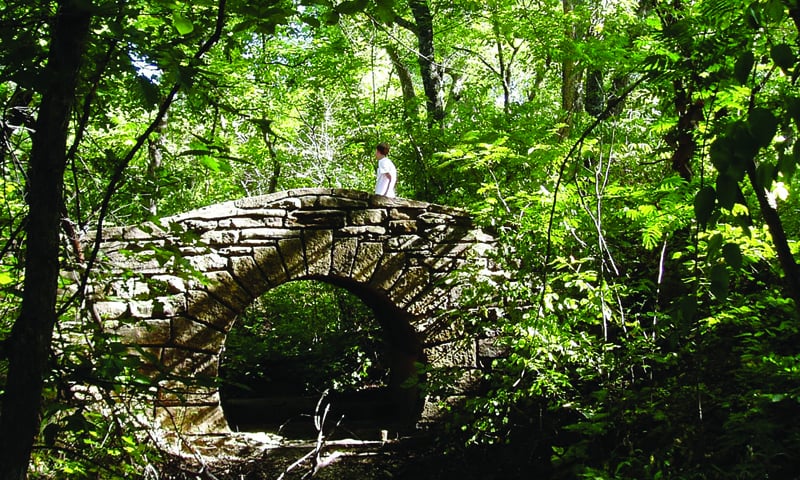 Parenting experts agree that hiking and camping are darn near vital ways to give you and your kids unstructured time together outside, away from fast-paced, everyday living. Oklahoma's vast landscape affords families oodles of options to unite with the great outdoors to share good times the old-fashioned way. Whether you head north, south, east or west, into Oklahoma's four primary mountain ranges or toward the 200+ lakes, you can find hiking trails galore, and camp sites are plentiful. Here are some favorite places to go hiking and camping in Oklahoma.
Identifying where to go can be interesting, but time consuming, so, thankfully there are outdoors experts with sound advice and a handful of robust websites that do a fine job of serving up ideas and providing enough details to help you cull what suits you best given your own family desires.
Hiking and Blazing New Trails
Tulsans need not go far to admire Mother Nature at Turkey Mountain, Chandler Park and Haikey Creek Park. But, if you want more, with a little extra planning, AllTrails.com rates Oklahoma's kid-friendly trails and recommends the following:
Bluff Creek Park Loop Trail is a 3.4 mile heavily trafficked loop trail located near Oklahoma City, that features a river and is good for all skill levels
Natural Falls State Park is home to Dripping Springs, a 77-foot fall beautifully situated in the Oklahoma Ozarks.
One of the better-maintained trails in the Beaver's Bend State Park, the Lake View Lodge Trail features a roller coaster feel through the woods on the shores of Broken Bow Lake.
The surroundings are beautiful, with wonderful lake views and a chance to see streams and a waterfall and climb rocks.
This 1.3-mile loop trail features fabulous foliage, a river, bluffs and caves. It is good for all skill levels. (Please Note: The Redbud Valley Nature Preserve is closed to the public.)
This trail is well-shaded within a beautiful forest setting and packed with sand trails.
Near Oklahoma City, this nearly 10-mile looped trail is robust with wild flowers and is good for all skill levels.
Near Sand Springs, this trail features a great classic Oklahoma oak and crosstimbers forest setting. The preserve is open for free hikes on selected days each month.
Camping in Oklahoma
TravelOK.com says, "Whether you are looking for something cozy and secluded or prefer wide-open spaces under a starry sky, pack up your tent, grab your compass and navigate your way to an amazing Oklahoma camping adventure." There's no shortage of super campgrounds. Popular venues on their "favorites" list are:
Travel and Leisure Magazine dubbed the best campsite in OK with 30 miles of trails plus six campgrounds. Spring-fed swimming pools and waterfalls found throughout plus astounding array of deciduous flora and fauna.
Beavers Bend is a major hot spot to witness the changing of the leaves each autumn. Outstanding camping in cabins or within one of 10 tenting campgrounds. Kayaking and fishing. Nature center on site.
Offers spectacular scenery with mountainous terrain in northeastern part of the state. Children's programs, swimming, hiking, and pontoon boat tours. Cabins built in the 1930s for rent.
Tall, shady forests with an abundance of wildlife plus a darling nature center. Pretty peninsula overlooking the lake. Horseback riding available.
Home to Mount Scott, one of Oklahoma's largest mountains. Located near Lawton in southwestern OK, the refuge has the oldest managed wildlife program in the United States Fish and Wildlife Service system.
Unforgettable canoeing, kayaking or rafting are available along the crystal clear Illinois River. Shady spots throughout with beginner-friendly rapids (Class II rating).
Awe-inspiring views, hiking, biking and horseback riding trails, hunting, fishing and even hang gliding are available here among the over 350,000 acre area.
Along the panhandle close to New Mexico, this spot is for the more adventurous type. Black Mesa is the highest point in OK.
Notorious for being a hideout for Jesse James and Belle Starr, known as one of the premier camping areas in the state. Includes a petrified wood area and a bird trail. Great for cavers and anglers too.
Helpful Resources
In addition to the aforementioned websites like Alltrails.com and travelok.com, be sure to look closely at ReserveAmerica.com and Recreation.gov for they, too, are great resources. There's also freecampsites.net if you really want to save. In any case, you can see articles, pictures and videos as well as read about more detailed things to see and do at each location.
Priceless are the many benefits of taking kids on a hike or a camping trip. From exploring and discovering wildlife not found in their own backyard to expanding their sense of adventure and discovery, you can take in the world together and appreciate the simple things. And, rest assured, the kids will not remember their finest days in front of the television, but they will certain recall their time with you!
Make the Outdoors Your Home Away From Home
Jessica Brent and DeAnna Cooper, co-founders of Homma Camp Co. in Tulsa, believe that people should get outside and stay outside. Their company essentially rents tents, offering a basic package where you bring your own bedding, or a complete experience where all you have to do is show up. In any case, they set up the tent and break everything down for you, making it easy! Their tents sleep 2 adults with 2-3 kids in tow, depending on their ages. See www.hommacampcompany.com for more details.
---