Caiden Morales: Union Redhawks Logo Designer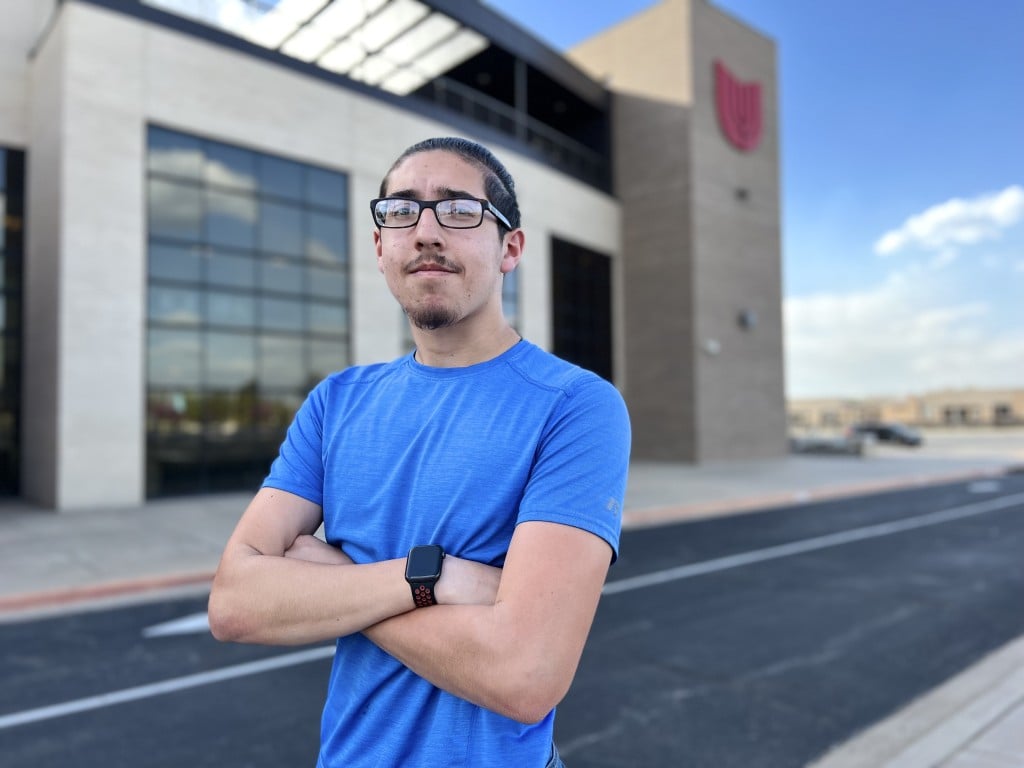 Union Public Schools retired its Redskins logo in 2020 and started a hunt for a new mascot and logo. When the community overwhelmingly chose Redhawks as a mascot, it was time to find the best image to portray the name. Caiden Morales, a 17-year-old junior at Union High School, submitted a concept to Chris Payne, Union's Chief Communications Officer. Payne showed the design to others and soon Morales was working on honing his original design into the final version. An overwhelmingly positive vote from the students and then the school board made Morales' new Redhawks logo the image for the next generation of Union students and beyond. His logo will be on school buildings, T-shirts and uniforms, and will become a memory for all those who attended Union Public Schools.
TK: How did it feel that your drawing was chosen to be the new logo for Union Public Schools Redhawks?
Morales: Very unreal to me. I never thought it would even be seriously looked at when I first submitted the design last year.
TK: How did you come up with the idea for the drawing?
Morales: It took me about one to two weeks to come up with the initial logo concepts that I first submitted, but the entire design process that led to the final product took several months.
TK: How long have you been drawing?
Morales: I've been drawing for as long as I can remember, probably since I first learned how to use a pencil.
TK: What was your inspiration for the new logo?
Morales: My inspiration for the new logo was pictures of the red-tailed hawk and certain other designs I found across the internet, I just wanted it to look cool and not be boring for future Union students.
TK: Who inspires you?
Morales: I can't say that I have one person who just truly inspires me in everything I do. What I can say is my inspiration stems from entertainment and different art forms. I see movies and play games all the time. One movie that really has pushed me into more complex animation was the Spider-Man: Into the Spider-Verse movie. There was so much life/color/smoothness in the animation of that film, and I want to be able to recreate that when I practice and improve my animation skills. I've looked at many abstract pieces of art in museums. These all push me to try new things and experiment with art to grow and be better.
TK: What other hobbies do you have?
Morales: I do a lot of art, which is probably not surprising, but it's true. I consistently try to create new things and utilize different techniques to get better. For the most part, I sketch and animate short clips. I also listen to music and go for runs outside of the time I dedicate to working on art.
TK: What do you want to be when you grow up?
Morales: I want to be some sort of a graphic designer. I want to help promote businesses, not just logo-making but advertising, using animations and complex drawings/concept art to do so.
TK: What advice to you have for future Union Redhawks?
Morales: Build Union up to be the best it can be, get involved, and make yourself useful. It opens up opportunities for your future career and helps Union be the best it can be.
TK: What is a fun fact about you?
Morales: I ran a marathon with my friend Andreas Kant.
---