When to Begin the College Search
And five factors to consider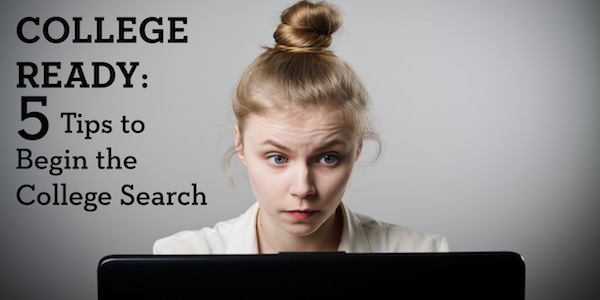 Ask any college admissions experts, and they'll share the most important "buzz words" in the college admissions business today—self-advocacy. Self-advocacy, a term formerly used in relation to special education students regarding the transition from the security of the classroom to independent living, now broadly applies to all students, particularly those engaged in the college search and application process. This process demands that students take action and demonstrate responsibility in advocating for themselves, apart from their parents, teachers and counselors, in preparation for the independent nature of college life.  This transition can be especially difficult if students do not possess self-advocacy skills, but rather depend upon adults to take action for them.
Luckily, the college search and application process is the perfect vehicle for allowing students to acquire vital life skills, and the junior year of high school is the perfect time to put these skills into practice by employing the following key steps in navigating the college search process:
1. Students must assume responsibility for their college search by conducting extensive research, utilizing web sites and print resources.
One such resource is the informative, approachable How to be Irresistible to Colleges: The Essential Guide to Being Accepted (Dawson and Herring). This particular book provides an overall understanding of the college search and application process, which has changed a great deal in the past several years. Other excellent resources include The Fiske Guide, The Princeton Review's Best 380 Colleges, and Colleges that Change Lives. Students are wise to keep an open mind as they investigate their options and begin to build a profile about what qualities they desire in a college and what type of school constitutes a great 'fit" for them,  academically, socially and geographically. The endless options, while exciting, often overwhelm students, but if they begin the research process early, they will more easily discover which colleges offer the optimal fit.
2. Students should study the admissions requirements of the schools that most interest them, and pay close attention to factors such as GPA and standardized test requirements, then plan accordingly.
Most schools require that students take the ACT or the SAT, and perhaps SAT IIs (for the more selective schools). Students must make sure that they register for these tests in a timely manner and allow plenty of time to receive the results in case they want to retest and improve their scores. Colleges will expect to receive students' test results when students apply in the fall, so planning ahead is key.
3. Students must strive to earn the best grades possible, in the most rigorous coursework available.
While this fact is true for high school seniors as well, it is particularly important for high school juniors, considering that the priority deadline for application for most public universities (and Early Action and Early Decision for selective schools) is November 1. Thus, admissions and scholarship decisions are based upon the student's cumulative GPA earned as of the spring semester of junior year!
4. Successful students also practice their self-advocacy skills by making personal connections with college admissions representatives.
Attending college fairs, visiting with college representatives when they visit high schools, scheduling formal college visits, partaking of visitation weekends—all of these important opportunities allow students to become personally acquainted with college personnel. In making personal contacts, students practice their "people skills," while forging valuable alliances. Taking the initiative to introduce themselves, engaging in meaningful conversation, and practicing etiquette in terms of verbal and non-verbal communication—all of these skills have real world applications and help set students apart from applicants who have not developed their self-advocacy skills.
It is vital to note that colleges keep track of prospective applicants' "demonstrated interest" and often make admissions and scholarship decisions as such. The power of personal, genuine relationships in the college search and application process cannot be underestimated.
5. Juniors also benefit greatly from building and creating a quality resume.
Actually, the "building" process ideally begins in the freshman year in terms of active engagement in meaningful activities, including volunteering. Fortunately, formatting a resume is not difficult, given the number of templates available.
Most importantly, students' resumes should reflect meaningful achievements and interests. College selection committees, which evaluate hundreds, if not thousands of applications a year, easily spot "serial joiners," individuals who join clubs but contribute little. Students who aspire to be competitive applicants should engage in meaningful community service projects, extra-curricular activities and academic pursuits that demonstrate their authentic passions.
The summer between junior and senior year is a perfect time for students to volunteer, participate in internships, or acquire summer jobs—all of which require self-advocacy skills.
Completing these five steps paves the way for successful, informed, effective college application processes in the early fall of the senior year, and helps students successfully navigate the transition to college life and independence. Self-advocacy is key in that process.
Jennifer Fry is owner and operator of College Matters, KS, an independent college advisement service. Jennifer taught high school English for 35 years, during which time she also worked as College Advisor for the International Baccalaureate Program at Wichita High School East.