Filling Out the FAFSA:
Don't Wait! The Form Is Available October 1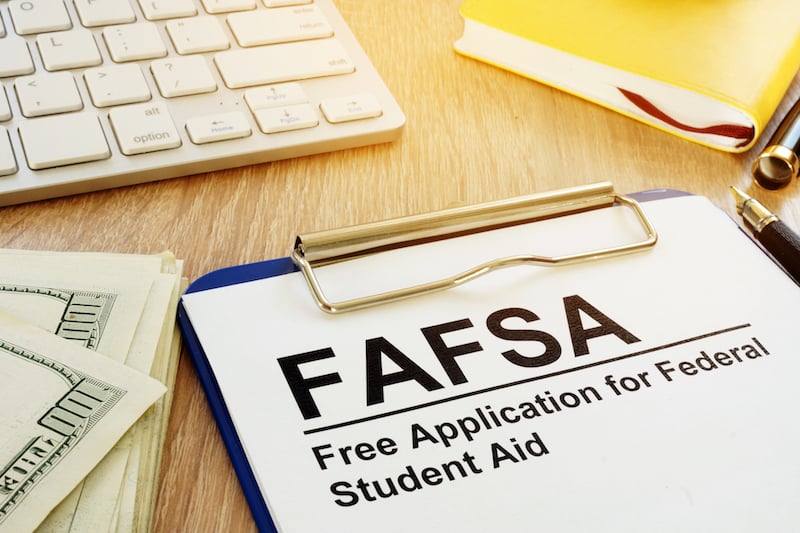 While the Free Application for Federal Student Aid (FAFSA) is part of the student's application, parents are often helpful partners in filling out the form.
While many parents wonder if they make too much money to even bother to fill out the FAFSA, families should make the effort. Yes, families earning less than $50,000 annually can get federal grants, but the FAFSA is also used by colleges to award need-based aid to families making much more. "Need" can be a relative term. Even if you make $200,000, the college your child is planning to attend may cost $80,000 a year, so your student may be awarded a scholarship or grant based on your family's income compared with the cost of the college.
In addition, if you have more than one child in college, you may benefit. Some colleges may use the FAFSA to award merit scholarships as well.
To start the process, go to fafsa.gov. This is the official site, and it will walk you through the process. You can save information and go back in as you go through the form. If a parent and the student are both inputting information, both will need Federal Student Aid (FSA) ID accounts.
The FAFSA form is available beginning October 1, so don't wait to fill it out. Many funds are distributed on a first-come, first-serve basis, so it is to your benefit to fill out the form as soon as possible.
Types of College Funding
With college costs rising, parents are often faced with sticker shock when they see how much tuition, room and board will cost. Educationdata.org reports that parents are saving more for college – nearly $2,118 more in the last five years – yet it is still not covering the cost of sending a child to college. Parents can research funding sources to supplement, as well as visit with college and university financial officers to learn about specific programs. Financial aid options generally fall into the following four categories.
Grants.
A grant does not need to be repaid and are typically based on financial need. Sources for grants may be the federal or state government, private funding or the college itself. Students need to be aware of the regulations surrounding grants regarding course load, withdrawing from school or increased funding from other sources.
Scholarships.
Like grants, scholarships do not need to be repaid. Many types of scholarships exist such as academic, athletic, artistic, community service or other areas of merit. Some scholarships may be based on a qualified student's need combined with merit, or just straight merit award. High school counselors often keep files of national, state and local scholarships. It pays to research the types of scholarships available.
Loans.
As with any loan, college loans must be paid back with interest, which varies depending on the type of loan. Federal government college loans offer low interest rates and flexible terms. Private loans offered by banks tend to cost more.
Work Study.
Students may work to help offset the cost of college. The Federal Work Study program enables students to work part-time on campus as a form of financial aid. Thousands of institutions have work study programs, so talk to the college or university financial aid counselor about the program.