Twenty School Lunch Ideas
Don't fall into a school lunch rut. Break out of your routine with these healthy, delicious, and simple recipes.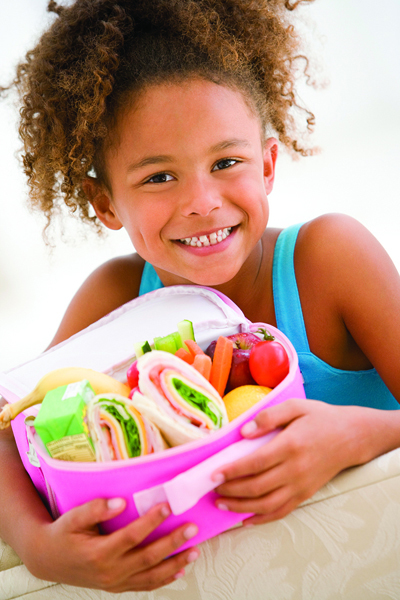 Filling a lunchbox with a PB&J, cheese stick and an apple doesn't take too much time, but you don't have to get very far into the school year before kids are tired of the same old thing. If you're a mom or dad who daily Instagrams your kid's bento box, you probably don't need these school. lunch ideas. For the rest of us lunchbox muggles, here are some fresh ideas to take you through the first few weeks of school.
20 School Lunch Ideas
1. Chopped Chicken Salad
Be sure to include an ice pack, and tuck in some whole-wheat crackers, fruit and string cheese.
1/2 cup plain yogurt
1 tablespoon mayonnaise
1 teaspoon honey
1 cup seedless grapes, quartered
1 celery stalk, chopped
1 to 2 cooked, diced chicken breasts
Mix yogurt, mayonnaise and honey. Toss with the rest of the ingredients.
2. Antipasto Plate
It may sound like a lunch for grownups, but most kids love the components in an antipasto platter. Pack sliced deli turkey, a sliced hard-boiled egg, cherry tomato halves and mozzarella cheese. A bento box or individual compartments come in handy for this one.
3. Avocado Whip Dip
In a blender, mix 1 ripe avocado (peeled and pitted) with ½ cup plain yogurt and 1 tablespoon lime juice. Pack as a dip with veggies or spread on whole-wheat bread.
4. Mini Pepper Pizzas
Quarter a bell pepper. Spread with a thin layer of pizza sauce, mozzarella cheese and mini pepperoni. Place on a baking sheet, and bake for 10 minutes at 350 degrees. A great gluten-free pizza option.
5. Nutty Honey Wraps
1/4 cup honey
1/3 cup peanut butter chips
6 ounces cream cheese, softened
1/2 teaspoon vanilla extract
2 medium bananas
4 (8-inch) whole-wheat tortillas
1/4 cup honey-roasted peanuts, coarsely chopped
In a medium bowl, mix honey, peanut butter chips, cream cheese and vanilla until blended. Cut each banana in half lengthwise and place one piece in each tortilla. Divide cream cheese filling evenly among four tortillas. Sprinkle peanuts and roll up.
6. Mini pita pockets
Look for small pita pockets, which are just the right size for kids. Spread the inside with hummus, stuff with sliced turkey and cheese or any of your favorite fillings.
7. Tuna Tortilla Roll-up
If your kids like tuna, try it in a tortilla instead of bread. Mix canned tuna with a little mayo and lemon juice. Then roll in a tortilla.
8. Tropical Smoothie
Smoothies are a great way to sneak greens into the diets of picky kids. Most kids will love this sweet tropical smoothie. Blend 1 cup frozen pineapple, 3 cups loosely packed baby spinach, 1 frozen banana and 1 1/2 cups coconut water. Pack in a thermos with a straw.
9. Lunchbox Sushi
Cut the sides of a spinach tortilla to square off the edges. Spread 1 teaspoon cream cheese to cover. Spread ¼ cup shredded mozzarella cheese and place 2 slices turkey on top. Spread ¼ cup chopped carrots and then tightly roll, gently squeezing tortilla as you go to keep ingredients intact. Slice into rolls. Pack with plastic chopsticks and a side of ranch dressing for dipping.
10. No-Bake Energy Bites
Pack these along with a sandwich and fruit.
1 1/2 cups quick-cooking oats (Rice Krispies cereal also works well)
2/3 cup peanut butter
1/3 cup honey
1 cup shredded coconut flakes
1/4 teaspoon ground cinnamon
3/4 cup mini chocolate chips
Lightly crush oats or Rice Krispies with your hand or a potato masher. Stir in peanut butter, honey, coconut and cinnamon. Fold in the chocolate chips. Place in refrigerator for 1 hour to firm. Form into balls.
11. Breakfast for Lunch
Two-ingredient banana pancakes are a Pinterest favorite. They couldn't be simpler to make. Tuck them into a lunchbox with some bacon or link sausage and fruit. To make, combine 2 eggs and 2 mashed bananas in a bowl until thoroughly mixed. For fluffier pancakes, add ¼ teaspoon baking powder. For flavor, add ¼ teaspoon vanilla extract. Pour ¼ cupfuls of batter onto a hot buttered griddle or saute pan and cook until light brown and cooked through.
12. Cold Quesadilla
It may go against adult taste, but quesadillas don't have to be piping hot to be delicious. Melted cheese between tortillas is pretty good no matter the temperature, actually. Prepare the quesadilla as you normally would the night before. Let cool, cut into triangles and wrap for the lunchbox. Serve with a little container of salsa for dipping.
13. Ranch Pasta Salad
Combine cooked seashell pasta with peas, shredded carrots, cheddar cheese cubes and crumbled bacon with ranch dressing for this salad that's a nice change of pace from a sandwich.
14. Kids' Kabobs
Your kids will love discovering lunch on a skewer. The options are endless here, but some delicious and fun examples include skewers of pepperoni, mozzarella and black olives, a kabob of cantaloupe, ham and cheddar cheese or grapes, turkey and cherry tomatoes.
15. On a Stick
Wrap deli meat around thick pretzel rods, then serve with a dipping sauce or mustard. Pack alongside yogurt and fruit for a simple, fun lunch.
16. Bean and Cheese Burrito
Spread canned refried beans and shredded cheddar cheese into a whole-wheat flour tortilla, then roll it up for a simple lunchtime burrito. Add sour cream or veggies if your kids will let you get away with it. This plus tortilla chips and salsa will fill them up.
17. Taco Bowl
Layer a plastic container with brown rice, shredded cheese, pinto beans, veggies and salsa. Let them mix it up, and eat with a fork or as a dip with tortilla chips.
18. Egg and Cheese Mini Muffins
These are good for a toddler's preschool lunch because they're a small size and good at room temperature. Recipe adapted from the site Yummy Toddler Food.
1 tablespoon onion, grated
1/2 cup winter squash such as butternut, finely grated (or leftover roasted squash, diced, which is shown above)
2 eggs, lightly beaten
1/2 cup cottage cheese, drained if necessary
1/4 cup shredded cheddar
2 tablespoons Parmesan
Preheat the oven to 350 degrees and grease 12 mini muffin cups.
Stir together all ingredients in a medium bowl. Spoon into muffin cups, filling about to the brim. Bake for 16-18 minutes or until firm to the touch and golden brown around the edges. Let cool for at least 5 minutes in the pan before serving. Serve warm or at room temperature. Store in the fridge for up to 3 days or store in the freezer in a zip top bag and reheat for 30 seconds in the microwave before serving.
19. Ham and Cheese Mini Bagel
When you're out of (or tired of) sandwich bread, make a sandwich on a mini bagel. Instead of mayo or mustard, try a smear of flavored cream cheese. Add ham, cheese and sliced pickles.
20. Cheese Board
Make a portable cheese board with wedges of Brie (or a soft spread cheese like Laughing Cow), crackers, grapes, strawberries, baby carrots and nuts.