TulsaKids' Inclusive Resources Directory
This is a collection of resources to help families with children with intellectual and developmental disabilities in the Tulsa Area. Find more information at tulsakids.com/guides-directories/inclusive-resource-guide.
---
Contact: Jennifer Sollars Miller, Director, Mission Advancement, OK
Best Buddies International Headquarters
Expansion Team: Oklahoma,
100 Southeast Second Street, Suite 2200
Miami, FL
918.231.7737
www.bestbuddies.org/oklahoma
oklahoma@bestbuddies.org
jennifersollarsmiller@bestbuddies.org
Mission
Best Buddies International is a nonprofit 501(c)(3) organization dedicated to establishing a global volunteer movement that creates opportunities for one-to-one friendships, integrated employment, leadership development, and inclusive living for individuals with intellectual and developmental disabilities (IDD).
Who We Serve
The IDD community that Best Buddies serves includes, but is not limited to, people with Down syndrome, autism, Fragile X, Williams syndrome, cerebral palsy, traumatic brain injury and other undiagnosed disabilities.
School Friendship Programs
Best Buddies Friendship programs represent one of our organization's four key mission pillars. These programs build one-to-one friendships between people with and without intellectual and developmental disabilities (IDD), offering social interactions while improving the quality of life and level of inclusion for a population that is often isolated and excluded. Through their participation, people with IDD form meaningful connections with their peers, gain self-confidence and self-esteem, and share interests, experiences and activities that many other individuals enjoy.
e-Buddies ®
Provides a safe place online to develop one-to-one friendships between people with and without IDD. By joining e-Buddies, participants become more comfortable using technology to communicate with friends, gain computer literacy skills, and are better equipped to socialize online.

---
6022 S. Yale Ave.
Kingspointe Village
Tulsa, OK 74135
918.488.8991
www.brainbalancecenters.com
The Brain Balance Program is the leading drug-free program designed to help kids improve focus, behavior, social skills, anxiety, and academic performance. The Brain Balance Program offers a comprehensive, non-medicated option that goes beyond the more traditional, mainstream approaches you may have tried before to help your child get to the root of their challenges versus masking them. The Brain Balance program is specifically designed to strengthen and build brain connectivity with a unique combination of physical, sensory, and cognitive activities. When you work these brain functions together, different networks in the brain fire together. Over time, this changes the speed and efficiency in the brain's communication pathways. These new, efficient and effective connections in the brain lead to improvements in our executive functioning and our ability to complete cognitive tasks. If your child suffers with behavioral issues, ADHD or a learning disability, then you've experienced their painful frustration and lack of confidence both academically and socially. Brain Balance can help! Call today to schedule an assessment.
---
4825 S. Quaker Ave.
Tulsa, OK
918.596.1412
www.clarkyouththeatre.com
Now in our sixth year, the Penguin Project at Clark Youth Theatre offers not only theatre, but also fun and friends! Artists with disabilities and their volunteer peer mentors gather each year to present a fully staged musical like Aladdin, Jr., The Music Man, Jr., Seussical, Jr., The Little Mermaid, Jr., or The Lion King, Jr.! No previous experience required, just a willingness to show up and participate in the fun. Weekly rehearsals culminate in a full performance in the spring or early summer.
Artists and Mentors should be ages 10 and up, with some exceptions if space is available in the program, and parents are very welcome to attend – we love our parent volunteers! During the 2020-2021 season, our Penguin Project work will be both online and socially distanced, in person in the Park surrounding Clark Youth Theatre. Full participation is allowed either way – we will have filmed and live portions of our showcase production this year!
Don't forget Clark Youth Theatre for all of your youth theatre programming needs! In addition to the Penguin Project, we offer a full range of free-to-participate theatre productions, Saturday Classes (again online or in the park during the 2020-2021 season), Homeschool Classes on Tuesday and Wednesday, and 11 weeks of Summer, Fall and Spring Break Camp! For more information, call 918-596-1412 or visit www.clarkyouththeatre.com.
---
Dr. Penny Stack
8988 S. Sheridan Rd., Suite D-1
Tulsa, OK
918.313.5518
penny@dyslexiatulsa.com
www.dyslexiatulsa.com
Your child's reading success is our passion! Our expert team of occupational and speech therapists as well as teaching staff bring the perfect blend of evidence-based research supported medical and educational theory to address the "why" of reading struggles and the "how-to" reading mechanics. To ensure your child achieves their maximum learning potential we also provide services for printing and cursive handwriting, test strategies, organizational skills, time management, test prep and much more!
---
Contact: Sharla Bardin
2002 E. Robinson St.
Norman, OK
405.307.2800
www.jdmc.org
The J.D. McCarty Center for children with developmental disabilities serves children from birth to 21 years old. The center is a pediatric rehab hospital that provides medical care and physical, occupational, speech and language therapy for children on an inpatient and outpatient basis.
---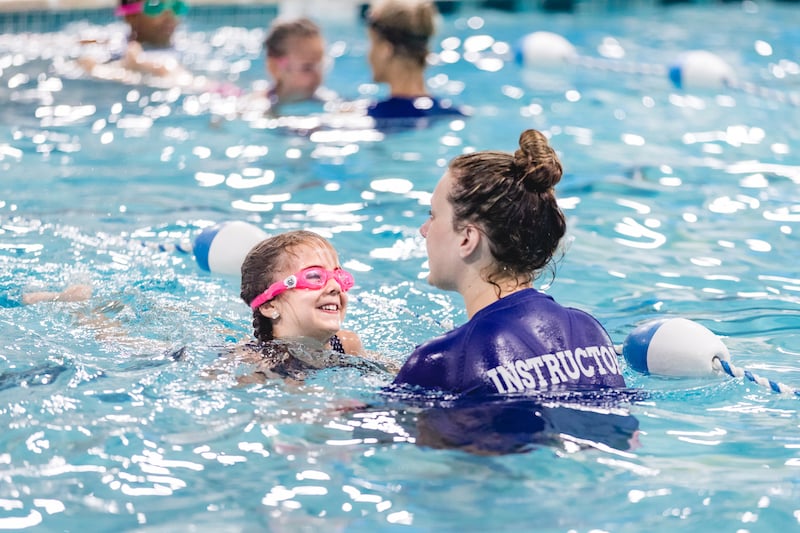 6415 S. Mingo Rd.
Tulsa, OK
MILLER SWIM SCHOOL JENKS
525 W. 91st St. S.
Tulsa, OK
918.254.1988
www.millerswimschool.com
Miller Swim School has been teaching Tulsa and surrounding communities about water safety for over 60 years. We offer private or group swim lessons with our highly trained instructors for students with disabilities or special needs. Individuals with special needs can benefit from swimming to increase confidence and self-respect, as well as improve physical strength and coordination. Most importantly, ongoing swimming lessons reduce the risk of drowning by 88%, an incident students with special needs are at a higher risk for. Swim lessons offer social interaction, joy, friendship and a sense of accomplishment. We offer year-round swim lessons for ages 6 months to adult, as well as a Special Olympics swim team, and a partnership with Autism Tulsa to scholarship swimmers on the Autism spectrum. Miller Swim School is an authorized American Red Cross provider and a member of the United States Swim School Association.
---
4102 E. 61st St.
Tulsa, OK
918.859.0060
www.pathwaysok.org
Helping adults (16 years+) with intellectual and developmental disabilities (I/DD) to live happier, healthier and more enriching lives, Pathways Adult Learning Center has been making a difference in the Tulsa disability community for the past 11 years. Pathways enhances the quality of life for adults with I/DD through continuing education, life skills training, community volunteerism, health and fitness activities, and worship and bible study. Pathways offers small student-to-teacher ratios, a variety of schedule options from 3 hours per week to 40 hours per week, and low tuition costs. Scholarships are also available. Pathways students grow socially and academically, building confidence and independence in a safe, loving environment. A few student favorites include Special Olympics competitions, weekly volunteering at the food bank and various assisted living facilities, science experiments, choir performances and our special mentorship program! To learn more, visit www.pathwaysok.org/program or call 918-859-0060 today!
---
6440 S. Lewis Ave. Suite 2000
Tulsa, OK
918.520.7022
7riverscounseling@gmail.com
7rivers.net
facebook.com/sevenriverscounseling
Children today are dealing with many new challenges. It can be overwhelming for parents to know how to help and what is really at the root of problematic behavior. When you are looking to have someone on your side to support your family in its journey toward better mental health, please contact Seven Rivers Counseling. Professional services include assessment for anxiety, depression ADHD, trauma and other mental health issues. Finding the right diagnosis can help you to find the right solutions. We are happy to work with families in transition due to adoption, foster care, divorce or separation. Family, couples and individual therapy sessions available. Play therapy is offered for our younger clients, or just the young at heart. Call or text to schedule a free consultation to discuss your needs. (918)-520-7022. Sarah Chaudhry, Owner and Therapist, MS, LPC-S, NCC, RPT-S, NC-TFCBT
---
4908 S. Sheridan Rd.
Tulsa, OK
918.984.9153
www.soaringonhopetherapy.com
At Soaring On Hope our passion is to help your child be the best they can be. We celebrate with you every step of the way as they work on goals and skills. We believe that every child can enjoy a life that brings them joy and happiness. We understand each child is different and unique. This is why we thoroughly evaluate and provide custom treatment plans for each and every child we see at SOH. If your child needs more than one type of therapy, your child is given a success team of therapists who work together on a very special treatment program and set goals just for them. We offer ABA Therapy, Speech, Occupational Therapy, Physical Therapy and Counseling. We invite you to experience the difference SOH can make in the lives of you and your child. Learn how we can help your child overcome behavioral, learning and social challenges. We can't wait to celebrate as your child learns new skills, meets goals and conquers challenges!
Soaring on Hope, Where Hope Takes Flight!
---
Sarah Koehling
1911 West C St.
Jenks, Oklahoma
918.409.0157
office@tulsaspeech.com
www.tulsaspeech.com
Looking for individualized therapy in a more intimate setting for your child? Speech and Beyond Pediatric Therapy provides Speech, Occupational and Physical Therapy to children at our out patient clinic, conveniently located in Jenks. We also provide Dietary services, Feeding Therapy from SOS-trained therapists and Counseling.
We serve children of all ages and abilities, up to the age of twenty-one. Our therapists provide a multi-disciplinary approach to meet every child's individual need.