Tulsa Kid Visits the White House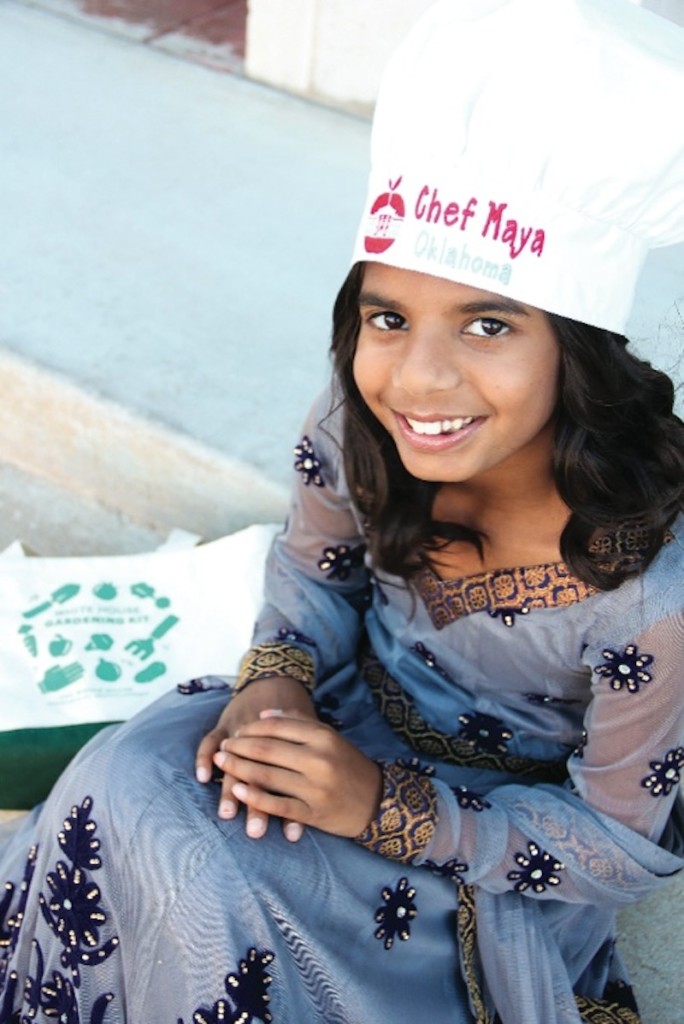 Dinner at the White House with First Lady Michelle Obama is something not all can say they have done. Maya Jacob, age 10, a student at Immanuel Lutheran Christian Academy in Broken Arrow, can share her story for years to come. Maya is the recipient of the First Lady Michelle Obama's healthy lunch contest and had the opportunity to break bread with the First Lady in Washington, D.C.
TK: When and how did you start cooking?
Maya: I started showing interest when I was 5. Just watching my mom and dad cook in the kitchen and wanted to help them get dinner ready or other stuff.
TK: What inspires your recipes?
Maya: When I feel hungry I feel like cooking and creating my own recipes. Also, my brothers who are special needs can only eat certain foods, which help decrease their seizures, and I like to help my mom create new recipes that are also tasty for them.
TK: How did you feel when you won the First Lady's healthy lunch recipe contest?
Maya: I was super excited and couldn't believe it!
TK: How did you feel representing the state of Oklahoma at the White House?
Maya: It was an honor to be selected to represent my state, and I wanted to make sure I did a good job representing my state. I wanted my state to be proud of me.
TK: Did you get the chance to meet First Lady Michelle Obama? How was that experience?
Maya: Yes, the White House dinner was hosted by the First Lady. We got to meet her and she talked to me and my dad for a few minutes, and we took a picture with her! She was super kind and really tall! She loved my dress and even asked where she could get one in her size.
TK: How was your experience at the White House?
Maya: It was incredible! It's something I will never forget. It was really neat to meet kids from each state that enjoyed cooking as much as me. And so fun to see all their recipes. They had a great pre-dinner show with the Jungle Book performers from Disneyland there. I also got to meet our State Senators and Congressmen. That was really cool! They were all really nice and gave me state coins as souvenirs.
TK: What was something you learned during this experience?
Maya: The First Lady spoke about inspiring other kids to eat healthy, and I wanted to do this. If you start eating healthy at a young age, it becomes a habit and that's a good thing! Also, it's important to give back to your community and help others. This inspires me to educate other children to make healthy choices, too, when it comes to eating.
TK: Do you have any advice for other young chefs?
Maya: Don't be afraid to try new foods. It's fun to create your own recipes. Healthy foods can also be very tasty!
TK: What are your plans for the future?
Maya: I would like to work with children with special needs. Maybe even a brain doctor (pediatric neurologist) to find a cure for seizures and also have a boutique shop on the side.
TK: What other hobbies do you have?
Maya: Singing, writing, gymnastics, riding my bike, creating crafts.
TK: Name a fun fact about yourself.
Maya: I have visited six countries this year. Australia, Ireland, England, Scotland, Mexico and, of course, the USA. I love travelling and being on airplanes.