Tulsa City-County Library Provides Free Resources for College-Bound Students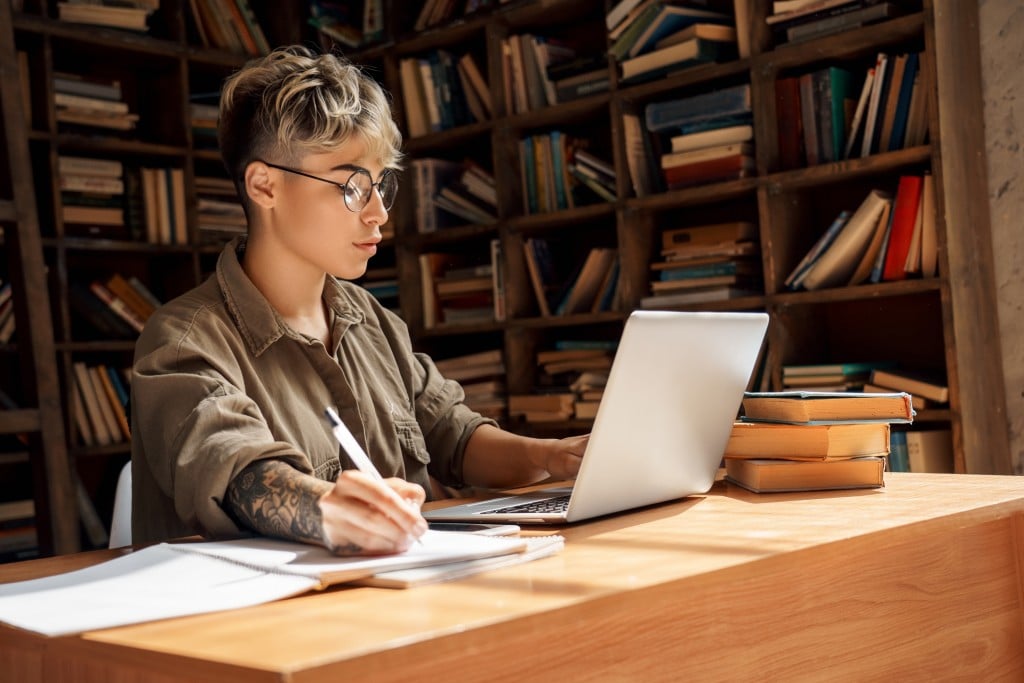 Whether you are a recent high school graduate or an adult returning to college to enhance your career skills, Tulsa City-County Library provides free remote resources to help you prepare for success. With a library card, you can access beneficial services sure to help keep any scholar on the path to graduation, a rewarding career and even higher education opportunities.
Start by visiting TCCL's online education research webpage, www.tulsalibrary.org/programs-and-services/adults, to find information for any college-bound student. Compiled by librarians, this page features links to digital web and TCCL resources for online learning, college-planning guides, books available for checkout and other resources to help students prepare for their next chapter. Help is available on topics like financial aid for students, entrance exams, choosing the right college and everything needed for the transition to college life.
Students and adult learners also can find valuable information and help through these online resources:
Researching the right degree and school is just part of the college process. Making the grades and doing well on the college entrance exams are also integral parts of the equation. LearningExpress Library is an innovative research tool that offers students of all ages targeted learning centers with easy, one-stop access to hours of interactive skill-building tutorials, practice tests and free downloadable eBooks. College-bound students will find helpful resources on financial aid, choosing the right college and information on admissions exams.
The School Center offers students an opportunity to boost their skills in core subjects such as:
Math
Reading Comprehension
Science
Social Studies
Writing and Grammar
Vocabulary and Spelling
With interactive lessons and practice exercises, students can learn at their own pace, on their own schedules and build the skills that will help them succeed in school—and beyond!
In the College Admissions Test Prep center, students can get help with writing admissions essays and practice for the ACT, SAT, PSAT/NMSQT, AP Exam, TOEFL iBT and IELTS tests. These practice tests mimic the timing, scoring and format of official exams to help students do well on test day. Students also receive instant feedback and score reports to pinpoint strengths and weaknesses as well as benefit from detailed answer explanations for better understanding of the subject matter. Best of all, students can use the online database's learning centers anytime, anywhere with their library card.
Visit www.tulsalibrary.org/online-learning to find LearningExpress Library, then login with your last name and TCCL card number. Once logged in, you'll want to create an account with your email address in order to save work in progress, store score reports and revisit any practice tests, tutorials or eBooks.
Self-paced tutorials not for you? Boost grades and skills by connecting with live tutors in Homework HelpNow. This database offers live online help from expert tutors in all core subjects. Just select your grade and subject to get connected with a live tutor, available daily from 2-11 p.m. Central Standard Time.
Need assistance with a college admissions essay? Take advantage of Homework HelpNow's Writing Lab. Simply send your essay to a tutor and receive a response complete with constructive comments within 24 hours.
Homework HelpNow isn't just for high school students. Dedicated to the unique needs of an adult population, the Adult Learning Center offers a comprehensive and integrated suite of services, including GED prep, a 24/7 Writing Lab, Live Tutoring, Skills Building, Career Resources, U.S. Citizenship Prep, Microsoft Office Essential Skills Series and a 24/7 Question Center.
Visit www.tulsalibrary.org/homeworkhelp today to get started. Don't forget to download the app to access live tutoring, homework tracker and flashcards on the go!
For more information on TCCL's resources and programming, call the AskUs Hotline, 918.549.7323 or visit www.tulsalibrary.org.
---