Therapy Clinic Evolves With the Times:
TherapyWorks celebrates 38 years of helping children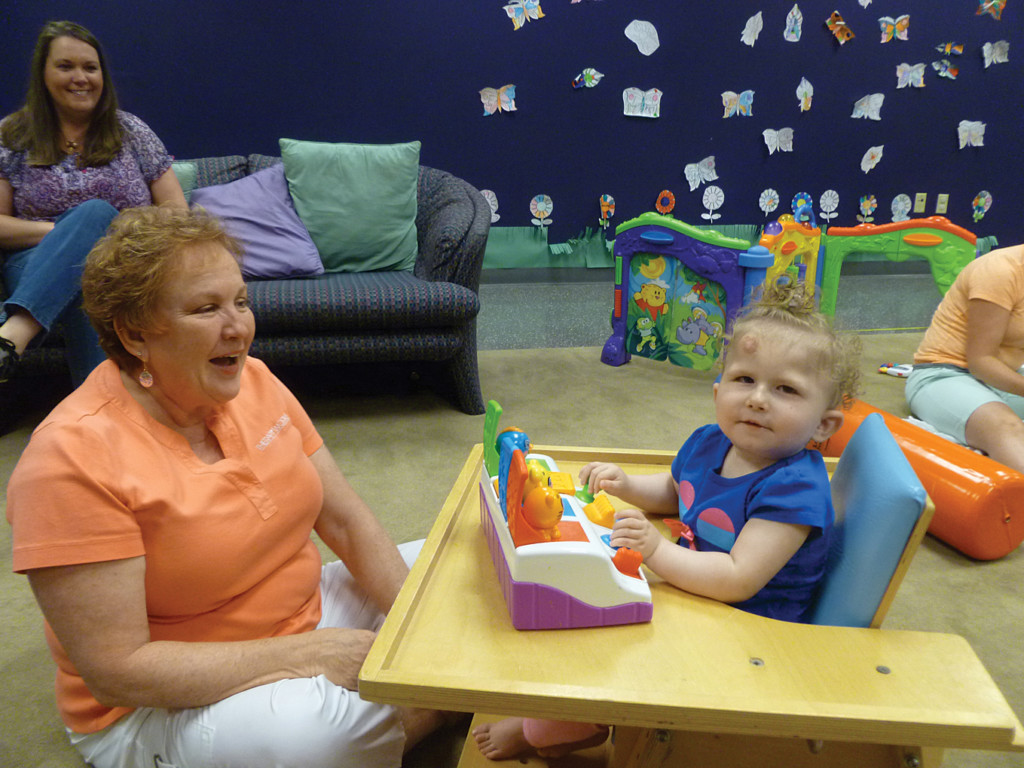 For nearly four decades, Occupational Therapist Suzette Werner Jones has worked toward improving families' lives across Tulsa. Founded by Jones in 1981, Developmental Therapy Services – known today as TherapyWorks — specialized in on-site occupational and physical therapy in schools.
Within just a few years, the services had expanded to facilities for the developmentally disabled, home health agencies, and hospitals. By the end of 1987, Jones had established a specialty pediatric clinic in South Tulsa. These days, TherapyWorks offers not only the aforementioned occupational therapy, but also physical, speech and feeding therapy at both the clinic and in schools across the state.
"When we opened, the vast majority of kids we saw had cerebral palsy," Jones said. "Today, simply due to how much medicine has improved, we see very few children with cerebral palsy."
Suzette Werner Jones
That said, the number of clients with autism has increased dramatically over the years. Whereas Jones may have initially seen only one child with autism per year, roughly 60 percent of today's clients have autism.
"One thing we do see a lot of are kids who are born early and have more subtle problems," Jones said. "These issues may not become noticeable until they're about 2 or 3 years old."
Within the practice's early years, Jones worked primarily with schools such as Tulsa Public and Broken Arrow. Since then, TherapyWorks has worked directly with the teachers themselves – consulted with them and provided ideas. The practice now provides services to about 30 different school districts, offering important support for schools.
"Considering Oklahoma is such a rural state, the therapy they get in school may be the only therapy they get," Jones said. "School therapy is educationally based – it's about developing the skills they need."
For parents, there are several signs to be on the lookout for when determining whether their child should see a therapist. Speech therapists, for instance, work with children who persistently experience delayed speaking or mispronunciation of basic terms.
Other therapists provide assistance with other physical or cognitive needs. For example, occupational therapists help infants who have trouble rolling over or sitting up. If a child is anywhere from 3 to 5 years old and is having difficulty with manipulating objects or getting dressed, then the child may need occupational therapy. Other potential signs include lack of eye contact and difficulty with transitioning from one activity to another.
Many children may need more than one type of therapy, so it is helpful to them and to their parents or guardians to have all of those therapists under one roof.
To help parents identify If their children may need therapy in certain areas, TherapyWorks offers free screenings several times a year. Speech therapy screenings are usually offered in the spring, while occupational therapy screenings tend to be offered in the fall. The practice also provides free parent seminars on various topics.
"Many kids have difficulty with sensory input – to the point that they're hypersensitive to sound, touch, and taste," Jones said. "This can later be tied to autism, but it can also stand on its own. Kids who experience outbursts to something as simple as being near water or getting a haircut tend to have difficulties with sensory input."
For children who are particularly resistant toward food, the clinic offers a sensory-based feeding program in which the staff works with different types of eating disorders. The clients are initially fed through a stomach tube, with the ultimate goal being for them to eat by mouth.
"There's a large group of kids who don't eat because of taste or texture – kids who eat only one or two things a day," Jones said. "It's critical that that diet be expanded."
What should parents look for in a therapist, though? According to Jones, a pediatric therapist needs to not only have a ton of patience, but also be willing to be creative.
"Therapy often looks like play because it's designed that way," she said. "A therapist has to be able to engage that child and have him or her want to come to therapy. They must be flexible in offering opportunities, too – give them two or three choices and have them pick out what they want to do."
Although TherapyWorks just celebrated its 38th year this past August, 2019 marks the 10-year anniversary of its annual talent show-carnival. The event will kick off on Saturday, Sept. 28 at 9:30 a.m. at Faith United Methodist Church.
"We encourage all types of talents," Jones said. "It's an opportunity for these kids to be stars – to demonstrate an achievement. That's not an opportunity they get often, or even at all."
As an occupational therapist, Jones says she still loves working closely with the clients' families.
"When it's easy for a child to do something or when a parent's workload is lightened, that's tremendously rewarding," she said. "Every child is unique and special. Every achievement they make – no matter how small – is still great."
TherapyWorks 10th Annual Talent Show
"Big Top 10th"
Saturday, Sept. 28, 9:30 a.m. – 1 p.m.
Talent show by current TherapyWorks clients, trackless train, bounce house, snow cone trolley, carnival games and more
Faith United Methodist Church
7431 E. 91st Street, Tulsa
For current clients, their families, current and past employees, and families with children with special needs.
---