The Rhythm of Fall Reflected in Family Recipes
Classic Popcorn Balls, Apple Cinnamon Muffins, Healthy Pumpkin Bars and Easy Caramel Apples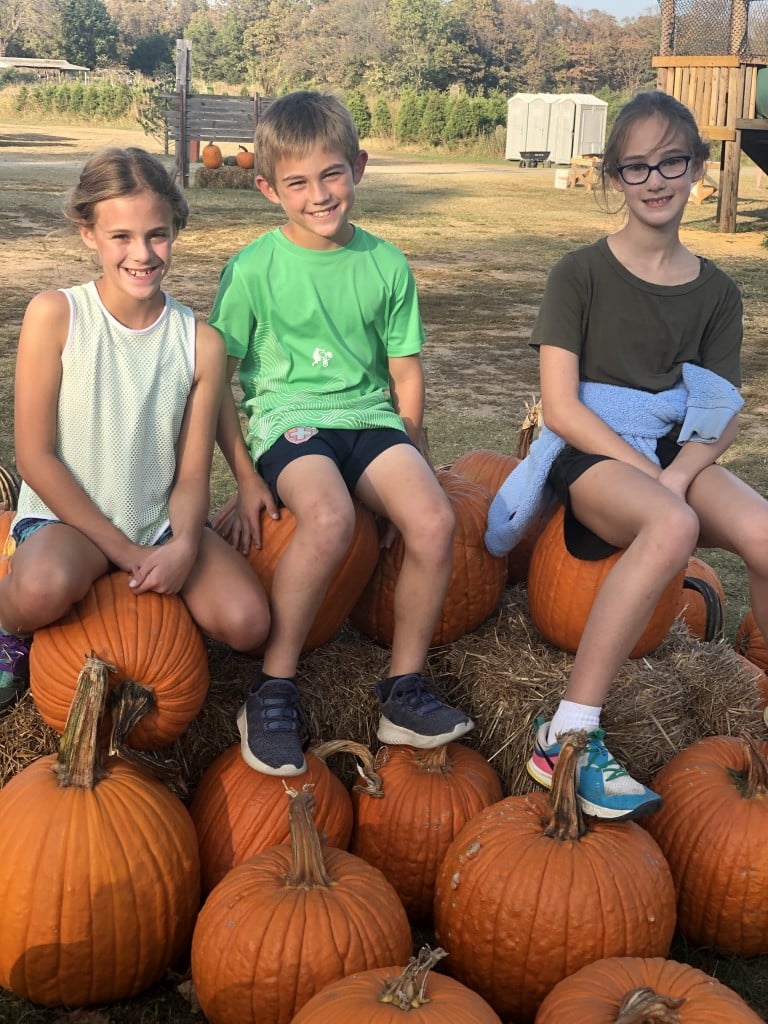 Establishing rhythms for your family is one of the joys of family life.
Some of them are easy and happen without any effort. Friday night pizza, Dad making omelets on Sunday mornings, birthday doughnuts – these are just some of the things your family can do to make family rituals special.
Other rhythms are seasonal, and fall is a time for many of our family rituals. Every fall since my children were babies, we go to the pumpkin patch. For many years, we propped them on the pumpkins, making silly faces to keep them from crying while we took a hundred pictures. My kids are now in middle school, but we still go to the pumpkin patch for our annual photo and to pick out pumpkins to bring home to carve.
For us, fall also means a trip to Livesay Orchards in Porter for you-pick apples. The apple season is short, so call ahead before driving out, but if it's available, this is a really fun family outing. Once you have your apples home, it's a lot of fun to then make apple pie, apple bread and apple-cinnamon pancakes.
One of my earliest kitchen memories is making caramel apples with my Aunt Sandy. I know it wasn't easy for her to go to the trouble of making caramel apples with four little kids gathered around. But I remember helping her unwrap each little square of caramel and then standing on a stool to watch her add the cream and then stirring until it was ready. She let us help put a popsicle stick in each apple and then dip the apples in the caramel.
I wonder if she knows that the work and mess was worth it, and that the memory has stayed with her niece all these years. It certainly reminds me that making the extra effort with our kids is important. Dragging them to the pumpkin patch, taking them on early morning hikes, apple picking or making homemade doughnuts – all of these seasonal rhythms are important for creating fun for our kids. And it's more than fun. Family rituals help them feel connected and important.
Here are some of our favorite recipes to make in the fall.
---
Popcorn balls are a favorite at our house for Halloween. You can add mini candy corn or M&Ms to the mix for extra fun.
Classic Popcorn Balls
1 stick butter, plus extra for forming
14 cups popped popcorn
1 (10-ounce) bag mini marshmallows
Line two cookie sheets with parchment paper. Lightly smear butter around the inside of a large bowl. Add popped popcorn to bowl.
In a large sauté pan over low heat, melt butter. Add marshmallows and stir to combine until melted. Remove mixture from heat and pour over popcorn, stirring quickly to combine.
Let cool slightly, then quickly form into 25-30 balls. Place on cookie sheets. Popcorn balls can be stored in an airtight container for up to three days.
---
Fall aromatherapy begins with these muffins. The smell of them baking is magnificent.
Apple Cinnamon Muffins
Makes 12 muffins
1 ½ cups all-purpose flour
¾ cup white sugar
½ teaspoon salt
2 teaspoons baking powder
1 teaspoon ground cinnamon
⅓ cup plain yogurt
1 egg
⅓ cup milk
2 small apples, peeled, cored and chopped
Topping:
¼ cup white sugar
⅓ cup all-purpose flour
1/4 cup butter, cubed
1 ½ teaspoons ground cinnamon
Preheat oven to 400 degrees. Grease 12 muffin cups or line with paper muffin liners.
Stir together 1 1/2 cups flour, 3/4 cup sugar, salt, baking powder and 1 teaspoon cinnamon. Mix in yogurt, egg and milk. Fold in apples. Spoon batter into prepared muffin cups, filling to the top of the cup.
For topping, in a small bowl, stir together 1/4 cup sugar, 1/3 cup flour, ¼ cup butter and 1 1/2 teaspoons cinnamon. Mix together with fork and sprinkle over unbaked muffins.
Bake in preheated oven for 20 to 25 minutes, until a toothpick inserted into center of a muffin comes out clean.
---
This recipe, from the Yummy Toddler Food blog, is a good one for young kids. It's soft and easily digestible. But it's also one older kids and adults will be happy to have for breakfast or a snack.
Healthy Pumpkin Bars
1 cup old-fashioned oats
1/2 cup whole-wheat flour (or gluten free flour blend)
1 tablespoon ground flaxseed
1 teaspoon cinnamon
1/2 teaspoon pumpkin pie spice
1 teaspoon baking powder
1/4 teaspoon baking soda
2 large eggs
1 cup pumpkin puree
1/4 cup maple syrup
3 tablespoons melted coconut oil (slightly cooled)
1 teaspoon vanilla extract
1/3 cup chocolate chips (or raisins, dried cranberries, or chopped walnuts)
Preheat the oven to 350 degrees F and coat an 8"x 8" pan with nonstick spray.
Add all ingredients to a medium bowl and stir together to combine thoroughly, but gently.
Place batter into prepared pan and smooth with a spatula so the batter is evenly distributed. Bake for 20-24 minutes or until lightly golden brown around the edges and a cake tester inserted into the middle comes out cleanly.
Remove from oven, place pan on a wire rack and allow to cool completely before slicing. Serve warm, at room temperature.
---
Starting by melting down caramel candies makes this an easy recipe. Melt caramels and milk in a 4-cup Pyrex measuring cup and then dip the apples there to make it simple.
Easy Caramel Apples
6 craft sticks
6 apples
1 (14-ounce) package individually wrapped caramels, unwrapped
2 tablespoons milk
Remove the stem from each apple and press a craft stick into the top. Butter a baking sheet.
Place caramels and milk in a microwave safe bowl, and microwave 2 minutes, stirring once. Allow to cool briefly.
Roll each apple quickly in caramel sauce until well coated. Place on prepared sheet to set.
Natalie Mikles is a mom of three. She writes about food, sharing recipes for busy families and picky eaters. She has been recognized for her food columns as well as features on families and issues affecting local children. She loves pizza and movie nights with her family.
---