Ten Book Series for Tweens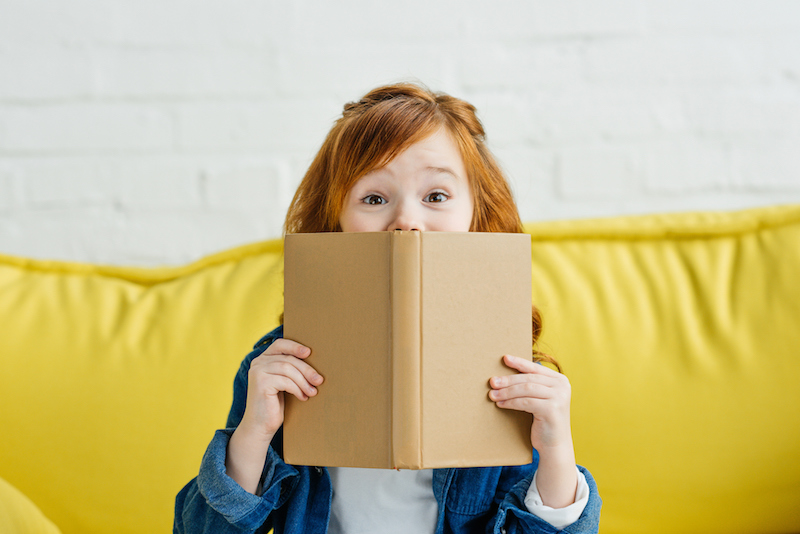 So, the summer's more than halfway over now. It always flies by so fast. And now that the prospect of school is somewhere on the not-so-distant horizon, you're probably having to push your kid/tween/teen to read those last few books so they can finish the library's Summer Reading Program. Maybe you're running out of ideas for books they'll like. Or perhaps they're such vivacious readers, they've read nearly all the books in the library by now! No matter where your tween is on the loves-to-read scale, chances are you need some fresh reading material for them, stat! Well, don't worry, because I'm here to help! As a former tween and a huge book lover, I have some book series to suggest, in hopes that I can help your kid finish the Summer Reading Program, and maybe, just maybe, introduce a new generation of readers to some great books at the same time.
These books were, and still are, some of my absolute favorites. Written by an actor-turned-author (you may recognize him from Glee), this six-book series chronicles the lives of Alex and Conner Bailey, who discover that not only is their grandmother a fairy godmother, but that the whole fairy-tale world very much exists when they fall into a magical book. Trust me, once you've read the first book, you'll want to read all the rest!
This series, which consists of twelve books, tells the story of two families, one with four boys and one with three girls, who end up living across the street from each other after a move. Unhappy that their old friends moved away and were replaced by a family of girls, the boys begin a series of epic pranks, which is soon reciprocated by the girls, and before you know it, it's an all-out practical joke war! These books are utterly hilarious, especially if you have siblings! I read the series with my younger sister, and we were constantly saying to each other, "Listen to this! This part's even funnier!" A great summertime read, this series starts with the book "The Boys Start the War," and continues with "The Girls Get Even," "Boys Against Girls," "The Girls' Revenge," "A Traitor Among the Boys," "A Spy Among the Girls," "The Boys Return," "The Girls Take Over," "Boys in Control," "Girls Rule!", "Boys Rock!", and finally, "Who Won the War?"
The Harry Potter series by J.K. Rowling
Of course, the Harry Potter books are on my list. Most everyone has read them by now, but even if you have, they're still fun to read over and over! And, the truth is, I actually didn't read these books until I was in the eighth grade. I didn't think I'd like them. But, once I gave them a chance, I ended up loving them! In case you didn't know, the seven-book series tells the story of Harry, an orphan who discovers that not only is he a wizard, but he's utterly famous in the wizarding world for defeating the infamous and terrible Lord Voldemort as a baby. Sounds exciting, right? And yes, there are the movies, and they're great, but I recommend reading the books first. 🙂
So, I have to confess that I haven't actually read this series. But some good friends of mine have, and they loved them. Beginning with "The Tail of Emily Winsdnap," and continuing on in five other books, this series is about a teenage girl who suddenly discovers she is part mermaid when she starts swimming lessons. She then meets other mermaids and goes on wonderful adventures. Who wouldn't like to get to swim all day, especially in the hot Oklahoma summer sun?
The Time Quintet series by Madeleine L'Engle
You've probably heard of this series' most famous book, "A Wrinkle in Time." But did you know that there are actually four other books that come after it? All four books follow the lives of Meg and Wallace Murray and their friend Calvin O'Keefe as they travel through time and space to fight against darkness and evil. "A Wrinkle in Time" won the Newbery Medal and the Sequoyah Book Award, and it's followed by the books "A Wind in the Door," "A Swiftly Tilting Planet," "Many Waters" and "An Acceptable Time."
The Nancy Drew series by Carolyn Keene
The Nancy Drew books are classic, and you may have read them as a child. I know my mom did! The main character and the books' namesake is an 18-year-old female detective. She helps her lawyer father solve mysteries involving things from ghost horses to hidden wills. These books are less of a "whodunnit" and more of a "how can we catch the person whodunnit." There are 56 original Nancy Drew books, as well as several film adaptations and many spinoff series for younger kids.
Like Nancy Drew, these books are classics! They tell the story of brothers Frank and Joe Hardy, whose father is also a lawyer, and who also solve mysteries (they could be Nancy Drew's cousins!). My dad read these as a kid, and when my sisters and I were younger, he would read them to us at bedtime. It was always exciting to get to the end of a chapter and then have to wait until the next night to find out what would happen next!
The Sew Zoey series by Chloe Taylor
These books are great if you have a kid who likes sewing or fashion. They're about a tween girl who likes to sew and starts her own sewing blog, also called Sew Zoey. (You guessed it, her name is Zoey.) Imagine trying to navigate middle school as a bit of an outcast while starting a fashion designing career!
This is another series that my mother read as a child and, subsequently, a series from which we own a lot of books. They are similar to the Nancy Drew and Hardy Boys books; in fact, all three series were created by the same man and then written by multiple ghostwriters. The Bobbsey twins are actually two sets of twins, twelve-year-old Nan and Bert and six-year-old Freddie and Flossie. Their family travels a lot and has adventures, and they solve mysteries along the way. I enjoyed these books a lot as a kid; they were very fun to read and realistic, too.
The reason I didn't list an author for these books is that the main character, Geronimo Stilton, is credited as the author. However, the idea for the books was thought of Elisabetta Demi, and they were originally published in Italy, before a United States version was created in 2004. The series tells the story of Geronimo, a mouse who runs his own newspaper in New Mouse City. (The rodential parodies of human cities and things are part of what makes these books great!) Along with his sister, cousin and nephew, he travels and goes on entertaining adventures. Another thing that's great is that there are TONS of these books, so if your kid likes them, you can always find more.
So there you have it: ten book series that I would heartily recommend. Hopefully your kid or tween will like at these one of the books I've recommended so that they can finish the summer reading program and move on to procrastinating on something else – namely their summer schoolwork or chores.
About Sarah Ray:
Hi! I'm Sarah Ray, and I'm 15 years old. I have always liked to write, and have kept a journal since the age of seven. I also enjoy reading, playing the piano, and doing crafts. I'm so excited to have my first official job doing some guest blogging for the Tulsa Kids magazine this summer!
---