Sweets for Thanksgiving – or Any Day
Pecan Pie Cake, Pumpkin Cream Pie, Butter Pecan Fudge and Pumpkin Bars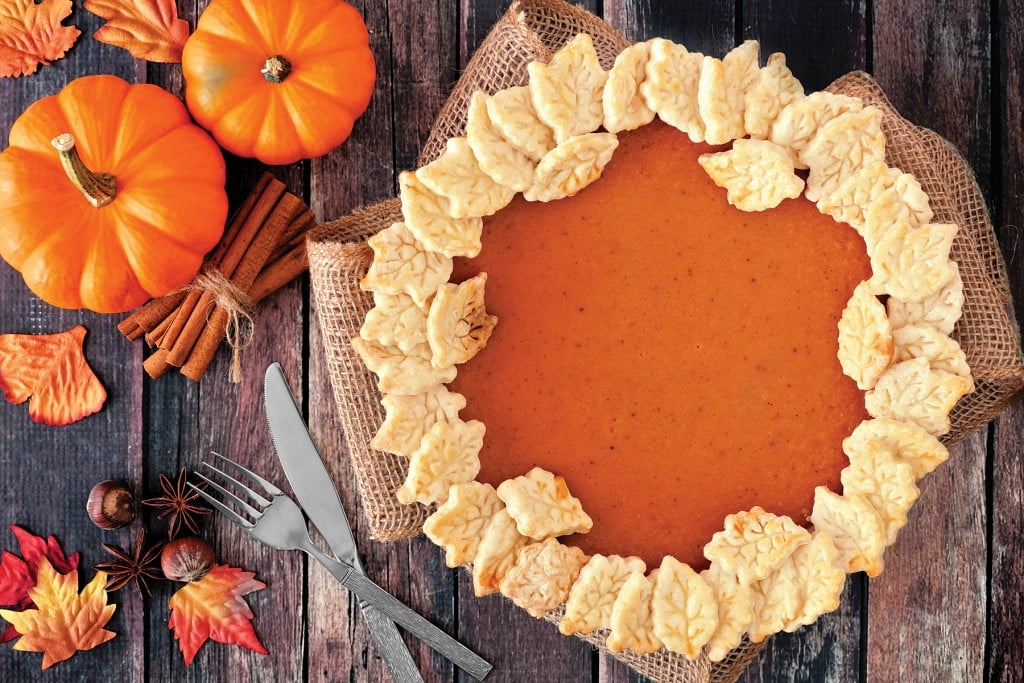 If we've ever needed a little extra sweetness at Thanksgiving, it's now.
Many of us will be spending Thanksgiving away from family this year. Some families who normally have houses packed with friends and relatives will opt for a smaller scale. And beloved grandparents who would normally leave their assisted living centers for the day will be greatly missed.
The thanks we give this year will be sincere. Kids will give thanks for their favorite stuffed animals and pets, and parents will give thanks for family and health. The gatherings may be smaller, but the love will be there as families reflect on an unprecedented year.
I have a lump in my throat thinking about our family Thanksgiving, which will be much smaller. I will terribly miss my aunt and uncle, cousins and grandmother. We may get together for dessert via Zoom, but I'll miss drying dishes side by side with my aunt and joking with my cousin about being too old for the kids' table.
One thing we won't be missing out on is dessert. I plan on making extra this year, so along with pumpkin and pecan pies, we will also have a pecan pie cake, pumpkin bars and maybe even some butter pecan fudge.
---
It's the flavor of pecan pie in an easy-to-make cake. It's a great recipe for kids to help make, and older children can make it by themselves, with help getting it in and out of the oven from an adult.
Pecan Pie Cake
1 box yellow cake mix
4 large eggs
1 stick butter, melted
1 1/2 cups light corn syrup
1/2 cup dark brown sugar, packed
1 teaspoon vanilla extract
1 1/2 cups chopped pecans
Preheat oven to 350 degrees. Lightly coat a 9-by-13-inch baking dish with butter or nonstick cooking spray.
Place the cake mix, 1 egg and the melted butter in a large mixing bowl. Beat with an electric mixer at medium speed until well blended, about 2 minutes. Place 2/3 cup of the batter in a medium bowl and set aside.
Spread the remaining batter in the baking dish, and bake until just lightly browned, about 15 minutes.
While the crust is cooking, add the remaining 3 eggs, corn syrup, brown sugar, vanilla and pecans to the reserved batter, and mix with an electric mixer at medium speed until well combined, 1 to 2 minutes.
Pour the filling on top of the crust and bake until set in the center, 50 to 60 minutes. Allow to cool completely before serving.
---
A layer of cream cheese on the bottom is a delicious surprise when biting into this pumpkin pie. And a layer of cardamom-spiced whipped cream makes it extra special.
Pumpkin Cream Pie
1 (9-inch) unbaked pie crust
Cream Cheese Layer:
1/3 cup sugar
1 (8-ounce) package cream cheese, softened
1/2 teaspoon vanilla
1/4 teaspoon ground cardamom
1 large egg
Pumpkin Layer:
3/4 cup firmly packed brown sugar
2 large eggs, beaten
1 (15-ounce) can pumpkin
1 tablespoon all-purpose flour
1 1/2 teaspoons pumpkin pie spice
1/2 cup half and half
Topping:
1 cup heavy whipping cream
2 tablespoons firmly packed brown sugar
1/4 teaspoon ground cardamom
Heat oven to 375 degrees. Place pie dough into 9-inch pan, fluting edges. Place in refrigerator until filling is ready.
Beat sugar, cream cheese, vanilla and 1/4 teaspoon cardamom at medium speed in bowl until fluffy. Add 1 egg and continue beating just until combined. Spread mixture evenly into crust.
Combine 3/4 cup brown sugar, 2 eggs, pumpkin, flour and pumpkin pie spice in bowl. Gradually stir in half and half. Carefully spoon pumpkin mixture over cream cheese layer in crust.
Cover edge of crust with 2-inch strip of aluminum foil. Bake 30 minutes. Remove foil. Continue baking 30-40 minutes or until knife inserted in center comes out clean. Cool on cooling rack 2 hours. Refrigerate at least 2 hours or until serving time.
Beat whipping cream, 2 tablespoons brown sugar and 1/4 teaspoon cardamom at high speed in bowl until stiff peaks form. Spoon or pipe whipped cream onto pie.
---
A friend gave me this recipe, her family's favorite for the holidays.
Butter Pecan Fudge
1 teaspoon plus 1/2 cup butter, cubed
1/2 cup sugar
1/2 cup packed brown sugar
1/2 cup heavy whipping cream
1/8 teaspoon salt
1 teaspoon vanilla extract
2 cups sifted confectioners sugar
1 cup coarsely chopped pecans, toasted
Line an 8-inch square pan with foil; grease foil with 1 teaspoon butter.
In a large heavy saucepan, combine remaining butter, granulated and brown sugars, cream and salt. Bring to a rapid boil over medium heat, stirring constantly. Cook, without stirring, until a candy thermometer reads 234 degrees. (This is the soft-ball stage). Remove from heat. Add vanilla to pan (do not stir).
Cool, without stirring, to 110 degrees, about 30 minutes. Beat with a spoon until fudge just begins to thicken. Gradually stir in confectioners' sugar until smooth; add nuts and continue stirring until fudge becomes very thick and just begins to lose its sheen. Immediately spread into prepared pan. Cool.
Using foil, lift fudge out of pan. Remove foil; cut fudge into 1-inch squares. Store between layers of parchment paper in an airtight container.
---
These bars look pretty when cut and placed on a tray. It's a good alternative for those who don't love pie.
Pumpkin Bars
Makes 48 bars
1 1/2 cups sugar
3/4 cup butter, softened
1 (15-ounce) can pumpkin
4 large eggs
2 1/4 cups all-purpose flour
2 teaspoons baking powder
1 teaspoon baking soda
1/2 teaspoon salt
1/2 teaspoon ground cinnamon
Frosting:
3 cups powdered sugar
1/3 cup butter, softened
3 ounces cream cheese, softened
2 to 3 tablespoons milk
1/2 cup chopped pecans
Heat oven to 350 degrees. Combine sugar, 3/4 cup butter, pumpkin and eggs in bowl. Beat at medium speed, scraping bowl often, until well mixed. Add flour, baking powder, baking soda, salt and cinnamon; beat at low speed, scraping bowl often, until well mixed.
Pour into 15x10x1-inch ungreased baking pan. Bake 30-40 minutes or until toothpick inserted in center comes out clean. Cool completely.
Combine all frosting ingredients except milk in bowl. Beat at medium speed, gradually adding enough milk for desired spreading consistency. Frost cooled bars. Sprinkle with pecans. Cut into bars.
Natalie Mikles is a mom of three. She writes about food, sharing recipes for busy families and picky eaters. She has been recognized for her food columns as well as features on families and issues affecting local children. She loves pizza and movie nights with her family.
---