Super-Simple Ice Cream Recipes
Kid-friendly frozen treat recipes you can make without an ice cream maker!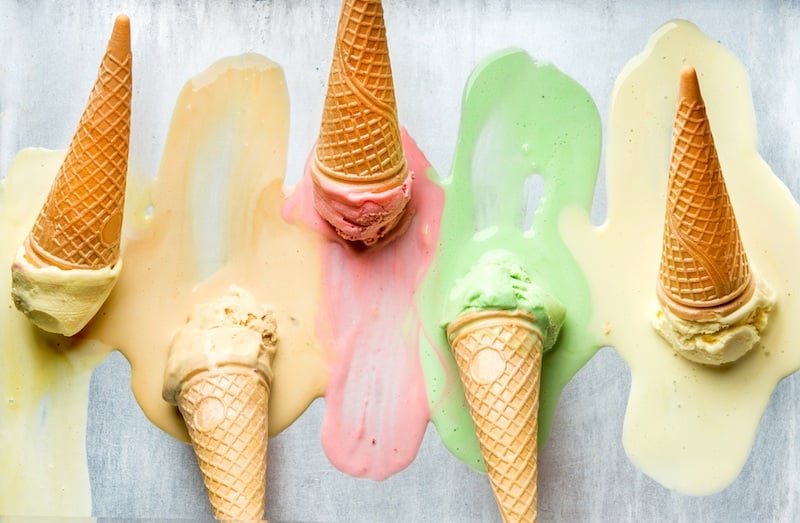 Love the taste of homemade ice cream but don't want the hassle? Here are some easy ice cream recipes that only use a few ingredients! Plus, no ice cream maker required!
1-Ingredient Banana Ice Cream
Slice banana and freeze overnight.
Place frozen banana in blender or food processer and blend until creamy.
Enjoy!
Variations: Mix in chocolate chips, Nutella, your favorite nut butter, berries, Heath toffee bits, or anything else you can think of!
---
Two-ingredient No-Churn Vanilla Ice Cream
1 14 oz. can sweetened-condensed milk
2 c. heavy cream, cold
Vanilla or other flavoring (optional)
Pour sweetened condensed milk in a bowl. If adding vanilla, almond, mint or other flavoring extract, add to the sweetened condensed milk.
Beat heavy cream until it holds stiff peaks.
Lighten sweetened condensed milk by folding in a small amount of whipped cream with a spatula. Fold in remainder of the whipped cream until blended. (Do not over-mix. It's okay to have a few lumps!)
Pour mixture into a container such as a glass loaf pan, cover with wax paper and place in freezer until frozen. If you want to add cookie crumbles, candy, nuts or other mix-ins, layer them in as you put the mixture in the container, or carefully swirl through before you put it in the container before placing in the freezer.
---
No-Churn Chocolate Ice Cream
1 14 oz. can sweetened-condensed milk
1/2 c. unsweetened natural cocoa powder
1 tsp. vanilla extract
Pinch salt
2 c. heavy cream, cold
Whisk first four ingredients together in a large bowl
In a separate bowl, whip the cream until it holds stiff peaks.
Lighten the sweetened-condensed milk mixture by folding in a small amount of whipped cream with a spatula. Fold in remainder of whipped cream until blended, being careful not to overmix.
Pour into a chilled, metal loaf pan and place in freezer. Add any desired mix-ins after about two hours. Continue to freeze until it reaches your desired consistency, about five hours total.
---
Three-ingredient Raspbery Sorbet
1/4 c. water
1/4 c. sugar
1 bag (12 oz.) frozen raspberries (or 3 c. fresh raspberries, frozen)
Whipped cream (optional, for topping)
Stir together water and sugar.
In food processor, pulse raspberries until roughly chopped. Continue pulsing as you pour in the sugar/water mixture. Pulse until mixture is smooth.
Transfer to airtight container and freeze until desired consistency is reached (about 30 min.).
---
Refreshing Strawberry Granita
​2 lbs. ripe strawberries, rinsed, stems removed and cut in half
1/3 c. sugar
1 c. water
1/2 tsp. lemon juice (optional)
Pinch salt
In a blender, pulse all ingredients several times. Once the mixture is moving, blend until smooth.
Transfer mixture to a large baking dish (large enough so that puree is only about 3/8 inch deep)
Place dish in freezer and freeze about 45 minutes, until the edges are slightly frozen and the center is slushy.
Stir the mixture from the outside in toward the center. Chill 30-40 min. more. Repeat stirring/chilling process 3-4 times, until the granita looks dry and fluffy.
---
Three-ingredient Watermelon Popsicles
You don't have to have popsicles molds in order to make these–freeze your popsicles in whatever you have on hand, from ice cube trays to recycled yougurt cups to muffin tins! Just make sure you have popsicle sticks!
1 lb. watermelon, cut into small chunks
2 Tbsp. sugar
2 Tbsp. lime juice
Process all ingredients in a blender until smooth–add water (or fruit juice) if necessary to create a liquid consistency.
Pour into popsicle molds, and freeze.
Want to skip the recipes and go straight to the ice cream? Check out our list of places to buy ice cream in Tulsa!