Summertime Finger Food: Forks Not Required
Fruit Kabobs with Cottage Cheese Dip, Teriyaki Salmon, Pizza Sticks and Bacon-Ranch Pinwheels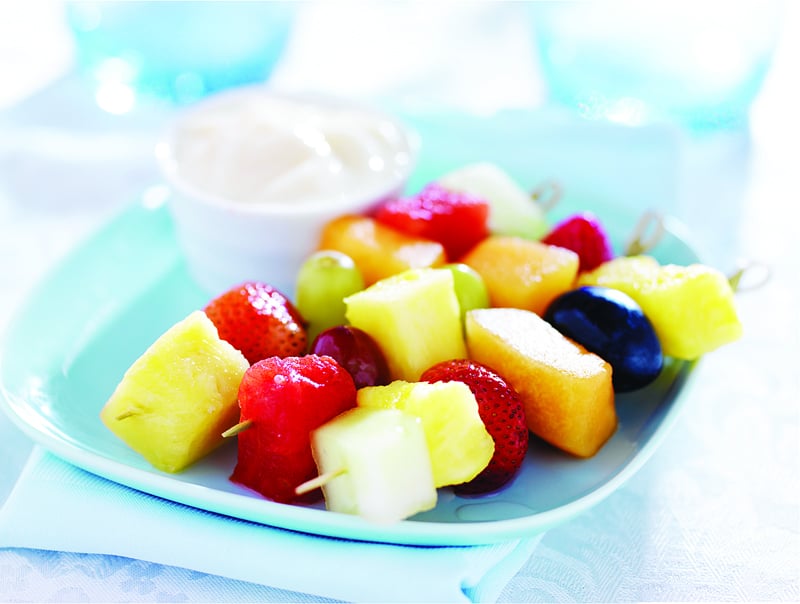 Summertime is the time for fun food. And for kids, that means foregoing forks in place of finger foods.
My kids tend to eat a lot more finger foods in the summer months. In between long days spent playing outside, we snack on sandwiches, eat popsicles and pull dinner off kabobs.
And while we're a little looser with dinner times and gathering around the table every night in the summer, it doesn't mean we have to sacrifice our kids' nutrition. Dinner may be eaten by the swimming pool or on the front porch, but it can still be healthy.
Here are some recipes that will keep your family happy and healthy this summer. Just be sure to have plenty of napkins, since forks aren't required.
---
Thread fruit on wooden kabobs, and serve with this yummy dip.
Fruit Kabobs with Cottage Cheese Dip
1 cup cottage cheese
2 tablespoons milk
1 teaspoon honey
4 to 6 teaspoons fruit jam
Blend the cottage cheese, milk and honey together until smooth. Cover and chill the dip until ready to serve. It will keep in the refrigerator for a few days.
Before serving, add jam and make a pretty swirl using a toothpick. Serve with cut fruit or graham crackers.
---
Set aside any fussy salmon recipes you have. For summer, cut it into cubes, place on a hot grill and serve on kabobs or as a fun finger food with raw veggies.
Teriyaki Salmon
8 ounce skinless salmon filet
Small piece of fresh ginger
1 1/2 tablespoons soy sauce
1 tablespoon honey
1 tablespoon sesame seeds
Cut salmon into 1-inch cubes. Place on metal skewers.
Finely grate ginger until you have about ½ teaspoon. Combine ginger with soy sauce and honey, and mix together. Brush sauce on salmon.
Cook salmon on a hot outdoor grill until flaky and done. Brush more sauce on while cooking. Once off the grill, sprinkle with sesame seeds.
---
Serve these pizza sticks with marinara sauce for dipping.
Pizza Sticks
1 refrigerated pizza crust
1 jar tomato bruschetta topping or pizza sauce
1 cup shredded mozzarella cheese
Top crust with topping. Sprinkle with cheese. Bake at 450 degrees, on a pizza stone or directly on rack, 12 minutes or until golden and bubbly.
Cut pizza lengthwise into strips.
---
Kids love these tortillas filled with bacon and ranch dressing.
Bacon-Ranch Pinwheels
8 ounces cream cheese, softened
1/4 cup ranch dressing
1/2 cup finely shredded cheddar cheese
6 pieces bacon, cooked and crumbled
1 tablespoon chopped chives
Flour tortillas
In a small bowl, combine cream cheese and ranch dressing. Mix until smooth. Stir in cheddar cheese, bacon and chives.
Spread in a generous layer over tortillas. Roll tortillas tightly and slice into 1-inch pieces.
---
First Finger Foods
Babies can get in on the finger food action, too. Here are some good first finger food bites for babies, once the doctor has given the OK.
Steamed sweet potato sticks
Soft ripe banana, mango, peach or melon
Strips of toast or broiled cheese toast
Finger Foods for Kids
Consider these easy foods to pack in lunchboxes for day camp, to bring along for a picnic or to hand out around the pool. No forks required!
Deli meat and cheese rollups
Mashed banana and peanut butter sandwiches
English muffin pizzas
Mini meatballs
Pita bread stuffed with hummus and grilled chicken strips (serve warm or cold)
Sausage link rolled in a cooked pancake