Summer Camps for Special Kids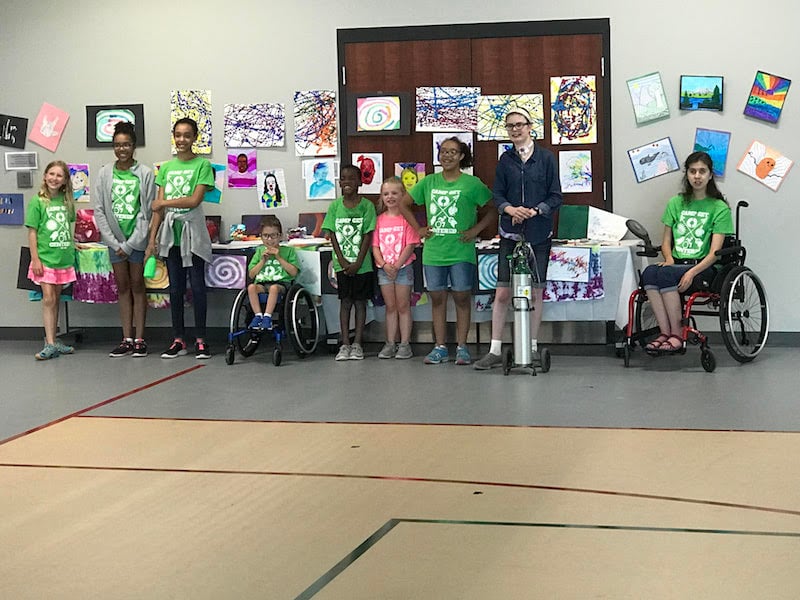 So, I'm going to start off by saying that this post is going to be a little different than my other ones so far. This one is especially near and dear to my heart, and has a little more about me in it.
If you met me, you would probably notice that I look a little different than some other teenagers. (You may have noticed this already from the picture next to my bio.) I have a trach and am on oxygen. Now, for those of you that aren't doctors or nurses, I'll explain what that means.
Aside from being born with a congenital heart defect, I also have scoliosis. Two and a half years ago (in 2016), I had back surgery to correct it. Long story short, I ended up spending two months in the hospital, having the trach put in to help me breathe, and having to be on oxygen. All of this means that I've had to adjust to a new kind of life.
I was used to having some medical issues, because I'd had surgeries in the past to help repair my heart, but those were things people couldn't really see. If you looked at me when I was in second grade, or seventh grade, I looked just like a normal kid. Scars from multiple open heart surgeries? Yes. Gets out of breath when exercising? Check. But people didn't just look at me and instantly know I had medical problems.
Then, after back surgery, I came home with a trach, oxygen, and a ventilator, all to help me breathe. And one of the things I worried about was people reacting to me having the oxygen tank and trach. People who knew me before the surgery understood. They had prayed for me, visited me in the hospital, and understood why I needed the trach and oxygen. When I was finally able to rejoin my eighth grade class in March, it was great to see everyone again! Everyone understood why I had to have someone come to school with me in case there was an emergency with my trach. (Side note: With a trach, it's a lot harder to cough up mucus, or secretions, in your throat, so it has to be suctioned out. Kind of gross, but it doesn't hurt.)
And then, I graduated eighth grade! I started high school at Bishop Kelley. Suddenly, I was meeting lots of new people, who hadn't known me before I had the trach. So the first thing they knew about me when we met was that I had an oxygen tank. There were lots of questions. There always are.
I also noticed that people seemed to remember and recognize me more easily, even if we'd only met one time, because of my oxygen tank. So they'd be all, Hi, Sarah! And I'd be like Hi… person who I met once and whose name I forgot!
Anyway, it took some getting used to. I still get questions, usually from little kids, when we go out in public. And I'm happy to explain to them why I have the oxygen and trach. The simplest explanation I give is, "Well, they help me to breathe." I'm actually glad that kids ask, because I want to be able to educate them about it, and how I can still do lots of things they can do.
I have attended two great summer camps where I have met and connected with other kids with disabilities. One of them is Hope's Crossing, which was started about ten years ago by Mr. Bob Degen. It's a week-long day camp for kids with special needs that takes place out at Camp Loughridge.
The best thing about it is that each camper is paired up with their own counselor, and they get to spend the week going fishing, canoeing, swimming, doing arts and crafts and archery. These are all things that are a little harder for special needs kids to do, but at Hope's Crossing they get to do them at their own pace. The counselors there are usually college students, and some of them have worked there for multiple years.
The thing I've enjoyed most about going to camp at Hope's Crossing is that when I'm there, it's totally normal to have what some people would call a disability. In fact, I have realized that I'm really blessed because I can walk and go to school, too! Sometimes I take those things for granted (as we all do, I'm sure), so it's nice to get some perspective while spending time with other kids who've gone through challenges.
I've been going to Hope's Crossing since I was nine years old but was unable to attend this year because of a summer class I was taking during the same time. So when my mom and I heard about camps at the Center for Individuals with Physical Challenges, we decide to try that!
The Center, as it's called, just started its youth summer camp program this year. They're offering several different types of camps, including Water Week, Sports Week, and ARTventure, which is the one I attended this week. I thought it was really fun! Some of the things we did included tie-dying towels, making and painting clay sculptures, playing wheelchair basketball, and decorating the shells of some tortoises from an animal sanctuary (with washable and edible paint, of course)! We also took two field trips, where we visited the glassblowing studio downtown, as well as several of Tulsa's colorful murals.
I've gotten to do a lot at these two camps. But the thing I've enjoyed most of all is meeting other people who have gone through similar experiences and medical journeys. That's what is great about both of these camps: making connections with others, and just having a fun time, no matter your situation.
You may know someone who would enjoy attending one of these camps. You may know a kid who's in a wheelchair, is visually impaired, or has other special needs. But even if you don't, everyone can benefit from being more accepting of others.
About Sarah Ray:
Hi! I'm Sarah Ray, and I'm 15 years old. I have always liked to write, and have kept a journal since the age of seven. I also enjoy reading, playing the piano, and doing crafts. I'm so excited to have my first official job doing some guest blogging for the Tulsa Kids magazine this summer!
---