Spooky Reads for 2021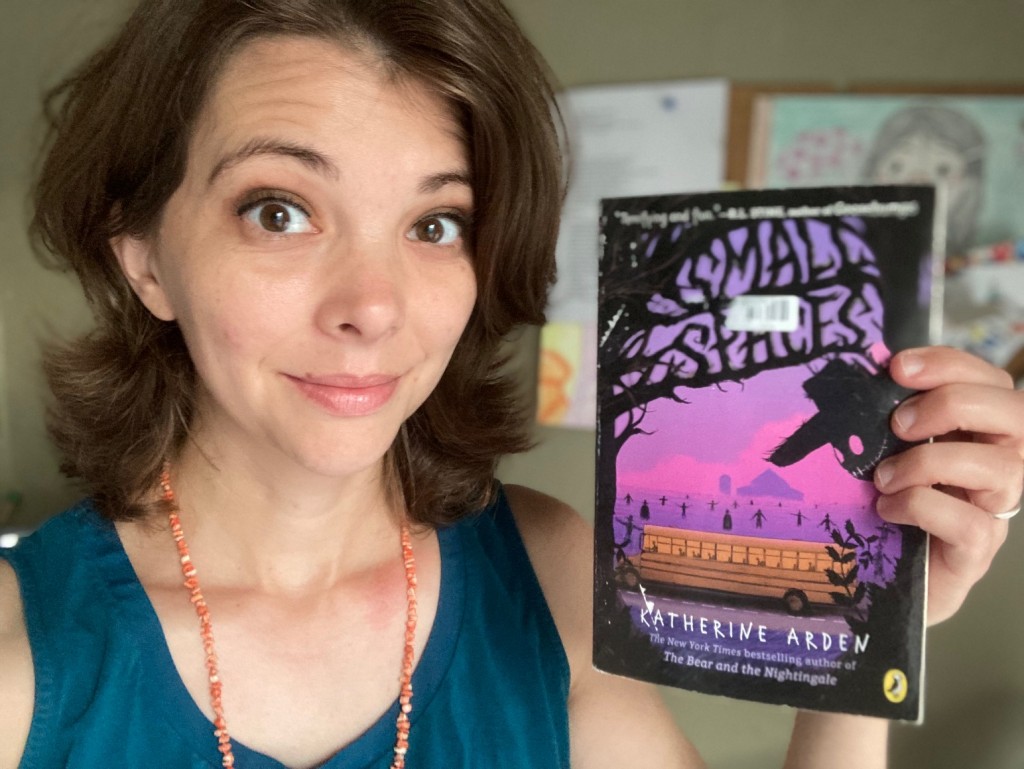 I took last year off from blogging about ghostly, mostly middle grade books. But it's something I've looked forward to every other year, so I wanted to get back into it! Plus, read to the end to learn about Tulsa City-County Library's Spooky Story Contest!
Spooky kidlit series recap:
I don't have a specific theme for this year. I just chose works that sounded interesting and potentially creepy. All I really want is a light scare, a slight feeling of discomfort and of course, interesting plot/characters.
I loved Justina Ireland's "Dread Nation" duology and got to hear her speak at a library event a couple years ago, which was amazing. ("Dread Nation" is historical zombie fiction, so would be an excellent read for this time of year!) Anyway, I was thrilled when "Ophie's Ghosts" popped up in my Amazon search for scary kids books. And it's definitely my top book on this list.
"Ophie's Ghosts" tells the story of Ophelia, a 12-year-old Black girl who moves from Georgia to Pittsburg in 1922, following her father's murder. The night of that tragedy, Ophie also learns that she can see ghosts. In Pittsburg, she is forced to drop out of school in order to work with her mother for a bitter, wealthy white woman – in a mansion that happens to be full of ghosts. One of the ghosts has been murdered but doesn't remember who her killer was, and Ophie is determined to solve the mystery. At the same time, a relative warns Ophie that ghosts are vengeful creatures, who will do whatever it takes to get what they want.
In addition to a page-turning mystery, this book also gives an interesting perspective on Pittsburg during the 1920s. There is work and housing shortages, discrimination and segregation, etc., all of which are touched on in this book.
This one had been on my to-read list for at least a year! Elizabeth is a timid girl who moves with her father and imaginary friend, Zenobia, to her father's childhood home following her mother's abandonment. Elizabeth's father tolerates Zenobia, setting places for her at dinner and making room for her, although he doesn't believe she exists. On the other hand, Elizabeth has constant conversations with Zenobia, a bold, free spirit who enjoys studying poisons, seances, etc.
Like "Ophie's Ghosts," this book is set in a large home full of secrets. But it's more of just a fun, slightly dark tale rather than a social or historical commentary. Although Elizabeth's next-to-non-existent relationship with her father does play an important role. The villains of the tale are unique and creepy, and the question of whether or not Zenobia is real adds an additional layer of interest. It wasn't terrifying, but would probably be a good scare for its target audience.
"Small Spaces" takes place on a haunted farm in Vermont. Think corn mazes, apple picking, crisp weather and mist – the atmosphere is fantastic. A great way to welcome in autumn! Again, the protagonist is a young girl – Ollie. She has lost her mother fairly recently in a fiery accident. Her dad keeps trying to reconnect by baking fresh bread and from-scratch muffins, etc., but Ollie seems to just be trying to protect herself from further grief by refusing to let people get close to her. She's given up chess club and doesn't really have any friends or other favorite activities, despite being brilliant at math and a fan of literature.
Towards the beginning of the book, Ollie becomes the owner of a diary titled "Small Spaces." The book tells the story of a woman who was courted by two brothers, and their mysterious interactions with "The Smiling Man." Ollie quickly realizes the story is true and took place on the small farm her class is visiting on a field trip. After the bus breaks down and the children are stuck on a foggy farm road – with no cell phone reception – Ollie decides to abandon the bus, believing it more dangerous to stay there, thanks to "Small Spaces." Two classmates follow Ollie, and their friendship grows over the course of the book as they figure out how to survive and save their classmates. More than just being a good ghost story, "Small Spaces" really takes a look at grief and relationships altered by loss.
Do your kids love scary stories? Students ages 8-18 are invited to enter TCCL's Spooky Story Contest from October 1-30! See additional details here.
What books get you in the mood for spooky season? Or what books are on your to-be-read pile for October? I'm always looking for new recommendations, so share them in the comments! 🙂
---