Ghost Stories!
Three authors to check out if you want a mild to moderate scare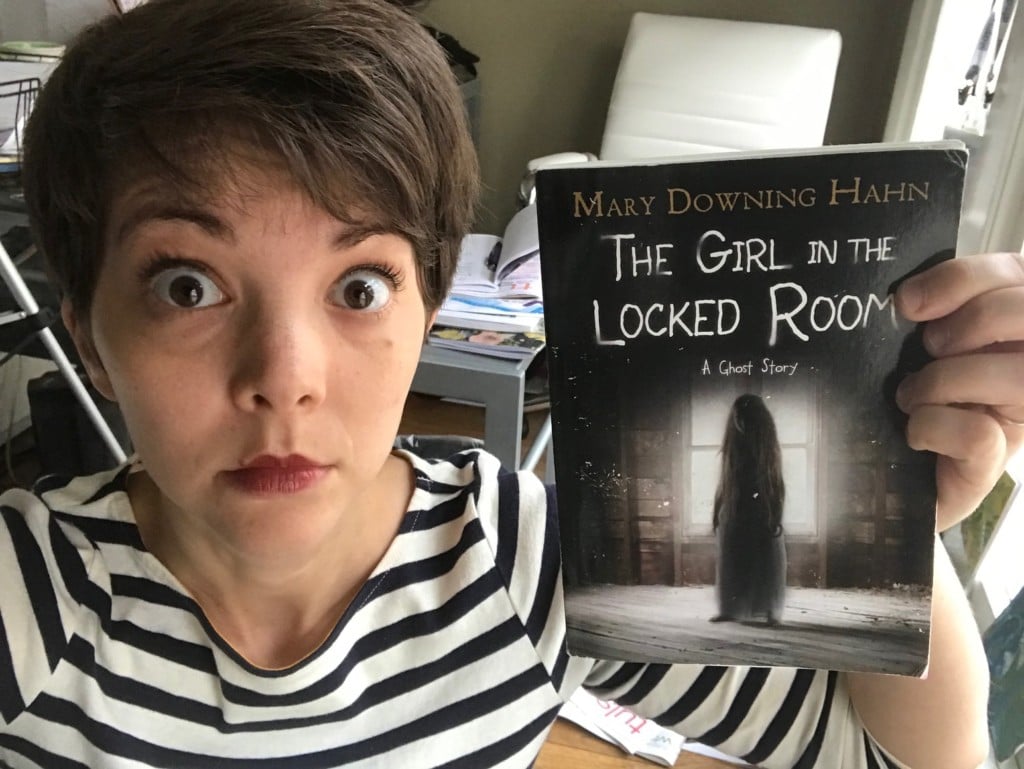 For the third October in a row, I've given myself the delightful job of trying to scare myself by reading Halloween-y children's books. Find my previous posts here and here. (I think the scariest one I've read so far is still "The Night Gardener" by Jonathan Auxier.)
This year, I ended up reading five ghost stories by three different authors. After several months of having a milkcrate full of books sitting on our living room floor, I finally made it over to Gardner's to trade them in, coming away with a stack of middle grade ghost stories.
Side note: If you haven't been to Gardner's lately, they completely refreshed their children's area, with a new floor, better-organized shelves, and even a small table where kids can sit and read! They also had a corner section full of "scary" stories, which made browsing for ghost books very easy!
Instead of writing about each book individually, I'm going to divide this post up by author. Two authors I was previously unfamiliar with; the third I had read before, but the two ghost stories were new to me. Happy haunted reading!
1. Mary Downing Hahn
I feel like I should have heard of Mary Downing Hahn before, as she has been quite prolific since the late 1970s! A former school librarian, Hahn specializes in ghost stories for younger children. (Note: Hahn's Wikipedia article calls her "a writer of young adult novels," but I wouldn't classify the three stories I read as YA, as the protagonists were only around 12 years old. Maybe some of her other work would be for an older audience, though.)
I read three of Hahn's perhaps better-known works, "Wait Till Helen Comes: A Ghost Story," "The Girl in the Locked Room: A Ghost Story" and "The Old Willis Place: A Ghost Story." If you're looking for something that really makes you shiver, I'd recommend any of these, particularly Helen and The Old Willis Place. But you should also know that all of them end happily–the ghosts, even the more dreadful ones, find peace and forgiveness.
*Spoilers*
"Wait Till Helen Comes" is about a blended family that moves to the middle of nowhere so the parents can indulge their artistic pursuits. Now, this may be fine, but it was a little annoying that the parents decided to uproot their kids, take them someplace where there was nothing to do except explore the land, and then leave them to their own devices day in and day out. The biggest problem, however, is that the youngest child, Heather, seems determined to make life miserable for her new step family. The older children try to be kind to her, but she inevitably runs to her dad, telling lies about how they're mistreating her.
Things get worse when Heather meets Helen, and starts threatening her step-siblings: "Wait till Helen comes." Helen sneaks into their house and destroys everything they love (leaving Heather's things untouched), but the parents of course don't believe that there's a ghost at hand. Eventually, the narrator, Molly, realizes that Helen may be more of a danger to Heather than to the rest of the family, and determines to overcome her fear and bitterness in order to do whatever is necessary to save Heather.
In the end, it is revealed that both Helen and Heather had a tragic but wholly accidental role in the death of their parents and mother, respectively. This guilt has led them both to act out–but they are able, with Molly's help, to let go of their secret and find healing.
So the parts with Helen, and Heather playing and talking with a ghost no one else can see, are really pretty creepy. But in the end, everyone is redeemed.
This redemption also happens in "The Old Willis Place," which is told partly from the perspective of two ghost children. You don't find out how they died until late in the story, and while they themselves aren't scary, not knowing what happened to them (other than that it was something really bad) is plenty spine-chilling! Plus, there may or may not be another ghost haunting "The Old Willis Place," determined to finish punishing the children. And the presence of this third ghost will certainly get you in the Halloween mood!
*End Spoilers*
If you have a child who wants to be a little bit scared but also be able to sleep at night, I'd recommend any of these works by Hahn. I look forward to reading more of her ghost stories in the future!
2. Eva Ibbotson
A previous roommate (with excellent taste in books) introduced me to Ibbotson's "Island of the Aunts" several years ago, and since then I've picked up a few of her other books. This month, I read Ibbotson's "Dial-a-Ghost" and "The Great Ghost Rescue," both of which are very sympathetic to the plight of poor ghosts in a modern world.
"Caring for nature" is a big theme in several of Ibbotson's books, and these two use ghosts as a representation of how we need to do better about thinking about how our actions influence the world around us.
In "The Great Ghost Rescue," a young boy seeks to establish a sanctuary for ghosts who have been driven out of their homes, thanks to modern technology and development. For example, an old river ghost has become miserable due to the pollution in his haunted stream.
In "Dial-a-Ghost," a pair of kindly humans start a business placing homeless ghosts in the homes of people who would like a little haunting in their lives.
While the ghosts are treated very sympathetically in each of these novels, in "Dial-a-Ghost," the ghosts are fairly human (except for a pair of guilt-tortured ghosts who have let themselves become quite decrepit and awful), while the ghosts in "The Great Ghost Rescue" are very kind, although they pride themselves on looking (and smelling, and sounding) terrifying.
Both of these books were more humorous than scary, so if you have a child who is fascinated by ghosts but doesn't like to be scared, they'd be a good choice.
3. Laura Ruby
Laura Ruby has published several books in a variety of genres, including "Lily's Ghosts," another book about a young girl who has just moved to a new town with her mom (this was a common theme in all three of Hahn's books). Shortly after moving into her great-uncle's old mansion, Lily starts noticing bizarre happenings, coming to the conclusion that the house is haunted.
She and a new friend start researching the history of the house/Lily's ancestors, trying to figure out who the ghosts are and what they want. In addition to Lily's perspective, you also get the perspective of several of the ghosts, including one goofy high school ghost determined to revenge herself on an old rival. Her "haunting" includes dyeing Lily's hair pink and smearing bright lipstick on her face.
The only ghost whose perspective you don't get is the young man whose hands are on fire. All you know is that this ghost follows Lily and her mother around town and lives in Lily's house, trying to get her attention. The teen ghost is scared of him, as is the town psychic, who is shocked and dismayed when she realizes she can actually see a ghost. Who is he?! What are his intentions?! Eeks!
Through this all is Lily's changing relationship with her mother, a free-spirited artist who keeps falling for the wrong men, resulting in their family's constant upheaval.
This story ends with a pretty big twist, so it should keep young readers interested all the way through the final page!
What are your favorite ghost stories? What are you and your kids reading this Halloween season? Feel free to share in the comments!
---