Recipes That Serve Up Some Oklahoma History
From old-fashioned biscuit doughnuts to classic diner fare, here are 3 recipes that pay homage to Oklahoma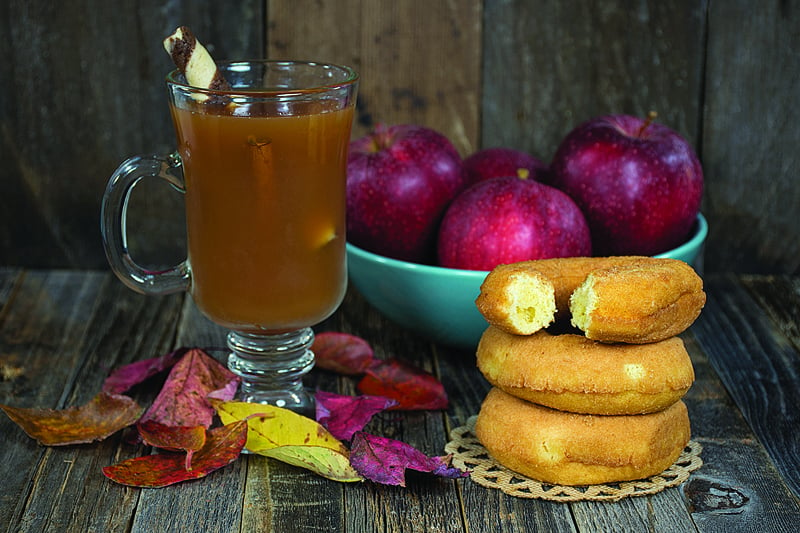 One of my family's favorite places to hike is the Keystone Ancient Forest in Sand Springs.
Walking through the Cross Timbers, up the same forest walked by writer Washington Irving, is a perfect spot to imagine headless horsemen racing past the post oak trees. It's hard not to picture scenes from Irving's The Legend of Sleepy Hollow when walking the trails flanked by dense forest.
Irving's classic wasn't inspired by his exploration of Oklahoma Territory. Sleepy Hollow was written in 1820, 12 years before Irving made his way through the forested area of what is now 1,200 acres of the Keystone Ancient Forest.
Washington Irving Monument, located in Owen Park
But that shouldn't stop you from retelling the spooky tale on a fall hike with your family. Last fall, I carried a backpack with hot apple cider and cinnamon-coated doughnuts for this hike. We all loved this delicious treat, sitting on rocks at the halfway mark overlooking Keystone Lake.
It's amazing how many opportunities for learning are all around us.
As parents, it takes effort for us to plan and seek out these types of experiences, but it's worth it. It's mini-adventures like this that expand our kids' intellectual curiosity.
My friend, mother of four DeAnna Cooper, likened going on family adventures to doing a marathon. She said, "The entire four-and-a-half hours would be me thinking, 'Man, this is hard…Be patient…Never again…Why am I doing this?' Then enough time would pass, and I would forget about all the struggles and sign up for another one."
She's right. It's sometimes hard. It's tiring. But in the end, it's worth it for us to create fun out of learning, to open our kids' worlds and vision of geography and history through exploration.
---
Pack apple cider in a thermos and these doughnuts in an insulated bag for a perfectly sweet fall hike.
Easy Cinnamon Doughnuts
Makes 10 doughnuts
Canola oil
1 stick butter, melted
1 1/2 tablespoons ground cinnamon
1 cup sugar
1 (10-count) can biscuits (Any kind of biscuits are fine, except flaky layers. Flaky layers don't make good doughnuts.)
Add enough oil to a pan to create a depth of ½ inch. Heat on medium-high heat for about 5 minutes to get oil hot.
Place melted butter in a medium-size bowl. In a separate medium-size bowl, combine cinnamon and sugar.
Using a plastic bottle cap, cut the center out of each biscuit. Lower heat of oil to medium. Drop each biscuit into the oil, turning when golden. Once the doughnuts are golden on both sides, remove to paper towels or a cooling rack. Repeat until all the doughnuts are cooked, including the doughnut holes. Watch carefully when cooking doughnuts as they can burn quickly.
Dip both sides of each doughnut into melted butter, then press both sides into the cinnamon-sugar mixture.
---
When studying Oklahoma history and homesteaders, there's no better place to visit than Harn Homestead in Oklahoma City. Expand on that experience by cooking a simple dinner like that made by Oklahoma settlers more than 100 years ago.
Here's an old-fashioned recipe for spoon bread, similar to what would have been made in Oklahoma Indian Territory.
Oklahoma Spoon Bread
3 cups milk
1 1/4 cups yellow cornmeal
3 eggs, beaten
1 teaspoon salt
1 3/4 teaspoons baking powder
2 tablespoons butter, melted
Measure milk into a saucepan and bring to a boil. Add the cornmeal; cook and stir for several minutes, until cornmeal has absorbed all the milk. Remove from heat and allow to cool for about 1 hour. The mixture will be very stiff.
Preheat the oven to 375 degrees. Lightly grease a 1 1/2 quart casserole dish. Place the cornmeal mixture into a large bowl. Stir in the eggs, salt, baking powder and butter. Pour into the prepared casserole dish.
Bake for 35 minutes in the preheated oven, or until the edges become lightly toasted. Serve hot directly from the dish by the spoonful.
---
A lesson on the Mother Road can come to life with a trip to the Route 66 Museum in Clinton. Kids will like combining this trip with a stop at Pops. And at home, you can make some nostalgic food like you would have found at a diner along old Route 66.
Crockpot Chili Dogs
Serves 8
1 pound lean ground beef
1 (15-ounce) can tomato sauce
1/2 cup water
2 tablespoons Worcestershire sauce
1/2 teaspoon garlic powder
1/2 teaspoon ground mustard
1 teaspoon chili powder
1/2 teaspoon ground black pepper
Dash cayenne pepper
8 hot dogs
8 hot dog buns, split
Toppings: shredded cheddar cheese, relish, chopped onion
In a large skillet, cook ground beef over medium heat 6-8 minutes or until no longer pink, breaking into crumbles; drain. Stir in tomato sauce, water, Worcestershire sauce and seasonings.
Place hot dogs in a 3-qt. slow cooker; top with beef mixture. Cook, covered, on low 4 hours or until heated through. Serve on buns with toppings.
---