Yay! It's Pizza Night!
Basic Pizza Crust, English Muffin Pizzas and No-Cook Pizza Sauce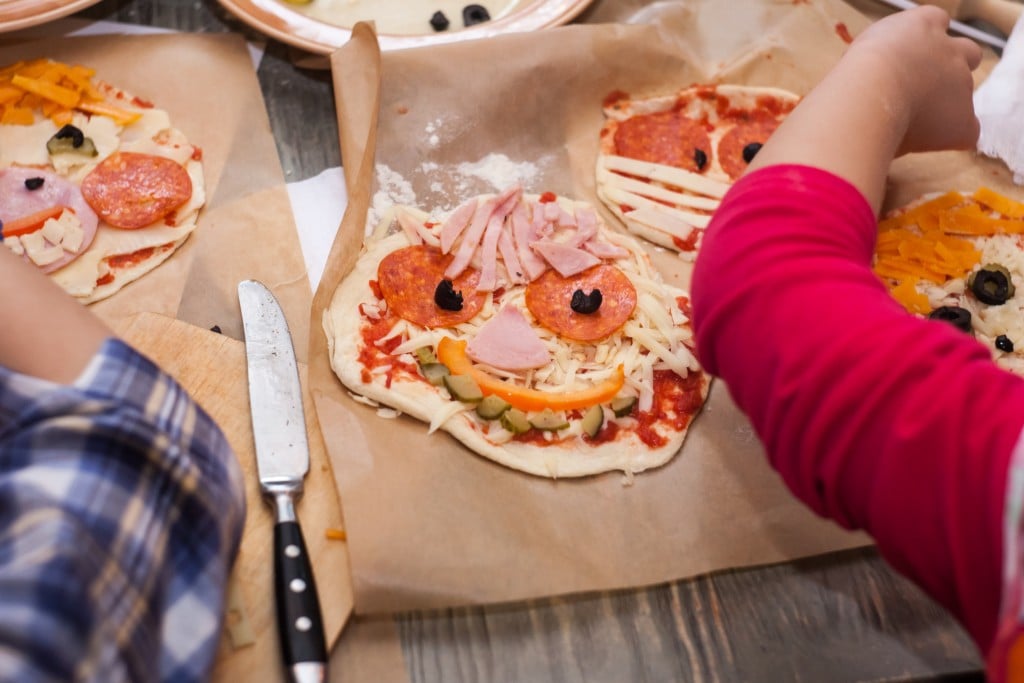 Friday night is pizza night at our house.
This is for a few reasons. One, everyone, from my husband to the kids to the dog, likes pizza. Two, the kitchen is my happy place, but it's closed on Fridays. Third, do you know how easy it is to clean up after a pizza dinner? On particularly slovenly nights, we might all hover around the cardboard box, no dishes to wash and not even a paper plate to throw away.
You would think we would be sick of pizza, especially since Friday is also pizza day at my kids' school. But pizza for lunch and pizza for dinner doesn't detract my kids.
Even after all that pizza, we're always on the lookout for more. My ears perk up when I hear about a new pizza restaurant or read a good recipe for pizza dough.
Sometimes we have fun making our own pizza. We've made big pizzas on a pizza stone, pizza on the grill and mini pizzas that the kids can make themselves. We even like simple English muffin pizzas, which are great in a pinch.
If making a pizza crust sounds like too much work, you might give it a try just to get a feel for it. If it's still not your thing, there are some good ready-made or almost ready-made crusts out there. Trader Joe's pizza dough balls are great for homemade pizza nights. Or try the pizza crusts at Whole Foods.
For an even easier homemade pizza night, pick up a pizza kit at Andolini's, where you can get the dough and everything you need to toss, top and bake your own pizza. Watch a quick video on how to toss your dough before you begin. This is such fun for the whole family.
No matter if you make your pizza from scratch or have it delivered, enjoy it with the little people you love most.
Basic Pizza Crust
Makes 1 (12-inch) pizza
1 (.25 ounce) package active dry yeast
1 teaspoon white sugar
1 cup warm water (110 degrees)
2 ½ cups bread flour
1 teaspoon salt
2 tablespoons olive oil
Preheat oven to 450 degrees. In a medium bowl, dissolve yeast and sugar in warm water. Let stand until creamy, about 10 minutes.
Stir in flour, salt and oil. Beat until smooth. Let rest for 5 minutes.
Turn dough out onto a lightly floured surface and pat or roll into a round. Transfer crust to a lightly greased pizza pan dusted with cornmeal. Spread with favorite toppings and bake in preheated oven for 15 to 20 minutes or until golden brown.
English Muffin Pizzas
Serves 4
4 English muffins, split
½ cup pizza sauce
2 cups shredded mozzarella cheese
16 slices pepperoni
Preheat the oven to 375 degrees.
Place the English muffins onto a baking sheet. Spoon some of the pizza sauce onto each one. Top with mozzarella cheese and pepperoni.
Bake for 10 minutes or until the cheese is melted and browned on the edges.
No-Cook Pizza Sauce
Makes 2 cups
1 (28-ounce) can diced tomatoes, drained
2 tablespoons extra-virgin olive oil
1 teaspoon dried oregano
Handful of fresh basil
1 teaspoon kosher salt
½ teaspoon freshly ground black pepper
Pinch of sugar
Place all ingredients in a blender or food processor; process until you reach the smoothness you like.
5 Favorite Local Pizzas
Maui Magic – This sweet pizza at the Hideaway is a favorite of kids. It starts with red sauce and mozzarella, and is topped with Canadian bacon, pineapple and mandarin oranges. Tell the kids it's Moana's favorite pizza and they'll love it even more.
BBQ Chicken – Andolini's BBQ Chicken pizza is another kid favorite. Smoked apple barbecue sauce, mozzarella, chicken breast and crispy onion strings top this one. Some kids may want to pass on the onion strings. That's OK, it will leave more for mom.
All Meat – The All Meat pizza at La Roma is a favorite of teenagers and meat-loving kids. La Roma piles it with two types of sausage, ground beef, Canadian bacon and pepperoni.
Queen Margherita – Just a few ingredients make this pizza from East Village Bohemian Pizza simply perfect. San Marzano tomato sauce, roasted tomatoes, basil, buffalo mozzarella and an olive oil drizzle make this a pizza kids and parents love.
Pickle Pizza – This pizza from Elgin Park is fun to eat and will likely get some laughs from the kids. An Alfredo sauce base is topped with dill pickles, fresh dill and chile flakes.
Natalie Mikles is a mom of three. She writes about food, sharing recipes for busy families and picky eaters. She has been recognized for her food columns as well as features on families and issues affecting local children. She loves pizza and movie nights with her family.
---