Recipes for a Healthy Pregnancy
Stir-fried Beef and Veggies, Chicken Noodle Soup and Chocolate Banana Muffins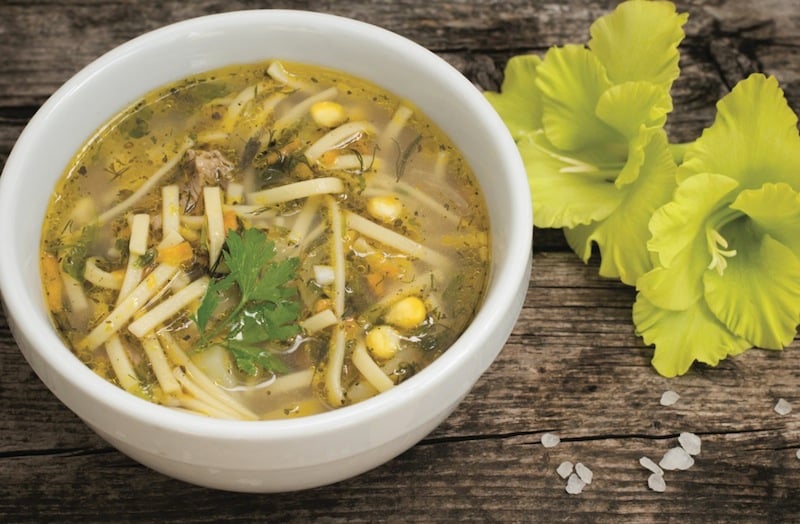 In the first trimester of my first pregnancy, I strictly followed my doctor's orders.
I held my nose and choked down the prenatal vitamins, I drank (what seemed to me) an insane amount of water and I ate three balanced meals a day – even when all I really wanted was a Coke and saltine crackers.
In my second pregnancy, I still gagged on the prenatal vitamins and drank the water, but my diet wasn't as regimented. I became a regular at Teri's Coney Island, which while delicious isn't the epitome of nutrition.
I may have given myself a little break, but I was always aware – as all moms are – that how I treated myself was how I was treating my baby. There's nothing like growing a human to make you stop and consider your own health.
It's something Dr. Jennifer Butler, an OB/GYN at the Women's Health Group in Tulsa talks about with her patients every day.
"A healthy diet absolutely can improve pregnancy outcomes," Butler said. "Women who gain less than the recommended weight have a higher risk of decreased birth weight infants, while women who gain more than the recommended amounts have a higher risk of having large infants."
So, what is the recommended weight gain for pregnancy?
Women with a normal body mass index should gain 25-35 pounds during the pregnancy – about 1 pound a week after the first trimester, Butler said. Women who are overweight should only gain 15-25 pounds, and women who are obese should only gain 11-20 pounds, she said. Women with twins have different recommendations.
Ideally, Butler said, women should take a look at their diets and make modifications even before conception. But, if a woman is already pregnant and is used to skipping meals, limiting food, following special diets or eating a diet high in added sugars and fats, it's time to make a change, Butler said.
Even when I was eating coneys during my second pregnancy, I knew that everything I was eating, my baby was eating, too. Keeping that front of mind is helpful when deciding between a Twix bar and an apple and cheese stick.
One question Dr. Butler is asked by patients is, "Am I drinking enough water?" For most women, the answer is no.
"You need at least eight glasses of water (64 ounces) a day. Most women drink much less than this. Water is important as a woman's blood volume expands, helps with constipation, decreases feelings of dizziness and even helps with breast milk production after delivery," Butler said.
Another question Dr. Butler is often asked is about foods to avoid. She says women should ask their doctors about those foods, which often include undercooked meats and soft cheeses.
Here are some recipes that are good for moms and babies during pregnancy.
---
Nutrition Note: Red meat is a good source for iron and protein.
Stir-fry was a go-to for me once I got over the sickness of the first trimester. It's a good way to pack in protein and vegetables. Serve over rice or noodles. This makes four small portions.
Stir-fried Beef and Veggies
1 tablespoon sesame oil
1 medium carrot, peeled and cut into small strips
1 bell pepper, seeded and cut into small strips
10 ounces beef filet, cut into very fine strips
1 clove garlic, crushed
1 tablespoon cornstarch
½ cup beef stock or broth
2 tablespoons dark brown sugar
2 tablespoons soy sauce
Few drops of Tabasco
1 tablespoon sesame seeds
Heat the sesame oil in a wok or sauté pan over medium-high heat. Stir fry the carrot, zucchini and pepper for 3 to 4 minutes. Add the beef and stir fry for 4 to 5 minutes. Add the garlic and stir to combine.
In a small bowl, mix the cornstarch with 1 tablespoon of water, and stir in the beef stock. Stir this into the pan with the brown sugar, soy sauce, Tabasco and sesame seeds. Bring to a simmer, and cook until slightly thickened.
---
Nutrition Note: Ginger helps some people with nausea. And chicken is a good source for high-quality protein.
Everyone has a favorite chicken noodle soup recipe. This is a good and simple one from British cookbook author Annabel Karmel.
Chicken Noodle Soup
2 boneless, skinless chicken breasts
2 tablespoons soy sauce
1 teaspoon sesame oil
1/2 teaspoon fresh grated ginger
1 tablespoon honey
1 clove garlic, crushed
4 cups chicken stock
4 ounces egg noodles
1 cup frozen corn
3 scallions, thinly sliced
In a shallow bowl, mix together soy sauce, sesame oil, ginger, honey and garlic. Marinate chicken in mixture for 30 minutes. Remove chicken, and reserve marinade.
Bring chicken stock to a boil, then reduce heat to low and cook chicken for about 20 minutes or until cooked through. Remove the chicken, and allow to cool down slightly before shredding very fine.
Cook the noodles according to package directions.
Stir the corn, scallions and reserved marinade into the stock. Bring to a boil, then add the shredded chicken and noodles, and heat through.
---
Nutrition Note: Oat bran is high in fiber, and bananas provide potassium and energy.
This Nigella Lawson recipe will help satisfy your sweet tooth while providing a good dose of fiber.
Chocolate Banana Muffins
3 very ripe bananas
1/2 cup vegetable oil
2 eggs
1/2 cup light brown sugar, packed
1/3 cup Quaker oat bran
1 1/4 cups all-purpose flour
3 tablespoons good-quality unsweetened cocoa powder
1 teaspoon baking soda
Pinch of salt
Preheat the oven to 400 degrees and line a muffin tin with paper muffin cups.
In a large bowl, mash the bananas. Whisk in the oil, then eggs and sugar. Whisk in the oat bran.
In a separate bowl, whisk together the flour, cocoa, baking soda and salt. Add this mixture to the banana mixture, and stir gently until combined. Spoon into the 12 muffin cups.
Bake for 15-20 minutes, by which time the muffins should be dark, rounded and peeking out of their cups. Let cool slightly in the pan before removing to a wire rack.
---