Reading Pictures, Drawing Feelings
Meet Shadra Strickland @ Hardesty Library on November 9 for 'Books to Treasure'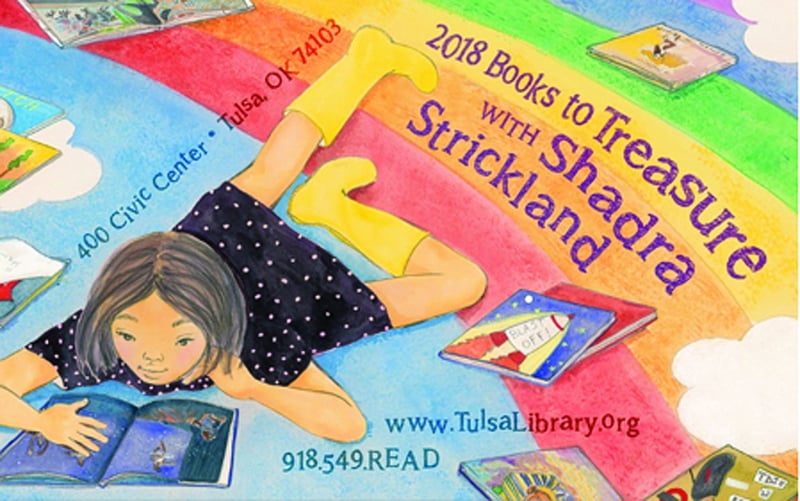 In children's worlds, art and stories have always been intertwined.
Just watch any child draw a picture – more often than not, when you ask about what's going on, she will happily explain the scene with a narrative that begins with a kid version of "Once upon a time" and ends with a definitive bang.
Recently, research in cognitive science has caught up with practice. Studies show that both drawing and interpreting pictures are excellent preparatory activities for learning how to read. When children have practice creating images – whether in pen, crayon, or finger paints – and spend time looking and thinking about pictures they see, they are better equipped to consistently and correctly interpret written text into meaning.
In other words — picture books are not just fun to look at and read – they can literally help your child become a reader!
That's the idea behind the Books To Treasure program, now in its 16th year, sponsored by the Tulsa Library Trust through a grant by the Anne and Henry Zarrow Foundation. We want to use the power of artwork in children's literature to draw (pun intended) children into reading. As part of Books To Treasure this year, the award-winning illustrator Shadra Strickland will be giving a free public presentation about her art and creative process on Friday, November 9 at 7 p.m. at the Hardesty Regional Library in Connor's Cove.
Additionally, every second-grader in Tulsa County will receive a free copy of the book Please, Louise, illustrated by Shadra Strickland and written by Toni Morrison (yes, that Toni Morrison, long-time literary lioness and winner of the Nobel Prize for Literature) and Slade Morrison.
This intricately illustrated book follows a young girl, Louise, as she heads out on a cloudy, rainy day to her local library.
The Booklist review of Please, Louise points out the importance of Shadra Strickland's illustrations: "Strickland's illustrations bring Louise's world to life; the objects of fear, in dark colors and threatening profiles, dominate the pages until the world of the library embraces her. Off comes her hooded coat, the sun comes out, and she now dominates her environment. We even see a close-up of her face, totally absorbed in a book, a friendly dog by her side. A cozy way to address the subject of fears—and to get children to the library."
Children will be captivated by the detailed artwork, and may possibly even be inspired to work on their own drawing – and writing.
ART & READING LESSON: Comparing Feelings in Please, Louise
Use "Please, Louise" as a teachable moment with your child to discuss how art can convey feelings!
Look at this first set of pages from the beginning of Please, Louise.
How do you think the little girl is feeling about the dog? How does the artwork tell you that she is scared, and that the dog is something to be scared of?
Now compare the same girl and dog at the end of the book.
How do you think the girl feels now about the dog? What in the artwork tells you that they are friends, and everything is happy?
Books To Treasure 2018 Featuring Shadra Strickland
All second-graders in Tulsa County will receive a copy of Please, Louise (illustrated by Shadra Strickland, written by Nobel Prize-winning Toni Morrison and Slade Morrison) and will have the opportunity to get their own special library card featuring artwork from Please, Louise.
Public Presentation: Friday, November 9, 7 p.m.
Hardesty Regional Library Connor's Cove, 8316 E. 93rd St.
Find out more here: http://kids.tulsalibrary.org/parents/bookstotreasure.php
Book signing to follow presentation. Books available for sale.
---