Reach Out and Read (Every Day)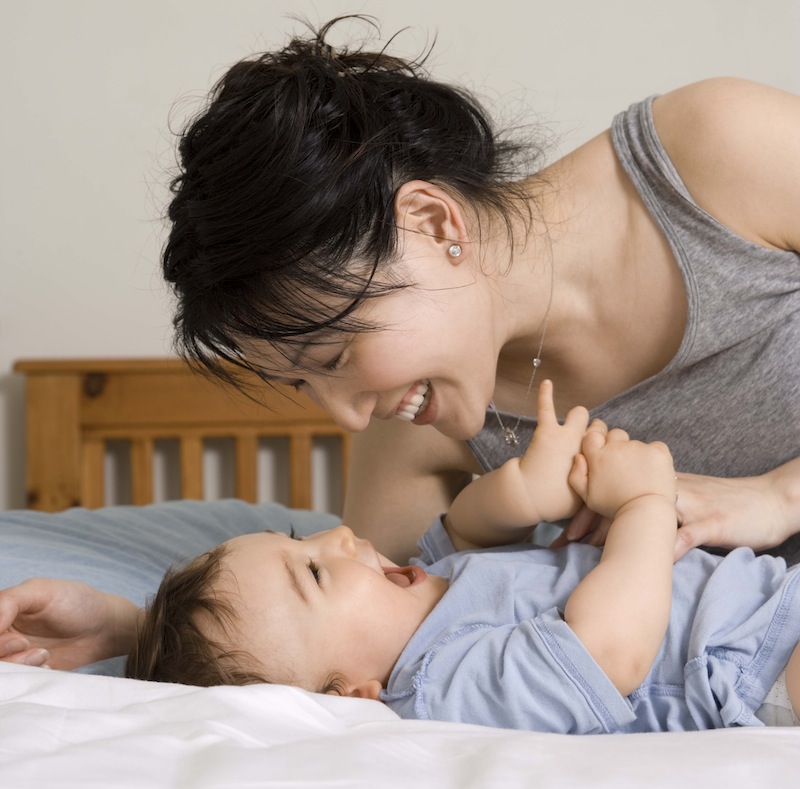 Parents don't need a slew of high-priced gadgets to build their baby's brain. In fact, experts advise parents and caregivers to put down the gadgets, turn off the technology and sit down together for a little cuddle time and a book, song or conversation.
Dr. Amy Emerson, a Tulsa-based pediatrician, is the area director for Reach Out and Read's Oklahoma chapter. Reach Out and Read is an early literacy program, which is part of the larger Talking is Teaching initiative sponsored locally by the George Kaiser Family Foundation (GKFF).
Because approximately 80 percent of a child's brain is formed by age 3, parents and caregivers have the unique ability and responsibility to prepare children for success in school and in life. The more words that children hear, beginning at birth, the better prepared they are to learn and to communicate. Talking is Teaching: Talk, Read, Sing (talkingisteaching.org) and Reach Out and Read promote that critical early interaction between parent and child.
"We're really working as a community to be more literacy friendly," Dr. Emerson said. Partners include hospitals, faith communities and the Tulsa City-County Library. New parents are provided with a Talking is Teaching bag at area hospitals, churches are providing materials and training to parents and caregivers, and the libraries are supporting the initiative with the Stay and Play program and free books.
"It's about engagement with little ones," Dr. Emerson said. "A baby is born wanting to focus on a face." She said that the most important aspect of Reach Out and Read for her is to see parents enjoying their children and building stronger bonds. "It's a powerful memory."
She described one family engagement event at a church where a grandmother was reading to her 18-month-old granddaughter. "I pointed to the rhinoceros," Dr. Emerson said,  "and the 18-month-old tried to say it. The grandmother started crying and said she had no idea her child could even try it. So many people don't know what kids are capable of."
Another mom, who was Spanish-speaking, said that her 9-month-old son knows four words and they came from the books that she had gotten through Reach Out and Read. "That's early and he's ahead," Dr. Emerson said. "Storytime can be having the baby in your arms and talking about something in your language — or singing. Each culture might be different."
One of Dr. Emerson's responsibilities is to encourage local doctors to take the Reach Out and Read training and use it in their practice. The training is a peer-reviewed, developmentally based, national program. "If you are a Reach Out and Read Provider, every child gets a book, and you have the conversation with your patients," she said.
There are currently 14 Reach Out and Read sites in Tulsa. One of those sites, and the only one in south Tulsa, is Birth & Beyond Pediatrics.
Dr. Alka Sood, a pediatrician at Birth & Beyond, is enthusiastic about the program. She started the process of applying for the grant through the Kaiser Foundation about a year ago, completed the training and has been using it in her office for several months. "It's amazing to see the reaction," she said. "The kids love it and the parents love it. The bigger delight is when I hand the book to the child and they get so excited, even 6 month-olds."
Dr. Sood explains how research has shown that certain parts of babies' brains "light up" when parents are talking or singing to them. They need human touch and interaction to build neural pathways. Even turning pages or feeling the texture of a book is brain building. "It's okay if the baby takes the book and chews on it, "That's what babies do."
While Dr. Sood encourages parents to spend time reading with infants and toddlers, she also tells parents of her patients to talk. "While I'm feeding the baby, I'm talking. While I'm changing a diaper, I'm counting toes," she said. "I tell people when you're folding laundry, give your toddler a towel and say 'fold this.' You want them to figure things out. The child will imitate you, and it encourages dialogue. And as they get older, that dialogue will continue because you have built a relationship."
Dr. Sood says that using screens (iPads, computers, etc.) does not take the place of interacting with a caring adult. Babies crave interaction. Talk, sing and read to them and "they will blossom," she said, "if you engage with them."